To say Brent Aitken has had a big life in kitchens is an understatement: his journey has been huge. He swears he's not a superstar chef, "I'm just a chef but I execute well".
Maybe not, but he is a star of sorts in the industry now, shining a light on other chefs and working hard to get a better deal for chefs in Australia and around the world. 
Why would he bother to do that? His chefs' group – The Australian Chef Network is big and growing by the day, and the constant upkeep of that is something he set himself when he saw the industry suffering and fragmented. He also works full time as an agency chef, has somehow found time to get married in Thailand last year to his soul mate and still finds time to support his mates and raise the profile of chefs.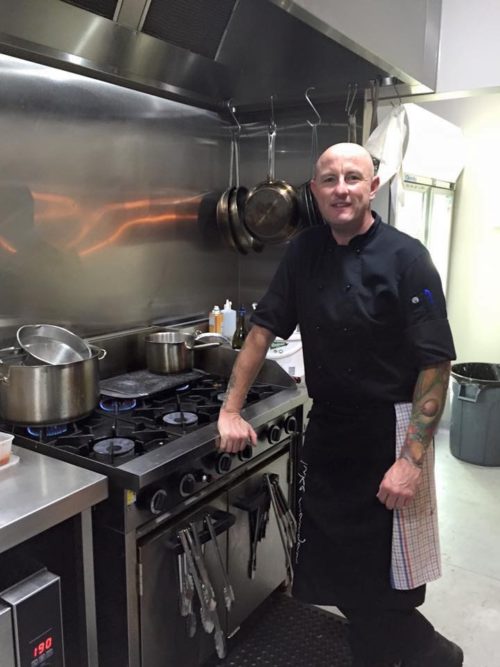 To get to the whys of his current stand and high profile, it pays to dig into his background and the many trials he's faced throughout his life. He's quick to laugh about it though, and freely admits that his journey in kitchens began because he hated school, and he wanted to prove his mum wrong (that he should stay and finish school).
Like all great journeys, it began with a flukeish incident that opened up an opportunity for Brent, and he took it. He was offered work experience from school in the catering department of Monash University, at the Clayton campus in Melbourne, when someone dropped out. Then it was a prestigious place to work – it had a bakery, meat room, fish room, and the hours? Hell, they were heaven! Monday to Friday, 7am – 3 pm.
Brent's mum, though not happy with his leaving school, still supported him and made him look good when he walked through the door. But from what was an idyllic start, Brent soon discovered the reality for most chefs in the industry was far from idyllic – working from one job to the next, 60-80 hour weeks, and playing hard on his short time off.
Then his life changed, dramatically. His dad had been a federal policeman and retired to buy a restaurant in Cyprus. Brent packed and found himself cooking for the President of Cyprus, lords and ladies from England, and grew Rembrandt's to the fame of 'best restaurant in Cyprus'. In Cyprus, Brent became known as their 'superstar chef', but that didn't sit well with everyone.
After 3 years at the top, the locals pushed back, and suddenly Brent found himself in the midst of a local war for power and supremacy in the restaurant game. The sabotage was relentless, and while his dad managed to get Brent out in one piece, his dad lost everything, and went back to being a mechanic.
What are the lessons here? I went through a very similar scenario years ago in a sunny holiday place that has a very dark underbelly. My advice to all would be restaurateurs is now: do you know your area? The big players? The stakes? Brent escaped, his father rebuilt his life, but it was a savage lesson that left them both scarred.
Brent dived head first then into Noosa, and its growing food culture, but fatherhood yanked at his wanderlust and Brent went to Melbourne to rekindle an earlier relationship with ALH (Australian Leisure Hotels). It was time, Brent felt, to step up – to be a good father, provider, chef, which in so many ways he found were incompatible. While work was his saviour, his family life suffered, and when he headed for FIFO and the big money, home became collateral damage.
Since then, he's trained staff in the Papua New Guinea Highlands (a highlight), left the industry for a gardening business, but the lure was too great and he worked FIFO out of W.A., Melville Island, and finally joined an agency doing contract work. With his dad in Thailand, Brent fell in love with Thailand and a girl.
While in Australia, he's based in Melbourne and started to see the proliferation of hospitality groups on Facebook, and noticed a rampant negativity among them. And that's what kicked him off to start The Australian Chef Network Group.
 "I want to support and encourage young chefs. I see a huge gap in the industry – we're lacking quality chefs – the training just isn't there anymore.
I started my group so people could get together, share ideas, job opportunities and awareness. You don't have to be a chef, but you need to be in hospitality. As an itinerant chef I see some shocking conditions in about 5 out of 7 venues. The people working in these places need a voice, because they actually believe they have to work in these conditions.
We need education – the customer has to pay and needs to be educated as well. People who've paid me the least in my life have been owner/chefs. Anyone can cook, but you have to do it properly, in all ways, to make a business.
There's no apprenticeship in dishwashing – yes it's part of the ladder, but should be a small part, though we shouldn't make cheffing elitist either. These days I stand up for my rights and those of my fellow chefs. I mentor young apprentices all over, giving them support, and hopefully, with good people around me, we can make a difference. Now, not later."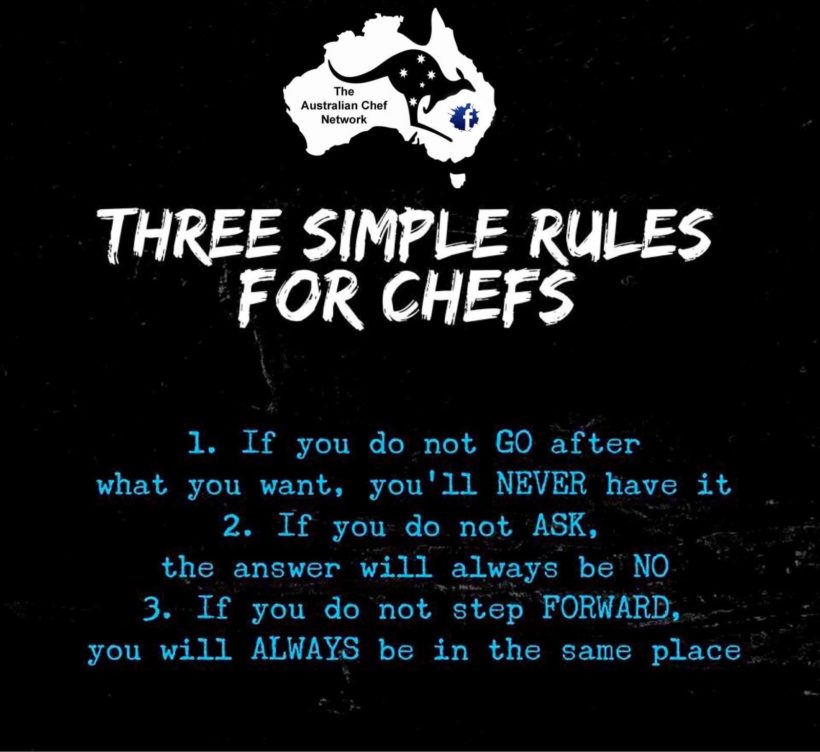 Brent is gone, and could be in Thailand, or Melbourne, or anywhere really, but you can bet he's checking in on his Chef Network, making sure the message stays positive, and alive. And it's chefs like Brent, while in his terms is not a superstar chef, who give me faith in the industry, to continue my journey in making a difference as well, with offthehotplate.com and the support we offer. 
Chrissie 🙂