AJ – or Anna Jane Dalton, has a business called Conjurup Food. And conjurup she does. She loves spice, mixes spice blends like a champion so we don't have to, and makes the best (and only ones I've tasted) products that are gluten free without tasting gluten free. 
If it tastes gluten free? It's not Conjurup Food. Having a cookup with AJ is always interesting, and the flavours? Well they punch to the point of mouth party with umame, if you know what I mean. 
Here's a dinner she served that was easy, off the cuff, and had guests (foodies) of all nationalities and persuasions backing up for more. She calls herself 'the lazy cook', and being easy drives her inventions from beginning to end.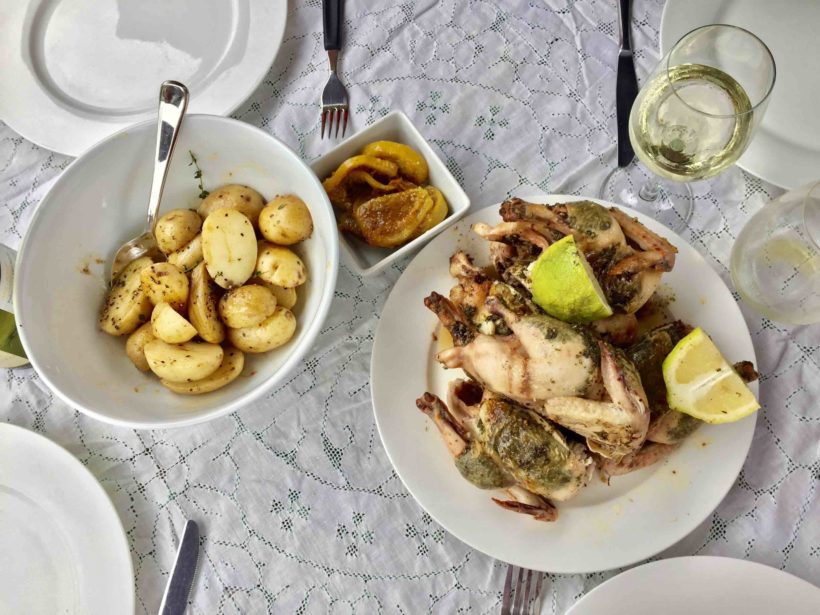 Magic Poussins 
Serves 4 
Ingredients: 
4 whole poussins, or spatchcock
50 grams of Mediterranean Herb Mix
100 – 200 grams salted butter
Juice of 1 lime or lemon
Fresh lemon thyme
10 – 12 Cooked chat potatoes
Butter and coarsely cracked black pepper
Method: 
Mix the herb mix, softened butter and lime juice, and stuff under the skin of each poussin, being careful not to break it. (Use hands here and smooth the extra butter mix across the top of the little birds).
Bake, breast up, for about an hour and twenty minutes in a preheated 175 degree oven. Baste occasionally, once or twice. Let rest before serving with pan juices.
While the birds are resting, heat some butter in a pan, add the chats, halved, and toss with black pepper, lemon thyme and about a tablespoon of the poussin pan juices.
Serve with a green salad or light steamed greens, and the pan juices in a small jug. Maybe some crusty hot bread to mop it up.
Chrissie ☺
Check out Conjurup at www.conjurup.com and feast your eyes, and try the African Spice mix as well – that's fast becoming a favourite with me. 
Chrissie 🙂