Hobart and surrounds? Tick. Southern Tasmania? Tick. And now, East Coast Tasmania gets the spotlight. A snap. Sandy and Damon from Houston, USA, are devoted foodies and seasoned travellers.
Their friends, Kirstin and Simon contacted me through my blog when they wanted to explore the foodie delights of Tasmania. 
How small is the world now, thanks to the internet and Southern Tasmania was on the radar? Kirstin had an unfortunate visa hiccup, and so it was Sandy and Damon who descended on Hobart, caught up with me for some drinks and a debrief, and then hit the road. Sandy's notes turned into a big story, so we've put it in  3 sections for ease of use for you – our intrepid travellers who look for good advice, that cuts the time and decision making for you.
Here's the third instalment, where they spread their net and explore east coast Tasmania – their new island holiday home:  
East Coast Tasmania: A Foodie's Paradise
"We were headed to the East Coast for a couple of nights and some exploring.  We made a quick stop for steaks and sausages at the butcher in Snug on the recommendation of Captain James and headed into Hobart for a few extra provisions from Wursthaus Kitchen.  Before heading out we fueled up at Pigeon Hole with their soft baked eggs with Spanish chorizo and toast.  How can you go wrong with oozing eggs, smoked paprika and grilled toast?  We had one more stop along the way to pick up a lobster at Gourmet Tasman Seafood.  After eyeballing their fish and chips, we decided that we'd have to return.
Our trip took us up the Great Eastern Drive.  We made our way through Swansea and Bicheno, both of which we decided we could live in.  We took a blustery respite at Devil's Corner Cellar Door and again found ourselves preferring the Rieslings.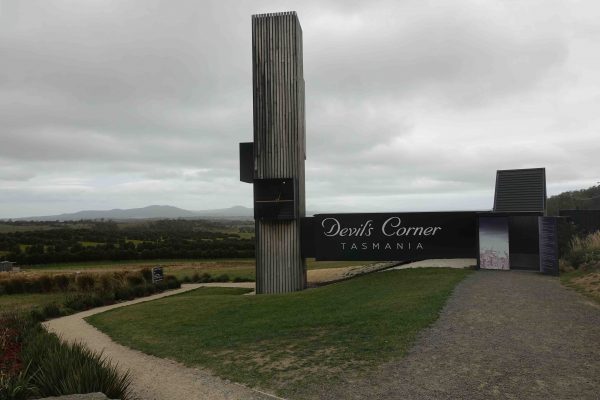 Then it was on to our destination in Falmouth.  There wasn't much to Falmouth but the house and the views were absolutely amazing.  We arrived at the house just in time to watch the sun go down with a well-deserved G&T.  For the first night in the East Coast house we made a chilled lobster salad with grapefruit and avocado followed by grilled steak and roasted potatoes.
Thursday morning we continued up the East Coast to Binalong Bay and Bay of Fires.  The red hued rocks among the deep azure ocean was breathtaking!  I couldn't stop taking photos even though I know that photos will never do it justice.
We wandered up the coast pulling off to take in the view and then decided to head inland to the dairy pastures of Pyegana.  It was absolutely amazing.  You start out at a craggy, rocky beach and thirty minutes inland you're driving through the most fertile rolling hills.  Then ten minutes later and you're hiking through a rainforest to behold the 90m St. Columbo Falls.  The hike left us a bit peckish so we headed back to Pyegana for some cheese tasting and a scoop of ice cream.  Once again, we made it back to Falmouth as the sun was setting.  Dinner our second night was sausages from Snug and homemade potato salad.
On Friday, we checked out of our East Coast house and headed back down the East Coast. This time we took several detours to break up the drive.  Our first stop was Freycinet National Park where we hiked the track to Wineglass Bay. It was a relatively easy hike but was rewarding when you hit the lookout and see the bay.
There also happened to be a very friendly wallaby hanging out getting love from all of the visitors (including me).  Our hike was rewarded with a stop at Freycinet Marine Farm for oysters.  We tried their raw oysters, soy and ginger poached oysters and their chili mussels. I would certainly go back for the poached!
After a quick bite we wandered around Bicheno to scope it out as a place to stay on our next trip to Tasmania (of course there will be another trip to Tasmania!). I pointed out Bicheno Motorcycle Museum and Restoration to Damon but he opted to push on.  It wasn't until later in the trip that he read more about the museum and cursed himself for not stopping.  See, there's a good reason to come back to Tasmania!
4:00am Saturday morning came way too early but we had to be at the airport by 5:30am for our 6:30am flight to Sydney.  As I rolled over and grabbed the phone to turn off the alarm I noticed a text from Quantas.  Our 6:00am flight was cancelled!  Another text followed.  Have no fear – Quantas has rebooked you.  We were now on a 6:00am flight from Hobart to Melbourne and then continuing and then booked on a flight from Melbourne to Sydney.  Our new arrival time in Syndey would give us less than an hour connection to make our long-haul flight to Houston.  Not to mention the fact that we now had less than 30 minutes to both shower and grab a taxi to the airport!
Somehow we made the flight but we were late taking off both in Hobart and Melbourne. Our chance of making our long-haul was fast dwindling.  So much so, that as we were landing in Syndey I was pretty much resigned to the fact that we'd get an extra day of sigh-seeing.  I've always wanted to see Sydney so why not enjoy our time and see this as a vacation bonus.
When we landed, we gave a half-hearted effort to make our flight, but it wasn't meant to be.  Instead we plopped down in the airport and did a quick search of where to stay and eat. We ended up choosing the Chippendale area and stayed in the Old Clare Hotel.  Across the street to Spice Alley for a quick bit and then just walked.  We walked and walked all over Sydney with little more than idea of what direction we wanted to go.
One of our destinations was Deus Motorcycles.  Damon has been a fan for some time so for him to get to see their bikes up front and personal was pretty amazing.  We also visited the Sydney Opera House.  How can you come to Sydney and not take 100 photos of the light hitting the opera house? All that walking made us a little thirsty so our next stop was Bulletin Place Bar, a perfectly hidden, off-the-beaten-path kind of place.  Just what we needed.  We had a couple of cocktails each served with some fun conversation.  After quenching our thirst, the hunger set in.  We didn't have reservations, but our bartender recommended Hubert.  We made the quick walk to Hubert and just lucked out by beating the crowd and only waited a few minutes for a prime seat at their Normandy Bar.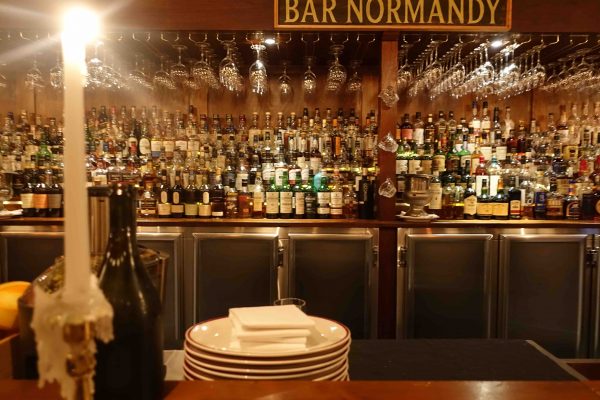 Damon and I shared a roasted chicken dinner with gnocchi and a potato pave.  The food was exactly what we wanted but the bar exceeded our expectations.  I shouldn't have been surprised with a name like Normandy Bar but our Norman bartender was surprised that a couple of folks from Texas were asking for Pommeau and Calvados!  It was a wonderful end to a memorable day is Sydney.  We opted to walk back to our hotel just to stretch our time in Sydney ever so more.
Our last Sunday was when reality hit.  It was time to truly go home.  I will miss the amazing people, scenery and food of Tasmania and Sydney.  It was tough to fully enjoy our vacation without Kirstin and Simon being with us but one benefit of them not being there is I'm almost positive we'll be going back.  And soon!"
And thank you so very much Sandy and Damon. It was wonderful to meet you and point you in the direction of some of my favourite haunts in Tassie. This island never disappoints, and is always unfolding new and delicious places to visit. 
If you're curious about the first two pieces of their visit – head here  for the Hobart part of the trip, and here for the southern part of their trip. They vow and declare they are coming back, this time with Kirsten and Simon, because there's so much more to see. Well of course there is! 
Chrissie 🙂