1988: Brisbane was on fire, and people queued for hours to get into the pavilions, to sample the food, to enjoy the entertainment. Expo 88? Brisbane was never the same. 
Every time I go back to Southbank, the memories of the Expo and my time there, running the incredibly busy Tiger Garden Restaurant in the Singapore Pavilion, slams back into my consciousness.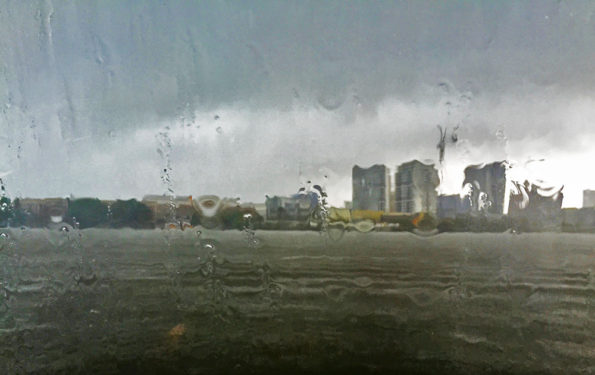 What a time! It takes up a bit of space in my memoir, Theatre of War, and I still remember sending staff down to the bank with the change in a wheelbarrow because it was too heavy to carry. Whew!
Years later, and the place is a happy mix of cafes, shops, restaurants and ice cream parlours. And on this day, our local friend, Marion decides we should approach via the Fast Cat, over the river from Newstead.
Well, it was a good idea until the clouds jetted across the sky and blue turned black and rain pelted down as it does in the tropics. The boat had to stop mid-journey and wait the storm out as lightning flashed and the boat rocked. Yikes.
When we finally reached Southbank, the place was a soggy mess, but there were still hardy tourists and Brisbanites out dining and playing. Marion was on a mission, and we pulled up at The Jetty, fanging at the bit. Or hungry, if the slang does your head in.
The view, out through greenery to the river and city beyond is beautiful, even after a deluge. Service? Slick. I found that in most Brisbane places we visited. The waiters know what they're doing, and do it well.
Marion ordered for us, as usual. I could get used to that. Makes for a very relaxed and easy visit. We tried a mix of the small plates again, and they were all good, and well priced at between $15 and $24.
Grazing plate? A delicious assortment of house cured meats, haloumi grilled, pickled green chillies and olives with crisp thin pita bread. Fabulous. A stand out.
The pork belly with the broadbeans and crispy skin with a tasty soy sauce? Superb. Tender, a lovely mix of textures, and pleasingly 'umame'.
The kofta meat balls with a spicy chilli sauce, fresh yoghurt, coriander and crisp sourdough? Terrific. A good solid dish. Crispy calamari? Lovely with julienned cucumber, chilli, and greens.
And my absolute, hands down favourite? The soft shell crab which my friends had to fight me off for a morsel, was a fresh, tasty, crunchy mouthful of goodness.
I could order six plates of just that. But I'm a pig.
No room for dessert again, I'm sorry to say! But they read well, smoked green tea panna cotta with poached pear, white chocolate and pistachio Florentine, ginger ice cream? Yum. They all looked good, but we'd had fries as well, which were good, but no match for the Heston-style beauties I'm used to in Hobart.
We sallied home via Max Brenner's again, in Newstead, and the Chocolate Shot with the gummi bears will stay in my memory, and on my hips, for some time. But what's that stupid ad for make-up or something? You're worth it.
Brisbane in summer is as unpredictable as an interview with Trump – or should that be the reverse? As predictable? A heavy shower is usually the answer to heat. Is it not? 
Chrissie