What makes a master chef? For the publishers of Robb Report, looking to find the top chefs in Australia's states, the answer was easy. Ask Australia's master chefs!
Robb Report is a high end magazine that's been unfurling the best of the best for some time in the USA – forty years in fact. The decision to cross the ocean and dive head first into Australia was not taken lightly.
They saw there was a market, and with its strong economy Australia seemed a perfect fit. Robb Report has grown through nine issues to celebrating their first anniversary, and the Culinary Masters of Australia have been in their sights. So to the reason we're here. Elizabeth Walker, the Report's Brand and Communications director for Australia had been told by no less than Neil Perry that Anneliese Gregory was up there with the master chef best. 'Her food is quirky'.
Anneliese is ex-Sydney, but had never worked for Neil, so it was a major accolade for her to be chosen. Given that Anneliese is freshly holding the reins at Franklin, Tasmania suddenly emerged into view and Elizabeth arranged a Culinary Masters Dinner. With expectations high, Hobart's finest (and busiest) arrived to sup at Franklin's table as one of the magazine's Culinary Masters Dinners.
Feeling the spotlight's glare, Anneliese follows in the big shoes of David Moyle, now overseeing a new venture in Melbourne. She shuffled in her clogs out in front of her diners, and looked nonplussed when Elizabeth asked, what was her secret to being nominated by one of Australia's top master chefs? Annaliese shrugged and replied with a humble, "I don't know, really. He came and ate at my place in Sydney, so I guess he knows my food, but I don't know him that well."
Anneliese is tiny, and obviously would much rather be behind the pass than in front. So after a few quick words about the emphasis on local and seasonal produce, she disappeared and we waited for the show to begin.
"Did I say somewhere that liver parfait was suddenly as ubiquitous now as Miley Cyrus' twerking was a while back? I think so."
With a glass of Pommery Champagne upon arrival, the guests were deep into conversation by the time the first course of Angasi oysters arrived. One each. Freshly shucked, they were thin and not as meaty and juicy as the Pacific. But, they are the true native Tasmanian oyster, which I guess is the point.
A glass of the Two tonne Tasmania 'Ziggurat' Riesling was a mildly fruity wine to match the fresh flavours of Anneliese's food. We moved on to the chicken liver parfait with yeast crisps – yes, a delicious parfait (did I say somewhere that liver parfait was suddenly as ubiquitous now as Miley Cyrus' twerking was a while back? I think so.) And here we are again. The yeast crisps which had a dusting of parmesan were lovely, but not really enough to balance out the richness of the parfait.
Calamari and saltbush dumplings arrived. Small balls of a very porky filling (calamari wasn't really evident), with a coating of saltbush leaves and deep fried. But, these were super tasty, and the saltbush coating an inspired touch. Young radishes with whipped bottarga (a salted, cured fish roe) were as crisp as Dame Edna's tongue and had a similar bite. Very good.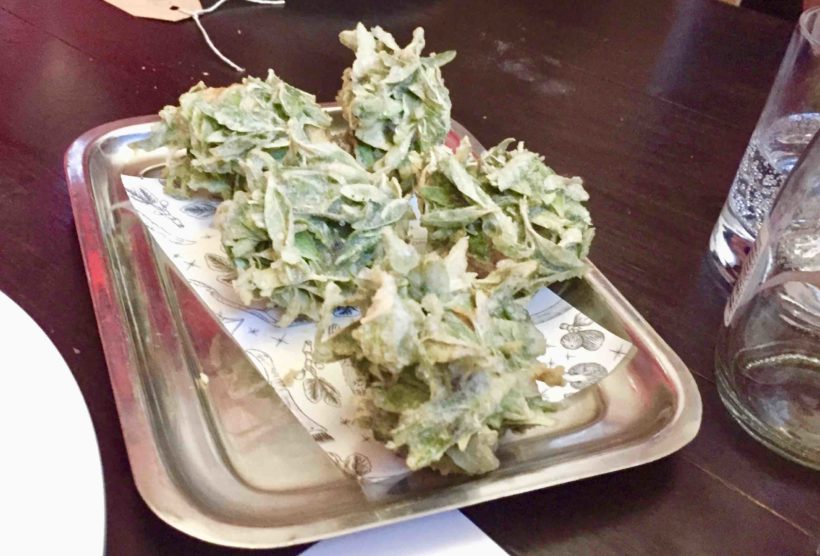 Saltbush Dumplings
And now in the middle of everything, we get a wedge each of a wood fired potato bread with pecorino cheese and bitter greens. Fantastic.
            "But here we are at dessert and it's potato again!"
A salt-baked celeriac with hazelnut, mustard and chrysanthemum, was, well, fresh, and the wafer thin rounds of celeriac, scorched perfectly on the outside were interesting. But all I could think of was, why? And it seemed a bit flat after the superbly tasty bread. The same could be said of the chargrilled asparagus with smoked oyster and lovage. The smoked oyster flavour was hard to find, and the whole dish was nothing special.
The butter poached calamari with a green garlic custard was an unfortunate mix of baby food textures. Thin slices of radish on the top rescued the dish somewhat. Definitely not master chef territory. Finally, the king Edward potato galette with a wood roasted beef rump cap with grilled spring onion was a beautiful serve of beef, perfectly cooked with light crisp potato rounds. This was hitting the spot.
But here we are at dessert, and it's potato again! Crispy potato with brown butter and salted caramel. Sweet and different, but we're not exactly sure about its idea or execution. Finishing with a De Bortoli Noble One 2015 sticky, for us it matched the dessert perfectly.
With eleven courses to prepare and serve while still running the a la carte restaurant in the room next door, Anneliese and Franklin certainly coped with panache. The timing was excellent, and the dishes were from okay to great. It's just that for me, this kind of food when served as a full meal in multiple courses, all tastes a bit bland.
Is it because my palate is hard to please? Possibly. But I love the occasional hit of spice or flavour that's new and exotic. But that's not Franklin. And there's room in the market for what they do, and they do it well. I just always come out without that buzz and excitement that I get at some other venues. And a green garlic custard with poached calamari? Not something I'd go back anywhere for.
Doing a quick survey around our end of the table, the saltbush dumplings were the dish of the day. Salty, tasty, and we all could have had more. The potato bread was superlative, and overall, the eleven courses were a good example of Franklin's ethos and Anneliese's skill.
As we wandered out into the night, the staff were scrubbing the entire kitchen down, ready for the next day. The new regime has begun, and it will be interesting to see how that (master chef) moniker unfolds.
Franklin / 30 Argyle Street, Hobart TAS 7000 / Ph: 03 6234 3375 / Open Tuesday – Saturday / $$$ / www.franklinhobart.com.au
Chrissie 🙂