"Oh no!" said Alice – "you're not the mad hatter – you're Johnny Depp. Or is that one and the same thing?" 
There are a few places I visit in Hobart where I feel I may just be in a parallel fairy tale world. One of them is the Fairy Shop in Salamanca which is a must visit for anyone accompanied by small children. Another is the Brook Street Larder.
You might ask why this new café makes me whimsical, but I think it's partly the almost fanciful décor and the fact that it gently rocks over the smooth waters of Salamanca harbor. The large glass panels that enclose a busy and sleek dining area take in the views – stunning. Then there are the tables, with small fold out stools that can be positioned at whim.
Several tall, white cabinets house home made produce and carefully selected items while a new glass showcase displays lovingly cured hams and meats, everything tempting, waiting…
And there's a large deck with fire to warm and blankets to cosy, just in case. We've visited Brooke Street Larder a couple of times and it's the kind of place where you'd be happy taking a hipster, a yoga group, or a French great aunt. Are there any great aunts left in the world?
Unlike some restaurants and cafés that seem to be going through an identity crisis these days in trying to be all things to all people, or miss the mark entirely and end up nothing to no one, the Larder has found its feet and straddles the locals and tourists with élan.
Coffee and an almond croissant? Not a problem.  But today, lunch. Brooke Street Larder is owned by the guys who opened the very popular Glass House upstairs. Their light touch and attention to detail is evident. I am expecting a confident hand with the food, and not disappointed.
The coffee is love at first sniff – the mad hatter would have approved. "Seasonal blend roasted in the heart of Hobart – 40% Brazil, 40% Guatemala, 20% Ethopia – Nutty – Vanilla – Citrus – Full Body"… Wait, are we talking tea or dessert or coffee? Yes coffee, at $4 which is still under most prices, lovingly barista'd.
And there's flowering tea, loose leaf and the hot chocolate? Coming in at $5 for White + Tasmanian Lavender, Dark + Black Cherry, and Milk Chocolate + Mandarin? Alice says, "Yes please, and one for the white rabbit".
Having just read an article about Sydney and Melbourne's love of the now ubiquitous Espresso Martini, which is usually priced around the $20 mark, I chuckle when I see their cocktails here are $12, ah, but there's a catch! If you want liquor, add $8. A cocktail with no liquor? Bah humbug. Where's the fun?
A good selection of Tasmanian and Victorian beer and carefully chosen Tasmanian wines rounds out the drinks list, so we'll be back, I think for a much different afternoon.
But we're here to eat, and the special of the day, vegetarian nachos, at $15 comes out – a generous serve, great flavours, fresh and guacamole has just the right bite with some fresh chilli slices in the tomato salsa. The Caesar salad at $16 is on the money as well – fresh and crisp cos lettuce, the requisite chicken, bacon, croutes and dressing, but an added topping of white anchovies. I love these little critters.
In Spain, they're known as boquerones, and have a clean and milder flavor than their seriously salty cousins. On a Caesar salad they somehow pull the flavours and textures together into one fatty, crisp, salty, briney, meaty mouthful. Glorious. Simple food, done well. I love it.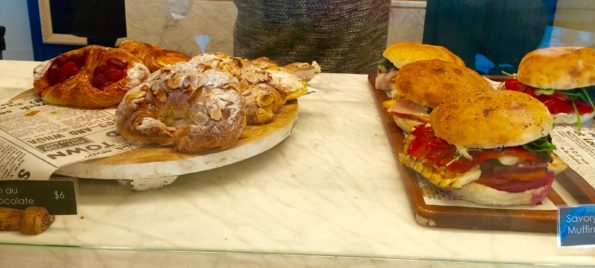 The white rabbit and I pay our account, and head back to the real world. But as I turn to go, there's a flash of a top hat in the corner of my eye, and I am sure I see the mad hatter in a corner, choosing his fourth and last, 'yes, definitely my last', tea.
Brooke Street Larder, Ground Floor, Brooke Street Pier, Hobart 7000
Ph: 03 6225 6932   Open daily 8am – 4 pm  Closed Tuesdays
Chrissie
Have you tried white anchovies? Are you a fan of the new Brooke Street Pier? And have you seen the White Rabbit? If you do, tell him I have his watch….