Oh, the bliss! The change! And the trajectory… From a big empty barn of a coffee café and shop emerged the chrysalis-like Westend Pumphouse. Whether you're a local or tourist, this place is a must visit! If only for the buns…
It was Thursday, book launch day at Fuller's Book Shop, then where to eat? My friend was starving, and before she ate the nearest street sign, we found ourselves at The Westend Pumphouse. Serendipity, we thank you.
The photos here say everything – a bright, high and modern space. It has whimsical touches here and there, the interior executed with a deft hand. I'm told the place is another owned by Alistair, who owns the New Sydney Hotel round the corner in Bathurst Street. Now that pub is iconic, and presently dishing up some of the best pub food I've ever had.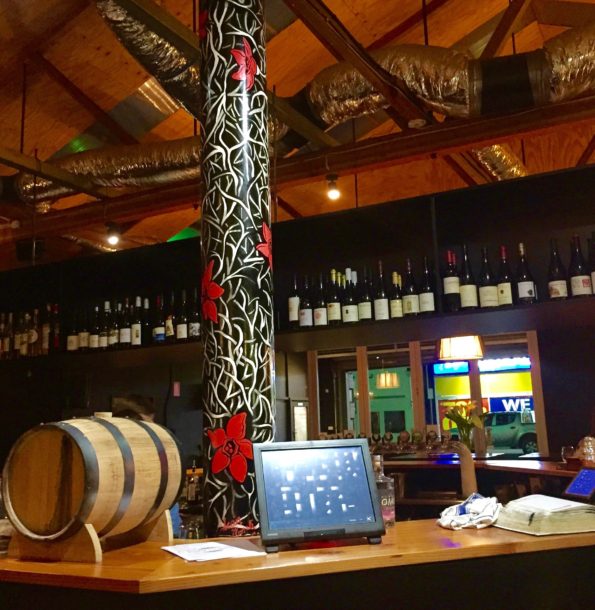 But, back to pumping. Slick, fast service, and we're sat and watered in a blink. The choices are many, and next time, I think we'll go for the …. "Trust the Chef – let us do what we do best." A bargain at $55 per head, and a must do. This time, we plump for the Salt 'n Pepper Squid, $12.00, two of the Steamed Buns, and a dessert.
What to drink? With 15 wines by the glass, and 10 beers on tap, with heavy Tasmanian focus, we go for water. I know! Boring! But sometimes we need  to keep ourselves nice!
The squid arrives, crisp and on a light julienned salad of carrot and capsicum and greens. What? No mayo? No sauce?? Then I dig in, and you know what? Doesn't need it. The salad is so fresh, the dressing light and sharp, and the squid? Fresh, crisp, perfect.
But the buns! Oh the buns! I dive into the pork belly with soft and chewy slow cooked pork, with a strip of crisp crackling. It crunches between my teeth. Heaven! Cucumber and hoisin round out this delicious pillow of bliss, and the Korean fried chicken one with a kimchi yoghurt, is I hear, on the money. Both are one of the great bargains in Hobart. $7 each! Seven bucks??? They're $9 to stand and eat at the Farm Gate markets – and not quite as good!
Under the sweet bites, we chose the steamed banana pudding, with pickled pineapple, coconut caramel. Well, the flavours are sublime, and the richness of the caramelised coconut sauce is cut by a clever dash of vinegar, which all together make a great combination. However, the pudding itself is starchy and doughy, the only spot on the copybook. Oh, and the menu is big, ish.
We're goin' back! Just as soon as we can. They do Yum Cha!!! Yeehah!
Westend Pumphouse: 105 Murray Street Hobart | Phone 6234 7339 | [email protected]  
So readers, have you been to the Pumphouse? Do you love Yum Cha? Do tell! And how good are those buns???