Penang and street markets, wet markets and Penang market food are pretty synonymous. This melting pot is more a huge cauldron of food from all corners of the Asian world. The offerings are staggering in their variety and taste. To paraphrase a famous saying, "When one is tired of food in Penang, one is tired of life".
With Penang market food there are solid dishes that the island is famous for – the ubiquitous Char Kway Teow, which is a delicious stir-fry of fresh noodles, bean sprouts, prawns and whatever the cook wants to throw in. It's delicious, cheap and filling. But there's so much more. Really, and one doesn't have to go searching far either. Staying in the Miami beach area, we are close to the endless night markets and food courts of Batu Ferringhi on one end, and the Tanjung Bunga wet markets on the other.
And what I saw was an incredibly complex intermix of nationalities, food preferences, and tiny businesses that make up the bustling island of Penang. It's Penang market food that I was most interested in, and everywhere we look there are food stalls that daily churn out thousands of dishes to happy local and international customers. And yes, it's cheap, for us Aussies. Breakfast at Roti Cannai in the Tanjung Bunga morning wet market? 40cents. Or 1.20 MYR.
Penang is the home of micro-business, and the Penang market food is the shining example of what a little talent and ingenuity can produce. Families step up every day, and deliver proudly their selections of dishes they want to share with the world.
So here's a pictorial look at what's on offer. And please remember this is only one small woman's quick glimpse into a world of tastes, flavours and offerings that seem endless. Yes, in fact one would need a lifetime to try them all, so I will just have to come back. Sooner rather than later.
Enjoy: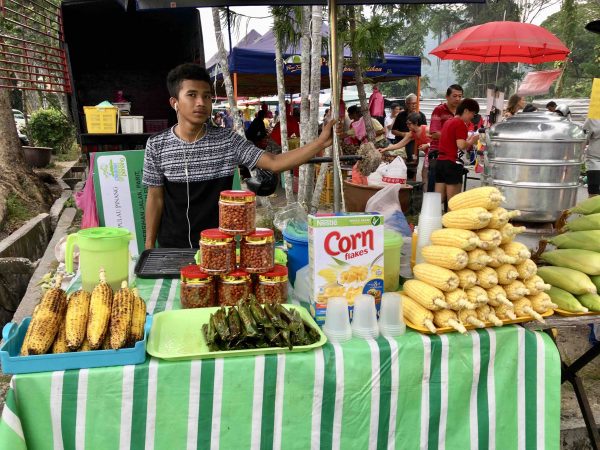 The Tanjung Bunga Wet Market by day, every day, with fresh seafood, vegetables, tasty dim sum, and a food court that is always busy and sells out with dozens of stalls and choices, but it transforms into a huge ready to go Penang food market at night on Tuesdays. The path winds around the shed on the outside where once can choose – whatever! These are just some options.

And this is just one of the myriad fresh vegetable stalls in the Tanjung Bunga market – where we shop for our food, as do locals, avoiding the big supermarkets which actually offer not much more than we can buy here at a fraction of the cost, from locals, and it's fresh.

The size of the night market, as well as the day wet market and food here has to be seen to be believed. It's a big task to choose actually what to have tonight? Or what do we buy today to cook for tonight? And tomorrow? But then there's so much more to be tasted.

Moving into the actual beach town of Batu Ferringhi, where the night markets hold sway and the two food courts, the "I Love U" Food Court and the Long Beach Food Court offer local dishes every night, during the day, the side street markets are a moving feast that is hard to resist. And as you can see (above) it often involves the whole family.
Further down this tiny bustling food haven, is a café I was recommended by a friend in Tasmania (yes the world is a very small place) and one night we made our way down to try Kak Ani Seafood Restaurant. We encountered Ani Wira herself, passionate about local seafood, and driving a fairly big operation with iced fish and shell fish on display and then with some culinary magic, turning that into some of the best and freshest seafood dishes I've had. It's no frills, like most of Penang, but then who cares? And the sunset? OMFG.

Ani (and the Kak stands for Aunty), stands proudly in front of her fresh fish from the fishermen who come in daily with their catch, and trying to choose what to have and how ended up such a dilemma that we went with her suggestions, and it was marvellous.
And just for something different, here are a few suggestions if you just happen to decide to visit this tiny island near the top of Malaysia and want to soak up the ambience in Georgetown, where I had a spectacular experience at Cheong Fatt Tze's Blue Mansion, and enjoyed the tour through a remarkable man's life and history.
And when you are genuinely tired of Penang market food and want just… something else, downtown, in Love Lane, just off Chulia Street which bears its slightly risqué past with pride still, is Holy Guacamole, which serves up crazy cocktails, absolutely awesome burgers, and attitude in spades. We love it.
And the biggest brute of a burger: How much? 22 MYR or… $7.30! With fries of course, but they need salt.
To finish, just one example of the street art that stops you in your tracks and demands attention. Like a quiet leopard that stalks you, the street art in Georgetown sneaks up, and pounces, just as you think you are safe.
Haaaa. But wait, there's more! And this was the untouched, superlative defying sunset from Kak Ani's Seafood Restaurant in Batu Ferringhi, just in case you're wondering. It's right on the beach. Of course. Where else would it be? Penang market food has many iterations, and they are all worth exploring.
Chrissie 🙂
For more on Penang, see our Dim Sum take: https://justthesizzle.com/travel-penang-highlights-cheap-eats/