Love chocolate? Real Chocolate? Pure, sharp delicious chocolate? Anny delivers, and it's Vegan as well. So easy to make, fresh from the Mayans' table of worship. 
Before we leap into a vat of the dark stuff though, a word about Anny. One of Hobart's interesting people, Anny has certainly danced through life to her own tune. She's lived in Istanbul for 9 years, (where she had a raw juice bar), explored the macrobiotic ethic, and run a vegan restaurant. Now?
Still learning, still exploring, and making chocolate. Anny's research into that lush smooth world unearthed the fact that chocolate comes from a Mayan word and it's the oldest known word still in use at 15,000 years. Chock full of good stuff – antioxidants, magnesium, iron, phosphorus, zinc, copper, this stuff is more important than calcium.
And if you needed any more persuasion, it's got the love chemical, phenylethylamine. It was the Mayan shamans who cleverly learnt to separate the oil out of the bean, and add the Aztec spices – Cayenne, cardamom, nutmeg and cinnamon.
What's not to love? This 'naughty' stuff is actually good for you! So there.
Anny's recipe here makes 45 chocolates plus enough left for some lovely shards as you'll see in the video. You'll need a large metal bowl, a whisk and spatula, a jug to pour, and most importantly, a confectionary thermometer. Happy stirring! 
ANNY'S CHOCOLATE 
Ingredients:
250 grams cacao butter
125 grams cacao powder
50 grams coconut sugar
Good sea salt, ground nutmeg, cloves and cardamom
Goji berries, green pepitas, hemp powder, desiccated coconut to decorate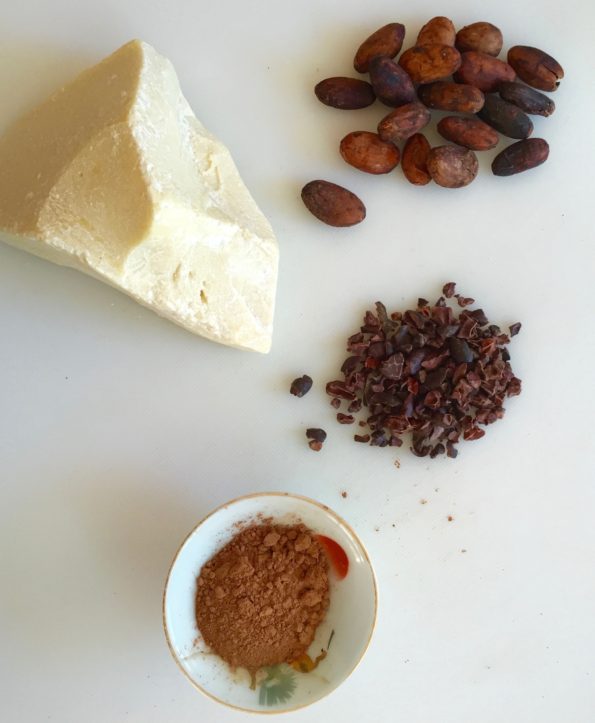 Method:
Slice up the butter into small shards, place in the bowl, top with the cacao powder then the coconut sugar.
Heat gently on top of a large saucepan with about 2 inches of simmering water in the base, whisking as it starts to melt and combine. Add the spices.
Make sure no water droplets or steam gets into the chocolate.
Take the bowl off the heat as soon as it is looking about 2/3 melted, the heat it holds will be enough to continue the melt. Stir and place back on the boiler, moving the mixture around the bowl until it reaches 42 degrees.
I couldn't help thinking how canny was that? Here we are in Hobart at 42 degrees south, making chocolate to 42 degrees heat.
Then instantly remove from the heat and bring it down to 32, 31.5 degrees, and pour into a jug to fill your chocolate moulds. Or drizzle it straight from the bowl with a cook's spoon as Anny does.
Guess who loves to lick the spoon?
Leave the leftover mix in the bowl and decorate the chocolates and the shard as you want, refrigerate for about an hour, then pop out the babies and break up the shard to decorate your plate.
Have you tried making chocolates at home? How easy is this? And they make great presents for anyone who loves food! Eumarrah Organic and Health Foods in Barrack Street, Hobart stock the ingredients by the way! 
Chrissie