The road was a winding spiral that made my poor little travel buddy in the back almost car sick. Up and down, around, and around. The mists merged with the bush and huge, lush tree ferns to create a wild and pristine landscape.
And then it poured. The moss, thick as longtime friendship padded the roadsides with bright limes and yellows, giving us some inkling of the massive yearly rainfall that makes up this catchment area high in the Frankland Range.
"… we all needed to go on a tiger hunt. With a twist, of course."
"Are we there yet?" said the small voice in the back, with a hint of irony in the tone, old enough to know that was funny, particularly in this context. I shook my head. It was a long, hard 3 hour drive. But at the end, as we came out just a few miles up from the Pedder Wilderness Lodge, was it worth it?
OMFG YES! I stopped the car, and we strode to the bank to feast on a magnificent, broody lake view that defied superlatives. This was magic. And it kept getting better. We drove into the Lodge, surprisingly modern with a lounge and bar area built to span this flat edge of the lake, and drink in the glory of nature.
We were here to find the Thylacine, or Tasmanian Tiger, as it's popularly known. And Alan Jennison, publisher of Tasmanian Living Magazine had decided that we all needed to go on a tiger hunt. With a twist, of course. We were taking our own tiger! Just in case, you know. With big fish, one needs a lure…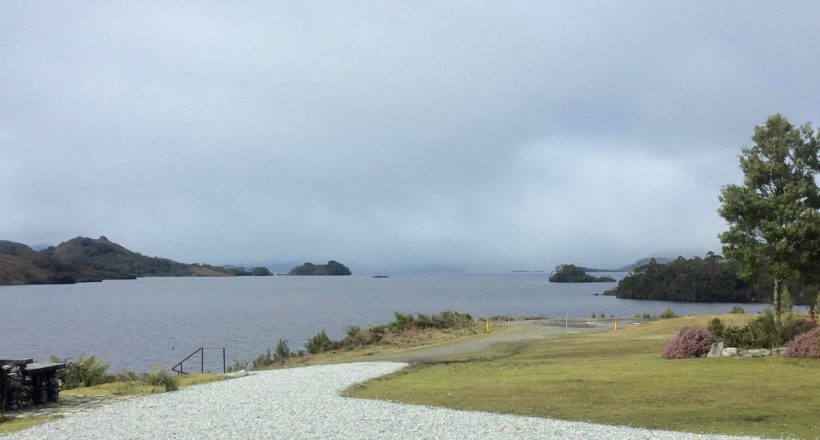 View from the Lodge
The Pedder Wilderness Lodge has had a bit of a checkered history, so I wasn't expecting anything fantastic, but was pleasantly surprised. The newish owners (who lease it from the Hydro, which must add endless Murphy factors to make a difficult business almost impossible at times) had installed new managers, who are bent on making this resort fire the way it should.
Jade Smith and his wife, Katherine Lane have taken the management reins and were busy pummeling this sprawling, low settlement into shape. The rooms? We stayed in the cheaper lodge style rooms that are part of the older buildings. Dated? Yes, but the beds were comfortable, warm, and if you're wanting a treat, the lake view and spa suites look incredible.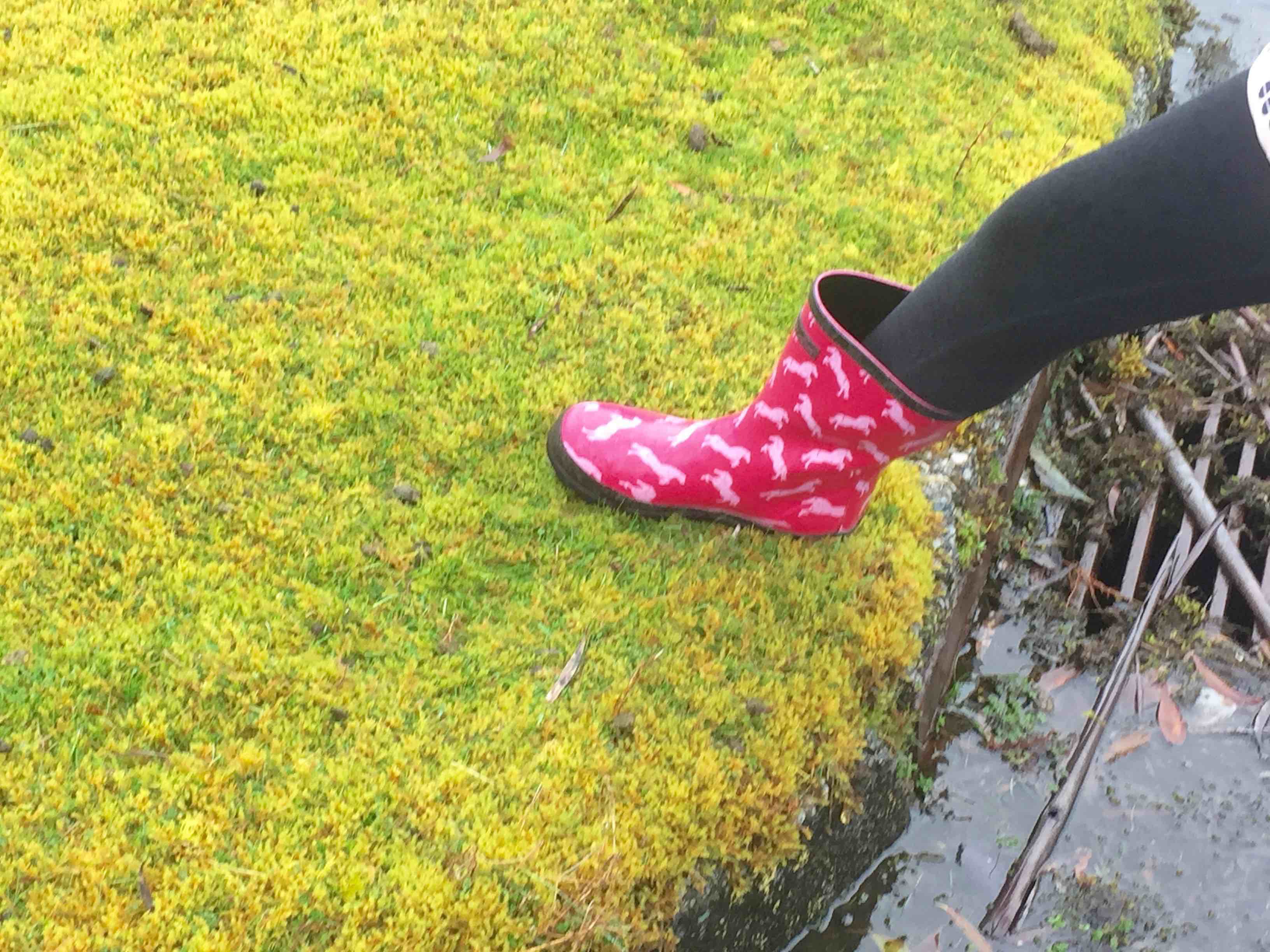 Around the lodge, there's no grass, only moss grows
And surprise, surprise, dig a little and you'll unveil big time facilities here – it's not all hiking boots and puffy jackets. There's a heated pool, gymnasium, tennis courts, a basketball court and more. Small travel buddy was in seventh heaven as she played with some likely lads who had joined the crew and were pushing a ten foot high pink flamingo around the pool. This is my kind of wilderness lodge!
While we made a busy, noisy bunch in the lounge when we finally made it out of the warm water and into the dining area, the staff were kind, attentive, and on the spot if we needed anything. They were well chosen for the site. They all had an easy, relaxed demeanor without being slack or overly familiar. That's a balancing act in service, and they did it well.
And though the logistics of simply having to truck everything in must add to the cost, the meals were priced on a par with pubs in Hobart, and Rob Anderson, the chef churned out very tasty, (big) meals that were a credit to him and his team. We tried the beef rib ($36) with pumpkin puree, mac & cheese croquette, broccolini & garlic potato, mushroom and tomato. Whew! But absolutely on the money.
The beef stew at $26 with a huge dollop of silky mashed potato in the middle, was comfort food but with a finesse that was unexpected, given the ideas that I had of a lodge, though this is a pretty up market lodge. And we had a big group, savoured all sorts of meals, including kids' meals at $10 that weren't that much smaller than adults', without a quibble.
And the stand out? The chicken parmi – which was the size of a small horse, and needed to slim down a size or two really.
There were some Asian dishes one night, which were terrific, the standout being a Cantonese Duck Broth, at $17, bargain. A house-smoked Tasmanian salmon with pea puree, feta, chard, and semi-dried heirloom tomatoes, at $19 was a light and delicious combination of flavours, and the only low point was for me, one night when I had a 'roast leg of lamb with feta and white bean, prosciutto stew and salsa verde' at $32.
Hmm. The bean and prosciutto stew was unctuous, sparkled with the feta and salsa verde, but the star of the dish, the lamb? Oh yes, it was roast, but had been reheated in large slices, and was, well, dull, in the way of most bloody television reality shows that have been rehashed from another time. With a couple of fresh lamb chops on top instead of the roast, it would have been nectar. Ah well, moving on.
We're here to find the tiger, but first, abseiling the Gordon Dam just a few minutes' drive up the road beckoned.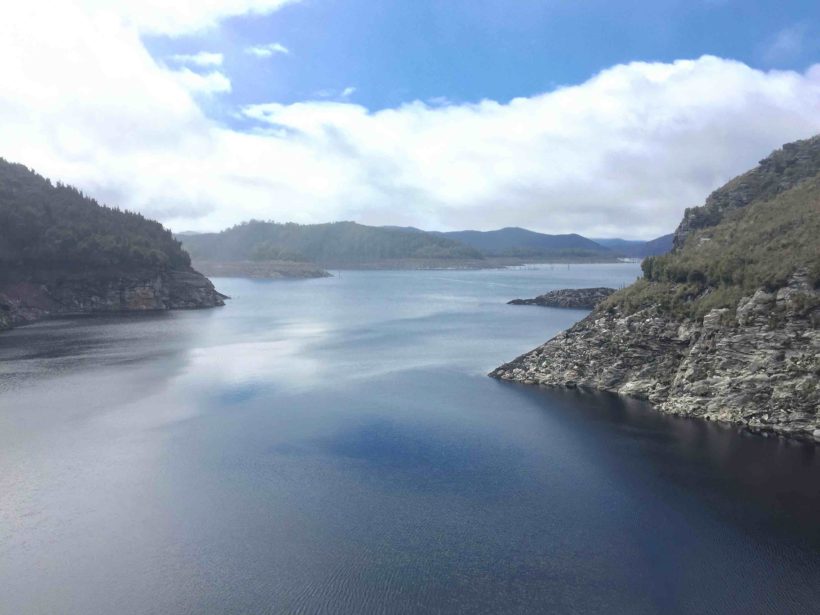 The view of Lake Pedder from the dam edge – breathtaking
Phil Harris, from Aardvark Adventures has been leading people to jump off high places for decades, and he charges for it! Driving up to the dam, the views again drew our breath, and small travel buddy and I watched and oohed and aahed as the girls were lowered down, down, down, safely, and slowly to the bottom of the dam. Hundreds, and hundreds of feet.
The preparation took hours, but the girls tell me the thrill was worth it. Though the climb back up a million metal steps was a severe test of quads, calves and glutes. Took me three days to get over the steps down to the dam rim and back! I felt for them.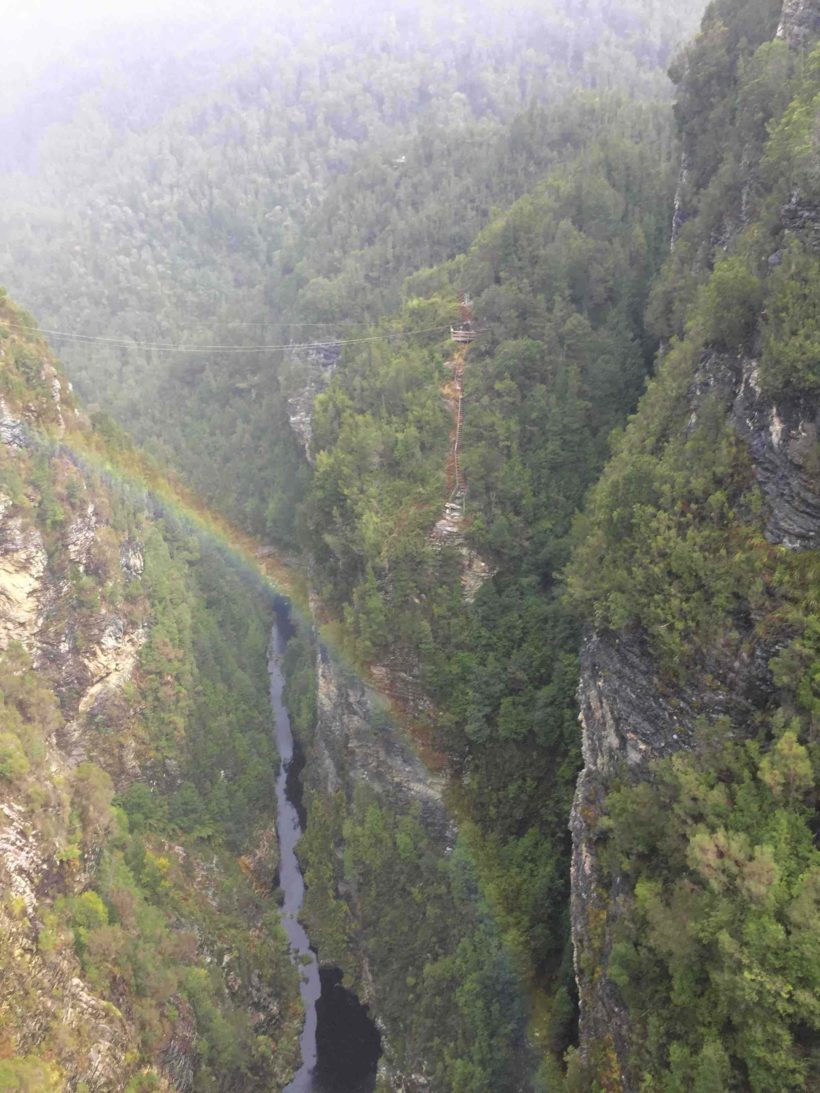 But job done, we leave our wonderful wilderness lodge behind, and now it was time to head out to the cameras and see if we had captured a tiger. On one of the side roads, where the skeletons of beehives and small demountables that once housed the dam workers met virgin bush, we pull up at a clearing and reclaim 8 cameras that might have glimpsed a species like no other.
Alan chose the location that apparently, suited the shy thylacine. The edge of thick bush that opened into tufted grassland to allow it to chase prey with ease. Hard into camera hunting, I heard an unearthly howl. Like a cross between a coyote and kookaburra. Strange. Though it could have been a Tassie Devil. We'll never know.
And then Jess, looking up at the grassy slopes behind us, saw a creature with a tail, thin and long, disappear over the crest. We gasped.
Do you think?
Could it have been?
Was it?
Are they still?
Really?
Yes, Really.
And that was it. Alan took the cameras home, so we won't know yet, if he's managed to capture the ghost of Tassie's past. Back at the Lodge, as small stuff and I are packing to go, we hear a scratching on the walls outside, and look out into the corridor…
Yes! It's a tiger! A girl tiger, and she's trotting up those hills chasing prey as we drove out. We just know it. We do. 
Pedder Wilderness Lodge / Gordon River Road, Strathgordon, Tasmania 7139 / Ph: 03 6280 1166 / Open 7 days / $$ /
Chrissie 🙂