Simon Holloway, one of the driving forces behind the Shark Tank sensation, Vegepod, (a home gardening solution but so much more), is the real deal. Dynamic, funny, and thoroughly entertaining, he also has valuable insights into business success. It's probably not what you think, but then Simon dishes with Aussie humour and charm.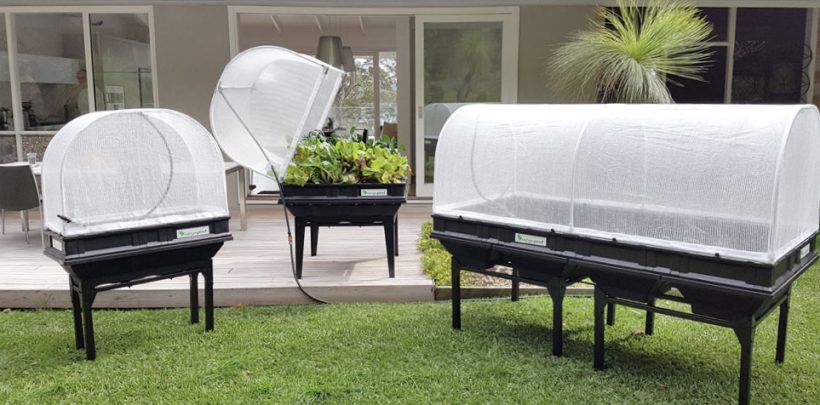 What's next? And could this be the best solution to restaurants that want to put their own produce on the table? Read and see. In Simon's words:
"How did it all start? Matt, my business partner is the engineering guy who invented it. I originally worked with his brother running patient support programs in hospitals with pharmaceuticals. But, hey, different corporate life!
"Matt and Paul Harris are Sydney born and bred guys and I'm from a farm up on the far northern coast of NSW. We had very different starts in life. So I had a bit of knowledge with gardening, and Matt felt he was failing on all fronts of the gardening aspect of his life.
"Matt's tenacious and a problem solver – so he just kept approaching the pain points of gardening – particularly in his city/urban environment. Basically the Vegepod was born in his backyard to defeat the pests, the weeds, harsh weather, the problems of bending over and mobility and access. He wanted to create micro-climates and plug his hose in to the bed, and all these issues come together to the best raised edible garden bed in the world. We're in 20 countries now, but it wasn't born out of aesthetics, proudly so, our particular garden bed was born purely out of function.
"We say that the pod is a bit like Australians – we're a little bit ugly, but we're hard working and we get through the superficial cracks. So if you want something pretty with a bit of superficiality, go and get something else!
"So hence the Vegepod was born12 years ago. When Matt was doing it, and taking it around to farmers' markets, he needed to reinvent, and the big killer about ours is that it's flat packable and it all nests down into a smaller box. Whereas you get any of the usual big self-contained wicking beds, they're massive huge units that aren't viable for shipping. Ours are.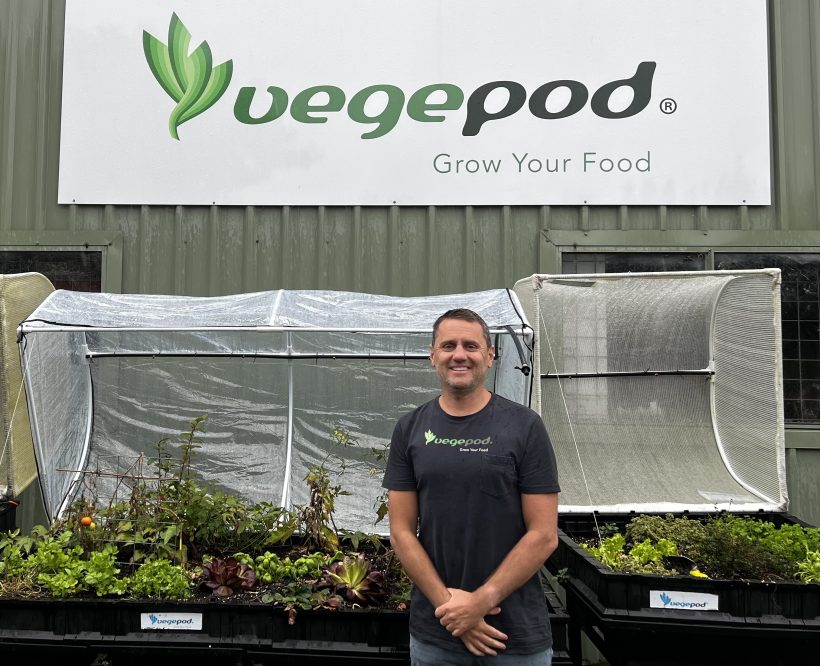 "When Matt was at that point, his brother and I said, 'Yeah, we'll get in behind you,' sort of the Three Musketeers, I guess. And that was 10 years ago when Matt had been working on it for two years. Matt is still in product development today, tweaking, improving, inventing extra products, the accessories, etc.. Paul is the CEO for our global customers, and looks after the Profit and Loss, the balance sheets, HR and the structures, and the 'don't do that again, Simon.' (Ha!)
"I'm the one out and about, the mouth, getting everyone all excited, so I like to put it that: one of us invented the product, one of us sells the product and one of us manages the product. So the three of us have different roles, different personalities and different experiences and skill sets. And we've all combined very well over the last ten years, it's just been a great journey.
"Obviously we focus on edible gardening, though people use us for ornamentals of course, which is great. For example, I've seen thirty on a hospital rooftop that were growing orchids for patients. We were that classic story of the little Aussie backyard battler, you know, we didn't even take a salary for the first two years. We learnt to do things on an oily rag, but we had a great product, we felt we had a great team, we were all fairly mature and knew how the business world ran and what our strengths and weaknesses and opportunities were. All we needed was exposure to get out there.
"We learnt that just throwing the product out on line it wasn't going to sell, and you hear all these wonderful stories about chucking it on Amazon and Google and becoming multi-millionaires… Well that's rubbish, you've got to build the brand, and get exposure. So I hopped into the van that I'm still driving today, and I was living in that a lot of the time, and every second week I'd go to Brisbane or Melbourne driving all the way.
"I joined Anytime Fitness, and for $80 a month I could have a hot shower wherever I went and I could plug in my phone and my laptop and go for a surf in the morning, park next to the beach and stop off cold calling into garden centres. To help build that presence we knew we needed to get into retail stores, so I would drive around, and cold call the old school way.
"Bunnings wasn't in the mix at that point. They pooh poohed us in the early days, so I focused on the small mum and dad stores – the independents – we knocked on doors and gradually just sold into them, we built up to 150 garden centres on board by the time Matt went onto Shark Tank. That was after 2 years of doing it our way – and on Shark Tank we sold more online in the first two days after that than in our first two years put together!
"We continued on and we won Shark Tank so Bunnings came on board, we did go into them after that, but it wasn't a great experience. They're about cheap and not good quality, and we had a better value proposition. We decided after about a year to leave Bunnings and stayed with the independents. We didn't belong in those big bargain stores.
"We just kept building the brand. We started going overseas – we're in about 20 countries now – we're multi-channel: loyalty programs, Qantas Frequent Flyers, Fly Buys etc., TV shopping, retail stores. We're glorified Carnies too! We do 5 or 6 live shows a month in Australia, big and small. The Koonya Garlic Festival in Tasmania was the first ever show we did in Tasmania for example – it was fantastic. We do so many festivals, most of the Royal Showsand the Agricultural Shows, and I'm pushing them through hospitals and aged care. I'm Head of Community, so it's also disability, prisons, Mental Health Hospice, women's refuge, Age Care homes, and now we're into cooking! We're working with the chefs at the Mater Hospital, and learning that there's so much more involved in the chef area.
"The horticultural industry as a whole is just fantastic. We're getting the aged into gardening, growing food, and looking after plants and veggies – but it's not just about the harvest, it's about the whole process. Your overall mental health and wellbeing improves incredibly by being in touch with the cycles of life and nature. It's wonderful to see – it makes such a difference.
"In Tassie, we're in Chandlers in Hobart, Stonemans in Glenorchy, Harmony in Lauderdale, Plants Plus in Devonport, West Park in Burnie, Plants Plus in Launceston, TasGrow in Latrobe, Irrigear in Campbelltown and Cape View in Somerset. We do the Agfest every year – this year everyone had the boots on – the mud was pretty huge.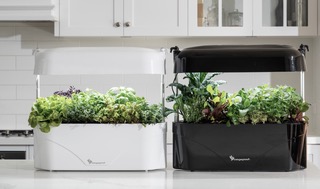 "Our strategy is to grow and enable as many people to grow their own food anywhere in the world. We believe it's a human right to grow our own food, but our philosophy is it's also something that everybody should do as part of being human, as part of being on planet earth. In any climate, in any country, in any culture, in any type of abode. So whether you're in the deserts of Qatar, or the snowy alps of Canada or the dusty bowls of Werribee, it doesn't matter – you can grow your own food at any time of the year. Especially with our little indoor unit now – people all over the globe can grow food and that's how we want to do it. We exhibited in Japan two weeks ago. We want to go into every country and we're already in every continent bar South America.
"We're working on the challenges and looking to create a Vegepod Foundation as well for a lot of our charitable work, and expanding our range. Will we ever replace the supermarket? Of course not! Mr. Vegepod himself here has to go and buy groceries – we're about supplementing and complementing what we already get – and we're on a course to do that around the world.
"I have to say, that up until recently, all the companies around the world have come to us unsolicited! They approach us to share the products – and now, pushing on, Japan is an example of us going to a fair, finding some distributors who actually 'get' what we do. It's about finding the right team to set up the channels of marketing that we typically go through.
"To sum up – we've got a strong pipeline – and the growth will be on a few fronts: 1. The expansion into other markets; 2. The expansion of more grow your food type products; 3. Education of the market about growing our own food; 4. A lot more charity work in areas where we make a difference – aged care, prisons, schools, the community at large."
And Simon disappears to work some more magic and spread the word about the thrill of growing one's own food. He of all people knows that when you've grown your own food, somehow it always tastes sweeter, and the satisfaction never wanes. That's the key, I think, to the super spread of a brilliant solution to an age-old problem: What's for dinner?
Thank you Simon. 🙂