Ruben Koopman's journey just keeps getting bigger. And now for the next installment…
When it comes time to interview a chef like Ruben Koopman, I know the story is always going to be big. And his story is bigger than most.
Poised to launch a whole new series of outlets in the Caribbean, Ruben as always dishes some gold along the pathway to bigger fish.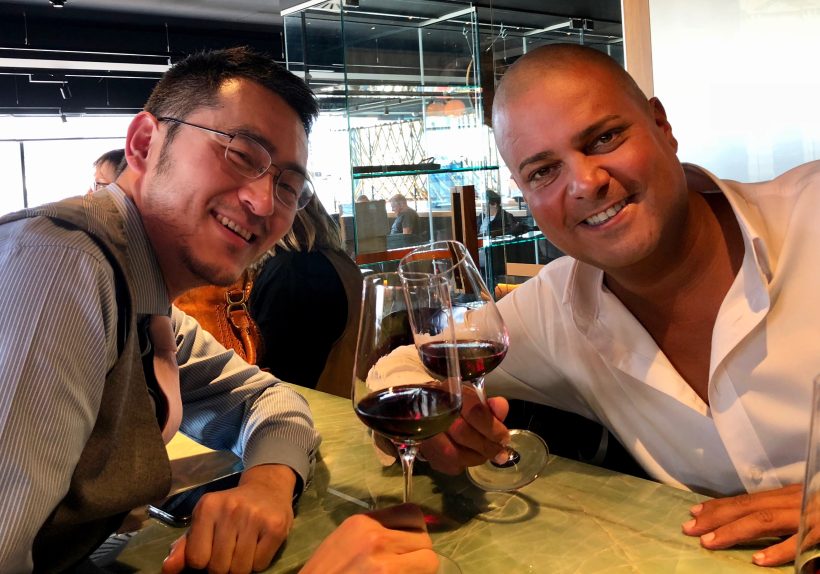 If you want to read the first instalment, click just below before we deep dive into the what's happened since, and the where to now? And as always, Ruben generously shares the lessons so buckle up, it's a big ride. https://justthesizzle.com/review-thelounge-michelin/
Starting at the end (now) as a beginning, Ruben explains the actual series of events that allowed him to own his own restaurant, The Beach House at Blackman's Bay. Leaving Robbie Brown's in Kingston, Ruben bumped into the owners of the then Beach Café, and having been told that they weren't interested in selling it, was surprised to learn that no, they were very interested in selling it.
This was 2nd November, 2020.
There was a catch, however. They needed to settle by the end of that month! In Ruben's words,
"A good example of being in the flow and manifesting, not wavering in your faith, I went, 'Right, yes, let's go, and put something on paper. Both my accountant and solicitor said, 'In 40 years we've never seen a settlement that fast. You're crazy. This is ridiculous.' So on the 28th they called and said, 'We don't believe it, but we're settling today.' I chuckled.
"We had the support of some great people, and took over, and within the first year brought the revenue up to over a million dollars, which was the best year they'd ever had in 19 years. So it was a good start. The cost of goods and labour was way out of whack though, but something was working, and as we were moving along and building the business, some of the board members felt that the business needed to go in a different direction.
"I didn't disagree, but as a shareholder as well, I deeply felt that I didn't spend the last 33 years owning a craft – and that direction, of steaks, fish and chips etc., just wasn't me, so I sold my shares to the restaurant manager.
"Exiting the business, I started thinking about the different labour costs and systems from here to Holland, and Tassie was never going to be an ongoing love story to me. The Dutch are innovative and solution oriented, and now the staff benefits are being improved, and they're adjusting."
(CMG: I don't like the stage system that exists in top (usually Michelin) restaurants where chefs work for free to get the restaurant on their resumé.  To me, it's just another form of slave labour. This of course doesn't happen in Australia, because we don't have Michelin restaurants here. You wonder why? Because Michelin ask for a lot of money to visit, and judge. Australia has always refused.)
"The way I like to see hospitality is that it should be representative of country, or culture, or at least happy sitting in the audience around it. Most in Australia are small stand alone businesses, unless they're part of a larger scheme – for instance Frogmore Creek is huge, and hospitality is part of the Frogmore family, but profit is spread across the company. In Beach House, the profit is key, of course, in the short term. But for me, it's long term – and profit, though important, isn't what drives me. I miss Europe, my family, that multi-cultural living, and restaurants that truly represent – are agents for their culture and country. New York is special and reflects that of so many cultures, but it's still New York.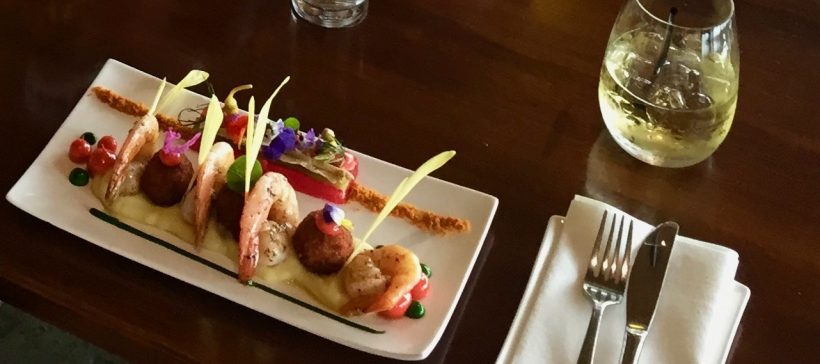 "At the beginning of this year, (2022) I went back to Holland and saw my old bosses, Janny and Theresa of De Librije in Zwolle, the three Michelin star restaurant where I began my apprenticeship so many years ago. They asked the question, 'What do you want to do?' For me, I felt like all the time I put in when I was younger came back to support me now. I left there when I was 25. They've got a cooking school, a shop with merchandise, then there's the hotel. It's phenomenal. Part of the best in the world – number 34 in the Guides, 19.5 out of 20 in Gault Millau. The restaurant started in the premises where monks used to press their books, hence the name – The Library. I left originally when I was 21, travelled to Australia, then went and worked for Marco Pierre White in London, and came back to Holland. 
"The whole scene in Holland has grown enormously since I left the second time. Janny and Theresa started the Brass Boer inside the moat that surrounds the city, while De Librijie is outside. The new place was a little more casual, easily a one Michelin Star restaurant, but they don't care. Then they started Bar Senang, next to it, a combination between Asian/Indonesian. It's a tapas bar with cocktails and so on, a cool little spot. They were approached by people who own a resort on Bonaire in the Caribbean, who wanted them to do something similar. Hence, they developed Brass Boer Bonaire, then quickly Bar Senang in Bonaire, and the plan now is opening a beach club with great chicken dishes by the end of this year, then followed in Curaçao.
"Initially,  I'll spend time in Holland getting to know the current outlets, I've already got ideas for music, uniforms, food, atmosphere. Then I fly to Bonaire to set up the beach club and chicken bar, adjust current outlets to become more efficient and streamlined, then Curaçao. The entire idea is to develop the brand. The cooking, the skills, the finesse, the service must be familiar in each place. Every place has their own team – so my role is to teach the teachers how to teach, to get the best out of them. It's all about how to build the best teams, and the secret?
"We need to work on understanding and establishing DNA of these outlets. After a conversation with Borce Krstevski, the Maitre D' of  The Lounge at Frogmore City, the DNA idea hit me. Nine years ago, I came up with the idea of the 8 Words that are the DNA of Frogmore. Now, I told him it was time to revisit that, after everything that's happened, they need new words. It's a new era. Working on protocols, procedures that reflect the DNA, the manuscript. Use that as a reference, rather than a criticism, that you hold staff to account. It becomes a conversation about the DNA, not about what's wrong with a staff or their performance. 
"It's time for a new chapter, not for me with Frogmore, because I have new fields to conquer. It's no longer my path, but I look back with love. I want to see the industry that's fair, that's exciting, that young people see they want to be a part of. Borce always makes an effort with the ethic, 'I'm here for you. To serve you.'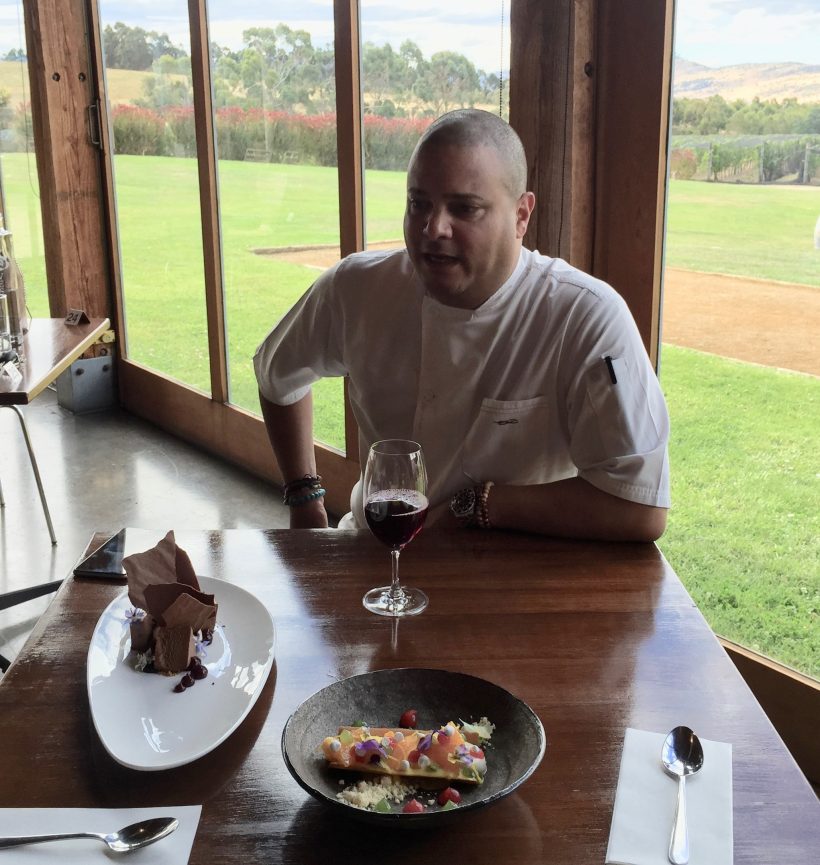 "I've always been price conscious, hence the restaurants I'm involved with serve outstanding food at great value. I've just spent 10 hours watching You Tube movies of top chefs in the USA. I'm 47, and still learning. For me, it's also about consistency – each dish must be perfect, and the same. You owe it to the guest to make that dish as good as you made it the first time. How bad is it if you promise something to someone, you bring your friends back, and the second time, it's not as good. You're going to be disappointed.
"A big problem with social media is the fact that people now don't want to be seen to be critical if the general consensus is it's fantastic. So they put these restaurants on a pedestal they don't deserve. Restaurateurs should step up and be who and what they are every day, with every dish, in their restaurants.
"In Tasmania, the Brand Tasmania people have changed the landscape of ads to suit marketing, but they haven't changed the DNA. It needs a very strong group of people who believe in this. 'How are we moving forward in Tasmania as a culture?' The island is special, but the product isn't quite up there. Brand Tasmania, and their government departments need to work on their product – the brand, the tourist experience.
"A huge amount of that tourist experience is the hospitality industry. The restaurants need to reflect the 'brand Tasmania' every time. At Shoreline, I put fish and chips on the menu, but different. With great fish, presentation, Heston's triple cooked chips. The problem I have is with people who charge $28 for a Parmi which is a very ordinary product. At Beach House, I worked on our suppliers, our prices and I would love to set up a restaurant where nothing is over $22 – that creates a ripple of  'Wow! How is that I can have fantastic service, great food and pay half what other places are charging?' 
"I'm a firm believer of people staying in their lane. At Frogmore, I had a big advantage of the bigger overhead of a big company. I had a garden that supplied us with flowers and herbs – we picked before each service. The cost of that is amortised with the vineyard overheads. That was my lane. I'm good at serving 80-100 people, and giving them a fantastic experience. The vineyard manager, Danny, had lambs that grazed the vineyard. Of course they were on the menu – a spectacular product that we worked with to create amazing dishes. 
"If you're a Mexican restaurant, then make the best Mexican you can. Stay in your lane. So for now, Holland and my roots in this industry beckon. I see the young people, the players, and that fire in their bellies is still there – here, in Tassie, not so much. When I started in Tasmania, no one was using liquid nitrogen, dry ice, circulators, flowers as garnish. I will always be grateful to the CEO of Frogmore, James Skabo, who's become a dear friend, for hiring me in the first place. 
"James gave me a theatre with open script to explore, to push myself and my team to be the best we could be. With solid training in Europe, I brought new ideas, but also a fearless questioning of the current methods and equipment. I still have my creativity, love and energy for the game. Frogmore was the theatre that I needed then – I guess the Caribbean is the theatre I need now. 
"Shoreline (Hotel) was a great opportunity – it had been revamped well, but it still wasn't quite finished. It was there I set up four different outlets that had varying degrees of comfort and formality, but always great food at low prices. Something for everybody. The outlets began to heave. It was really satisfying.
(CMG: Ruben has always been more of a consultant, imho. His imprint is still there, wherever he's been. He always looked at what's the right thing for the business? He also has a massive following in the industry in Tasmania.)
"Robbie Brown's became an example of what I like to do – bringing the energy to the business, and Erin (Williams) brought her main game to the front of house – which set the tone and brought in the market. We boosted the business, changed its DNA and left it in really good shape to open Beach House.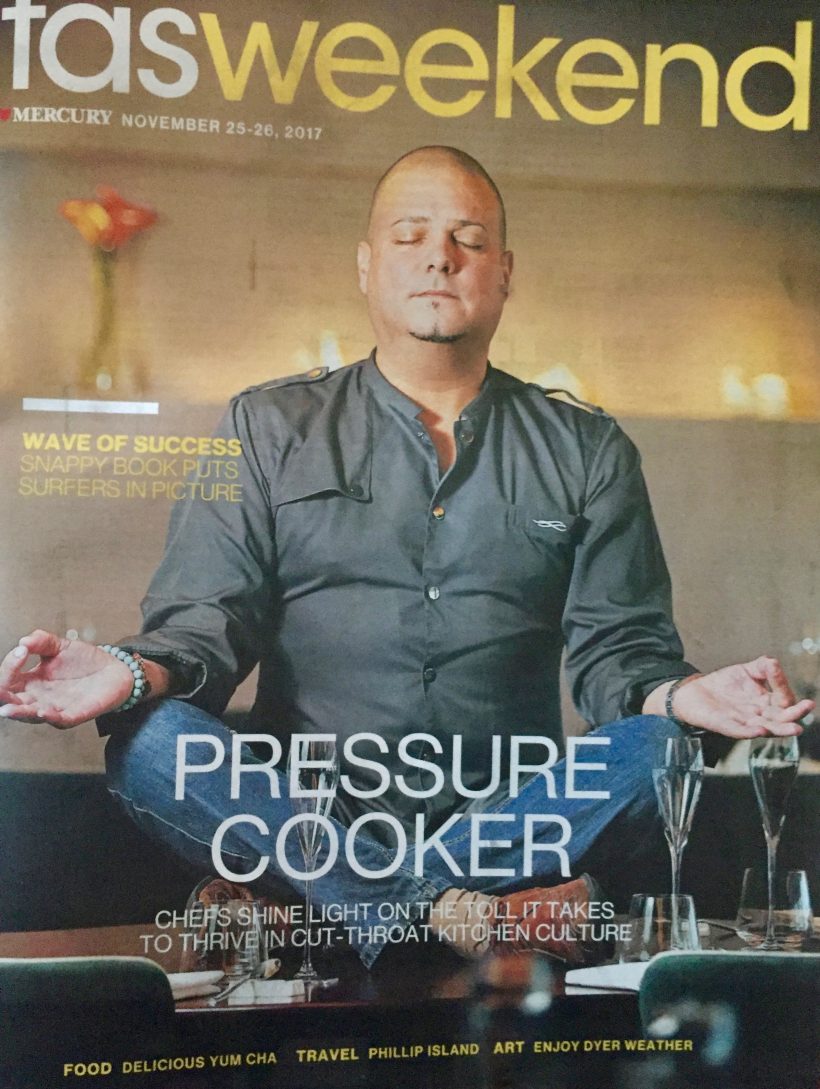 "For now? The sky's the limit, and I've learnt that you always need to stand guard at the door of your mind, and watch who you let in. Letting in new influence is challenging, but sometimes can be the best thing we do. That balance between our inside and outside is critical. A book I found critically influential, is, "What to say when you talk to yourself" by Shad Helmstedder. It explained clearly and succinctly the lessons I've been accruing all my life.
"Flow is where I try to stay, while it's not a button you can turn on and off, but writing affirmations, repeating them and living them will change your life. It's being your true, authentic self. Flow needs to be activated to work. Make it your comfort zone, and you automatically see the solution, find the solution, be the solution. But it's also important to find your limits, because there's a limit to how much you can give, but takers have none.
"So for me, I firmly believe that you can't take your old self into your new future. Something has to give. It's onwards, upwards – literally! And into a new era, new lessons, and sharing the myriad of lessons I have to give. I'm excited."
Ruben leaves, and leaving Tassie will depart for a new life, but his legacy lives on. His footprint, wherever he's been, still visible to those who followed him and his trajectory. I'll be following his new projects with interest, and there may be a big story in the offing. One thing we all know for sure, it will never be boring.
Best wishes, Ruben Koopman.
Chrissie 🙂