Restaurants, even Michelin restaurants, come and go, but some, and it's sadly very few, just stay in that rarefied space of total suspension: almost always coming up with an experience that transports, uplifts and takes the diner into another dimension.
They float above the crowd. I'm all too aware in this industry just how many variables there are, so when a great chef manages to nail it, every time, I'm in awe.
Ruben Koopman is ex-Michelin, and with that there's a depth of training and background, working with Gordon, Heston, Marco, the greats that transcends the normal chef journey. Landing in Hobart, working for an entrepreneur who's not only passionate about wine but food, as a boss, has served Hobart, and Ruben well.
Born in Lebanon, working his way across Europe to Holland, slogging in London at Marco's beside the incendiary Gordon Ramsay, Ruben gathered his experience like Aladdin plucking diamonds for his cave. And now, with a big business in his care, and the freedom to develop his own ethos, his food sparkles under his watch.
The Lounge, in Maq01, on the western side of Federal's new 'story hotel', is a work of art. Carefully planned, with everything designed and thoughtfully curated by Ruben, and Frogmore's marketing manager, Shelley Tamata, with numerous trips to Shanghai to oversee production, The Lounge glistens.
Overlooking the busy working port, we are seated out on the balcony to begin, and enjoy the spectacle of the tug in front expediting water-driven donuts as it swirls and chugs out to sea to bring in another ship. Take time, enjoy the view. Feel the ambience. This is not a restaurant to rush, to hurry, to do anything but enjoy the moment. And for that, I will be forever grateful.
As one of my guests said, "It's like family. This is the first time since I've been in Hobart, that I really feel like I'm at home." And Ozkan's home is Turkey, where hospitality drives an ancient, colourful culture. So that's a big statement. And this is one of a series of visits, so we've had time to digest, to compare, to listen, to review.
Erin capably oversees exceptionally trained and professional front of house staff. Cassie knows her job and her diners, Alex and Zac somehow manage to be wherever they're needed, and Rhiannon, who serves us on this visit, becomes a new best friend, as only great waiters can. She waits on us with humour, speed, knowledge and that little bit of cheeky that turns the evening into an event.
The menu arrives, as do our cocktails, with the appropriate noises and lip smacking. We could have had the snacks out on the balcony, but we pass on that – btdt. Yes, we went there and did that late last year at a celebration that got very untidy. It was a memorable night. Say no more. Whatever your reason for being there is, a cocktail is the way to start, whether it's a sprightly Aperol fizz or something different, it's there, begging to be tried.
And about the décor – it's aimed at diner comfort. The tables are big, the chairs are big, soft and envelop you like an old friend, and the spacing is discreet. No worry about what our fellow diners are doing or saying – we can't hear and we don't care! And everywhere there is that spectacular view.
Like all else here, the menu does its own thing. From beginners, with oysters, caviar and bread with truffle butter on offer, it moves to "Delicates and Lights" where 'Two of your choice' is a very reasonable $28 and moves across the food spectrum. It has a choice of 13 interesting, and as always with Ruben's food, perfectly balanced dishes. We dither and decide that between 4 of us, we can easily order a multitude so everyone's happy.
We order a Frogmore Creek bubbles, at $65 not cheap, but delicious and a perfect mouth lift to the cavalcade of dishes that sail out, in good time, from the kitchen. Each dish has been designed to plate and showcase Ruben's food. And the food is the star. Pulled pork shoulder croquettes with apple puree, cured and air dried ham, 'mop bait' and picallili crème enters, and Erin explains the 'mop bait' as a term her mum used for a potato fritter, when she was a child. Every element is there for a reason, it blends, and moves and sates. There are stories behind the food, and the experience.
Smoked salmon with prawn and potato salad (but not as you know it), avocado crème, sour cream, lemon jelly, wasabi mayonnaise and brioche croutons comes next. And again, is an exquisite pairing of sweet, tart, savoury, soft, crunchy and melt in the mouth salmon. The 'scorched heirloom tomatoes and mini cucumber with tomato relish gel and Meredith's feta,' arrives as a dome of fetta in gel, with a very modern take on a Greek salad that melts and melds to something that is reminiscent of the Greek Islands, but you know that you're elsewhere.
The beef tartare cones with celeriac, potato croutons and truffle mayonnaise are tiny, light, and perfectly formed. Like a savoury ice-cream cone from Lilliput that is an homage to perfect beef. And then, the steamed scallops come out, impossibly thick and plump with almond cream, celery, grapes, spring onions, with a splash of black garlic. White on white on white with a spark of dark.
The tataki of wagyu beef on mini steamed buns with a soy and ginger glaze, pickled carrot, fresh Shima wasabi and potato croutons is – well, I'm starting to sound boring in the superlatives, but that beef was simply amazing. The grilled prawn with chilli rayu, (a very deep flavoured Japanese chilli oil), finger lime, flowers and smoked dried oyster showed just how exciting this shellfish can be.
Char-grilled octopus, chorizo and pineapple skewers with tikka masala mayonnaise and potato croutons exhibit how inventive this kitchen is, and it works, every time, because the research must be exhaustive. The yellowtail kingfish sashimi comes curled around a baby beetroot, celery and smoked yoghurt, sitting in a petri dish of soy and brown sugar vinaigrette. This simple, but complex dish almost stole the night.
We move on to the bigger dishes, the "Or more", and try the "Terrine and croquette of braised octopus with roasted chorizo, apple sheets, five spice gel, crispy chicken skin and 42 Degrees South Sparkling cream." $27. While this is not unlike the skewers of octopus and chorizo we had earlier, it's almost a grown up take on a similar flavour palette, with a few extra textures in the mix. And we order a bottle of the superb 42 Degrees South Sparkling to help us along. Cheaper than the Frogmore, and almost as good.
The char-grilled tuna with Caesar mayonnaise tossed potatoes, green beans, olives, bloody Mary jelly, egg yolk and semi dried tomato, again arrives, as art on a plate, begging to be eaten and by this time we are in overdrive of how much goodness can a small group take? $32.
And then, the last savoury dish, the 'Roasted loin and croquette of lamb with charred eggplant puree, pickled pumpkin, red onion jam, smoked yoghurt and chimichurri.' $36. Well, look at the photo – perfectly cooked meat in a deep and tasty jus, with a smoky accent and perfect finesse that stopped us in our tracks.
Rhiannon kept us entertained, watered, champagne'd, and happy.
And of course we had to move on to dessert. $19 each. We had to try the "Miss Molly's breakfast. Candied bacon, buttered toast, tea jelly, yoghurt, cherry and cerial (sic) cream. A whimsical, gorgeous finish to any caravan of wonderful dishes that spanned that bridge from savoury to sweet so perfectly.
The 'Roasted and caramelised pineapple, rum doughnut, pineapple ice cream, allspice sponge, coconut tuille and rum gel', as I write this, makes me want to rush back and have that all over again, and the chocolate and Kahlua mousse with aero chocolate, crispy brittle shards and chocolate sorbet had an orange element that was so reminiscent of my childhood and that combination of jaffa flavours that it was hard to snap back into the present.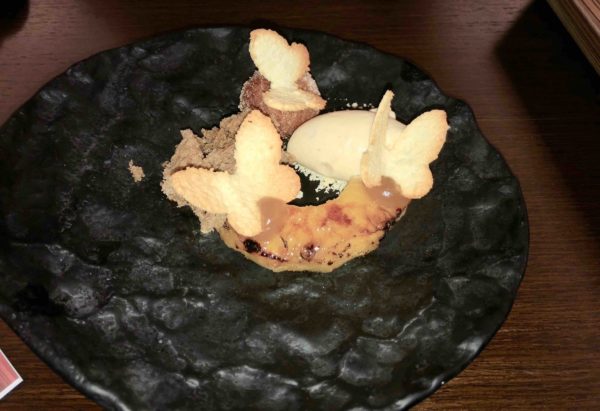 And so we moved on, much later, out into the warm night, the scent of the sea drifting up through the docks, reminding us where Ruben and his team get their inspiration. It was honestly, a perfect night. And the skill and sheer bloody-minded dedication that is behind every bite will stay with you for some time. It did for me.
Chrissie 🙂
The Lounge by Frogmore Creek City / 7/18 Hunter Street, Hobart, Tasmania 7000 / https://frogmorecreek.com.au/the-lounge-by-frogmore-creek/ Email: [email protected] / Open 7 days lunch and dinner 11.30am – 11pm / Ph: 03 6274 5876 / $$$