A word to all restaurateurs, big and small. There's nothing, nothing better than receiving a big cheery 'hello, how are you?" when you first enter a place. Nothing. No. Nothing.
If anyone knows this better than Rose, aka Mamma Rosa, from Patanella Café, then I have yet to meet them. When Rose's dad died, she fell into a cavern of grief and inconsolable, she closed rather than spread her grief around. Her customers waited patiently for her to recover, and reopen. Which she did. And Hobart is better for that.
Rose is a one off. Talented, fire-cracker bright, she inhabits her small niche and fills every nook and cranny with her personality and love of hospitality. Be warned. If you like your places dark and quiet – this is not it. But it's a day and brunch space, so the whole ethos works and works well.
Rose's legacy, from a Nonna and Mamma who loved her, taught her to cook and love food, is clear. Her will to do things her way, is also clear. So Patanella, little potato, as was her nickname as a baby, is as uniquely Rose as her voice and other persona, Mamma Rosa.
The tiny space, on the corner of Smith and Argyle Streets in NoHo, is filled with op-shop eclectic. Laminate tables from the 60s, miss matched porcelain, road signs and theatrical dummies vie for attention as you peruse the menu. Dull? It will never be.
Apart from having an incredible singing voice, Rosa is a dynamite cook, and her Nonna's heritage lives on strong, and tweaked in the daily dishes that Rose serves up. Her home made tortellini – silken and with a delicious mix of fresh zucchini, goats' cheese and herbs are a revelation.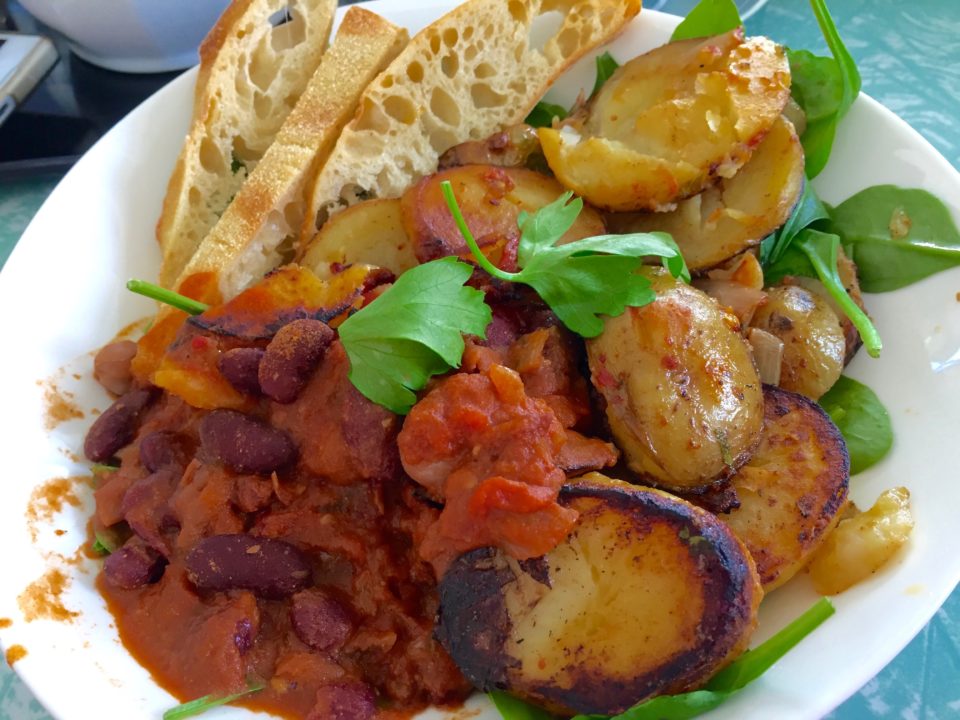 The house baked beans with perfect crushed baked local potatoes was tasty and so big I couldn't finish it. The omelette? Soft and buttery and fresh. And the Halloumi with mushrooms and scrambled eggs with a little brioche? Wow!
Everything is served with thought and care. My coffee comes out with home made almond bread on a vintage carved wooden pineapple. Haaaa. With all the noises and sounds of eating, Rose keeps serving and schmoozing her day through. She knows her regulars and what they like, and how they like it. As only a true pro does.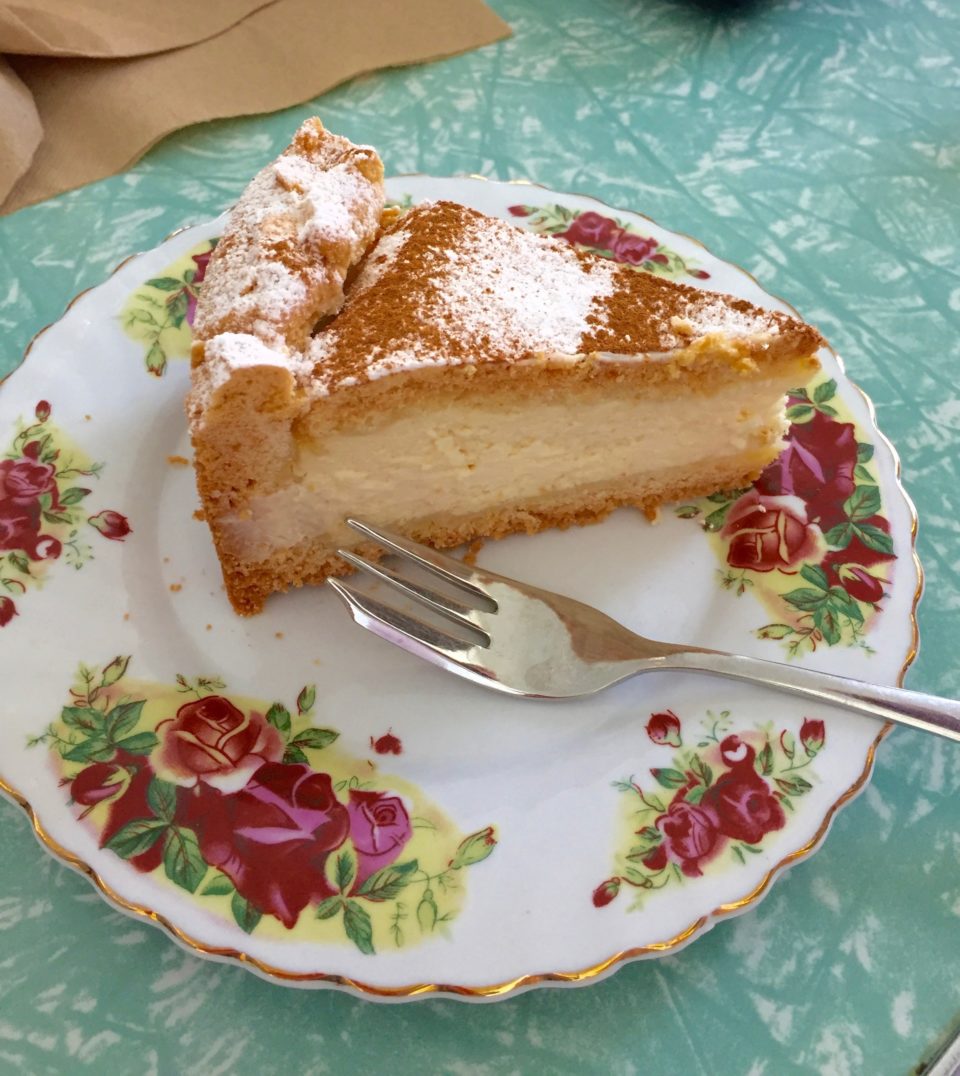 In spite of us all being full to the plimsole line, Rose insists we try the ricotta cake. And she's right of course. It's sweet, soft, cheesy and divine. But could really do with some tart berries and a bit of jus. Just saying, Rose. That would then be perfection.
In spite of us all being full to the plimsole line, Rose insists we try the ricotta cake. And she's right of course. It's sweet, soft, cheesy and divine.
Having been there as a sole female operator for so many years, I have nothing but respect for what Rose does and her success is so well deserved. It's a tough gig, and with the added dimension of the cooking classes when Mamma Rosa takes over the joint and the walls vibrate, she gives her all. It must be exhausting.
With most dishes falling in around the $17 – $24 range, they're good value, fresh, tasty and filling. The coffee's good, and the service, sublime. Rose dishes up everything with a smile, a laugh and sometimes a joke. It's always entertaining, and never, ever dull.
Make your way there if you're feeling blue and need a lift, or if you just need a cuddle from Mamma. I'm sure Nonna is looking down, proud as punch, and possibly hiding in the back kitchen somewhere, just to make sure her dishes are done as taught. Thank you Nonna, and Rose. Mangiamo!
Chrissie 🙂