There's something wonderfully comforting about the humble sausage roll, and if you use a bit of imagination, it can be a delicious snack or finger food.
A couple of tips here to make them taste extra yummy….
And a note about working with puff pastry: Puff rises in layers as the air enters the edges of the pastry. Make sure when you egg wash anything, particularly with edges, don't brush the wash over – keep it on top and the pastry will rise beautifully – slop it over the edge and it'll have trouble.
Ingredients:
1kg sausage meat (I love a combination of beef and pork, or pork and veal, and a mix of sausage meat with pork and beef will give great hearty flavor – develop a good relationship with your butcher and see what he says)
2 large parsnips, chopped finely
2 medium carrots, chopped finely
2 tablespoons roughly chopped parsley
1 small sprig fresh rosemary, chopped
1 brown onion finely chopped
3 cloves finely chopped garlic
2-3 tablespoons tomato sauce
1 tablespoon Worcestershire sauce
1 dessertspoon Vegemite
Salt and pepper
1 packet – six sheets of puff pastry
1 egg
knob of melted butter
Poppy or sesame seeds to sprinkle on top, if desired.
Method:
Mix the meat with the vegetables, herbs, sauces, onion and garlic, a little salt and pepper and Vegemite and put aside to soak up the flavours for an hour or two.
This will make a big difference to the snag rolls – they need time to accept the deep complex flavor you're looking for.
Heat oven to 180 Degrees C., and line two baking sheets with baking paper.
Now, put out a sheet of pastry, cut it in two longways, and butter the pastry first – this makes a huge difference to the texture and mouthfeel as well.
Put 1/12 of the meat on each strip of pastry, roll up, pinch the edges slightly and place on the baking tray. If you are wanting small finger food, leave the pastry in one sheet, butter it, roll up one sixth of the mix, and then cut the roll into sections to suit.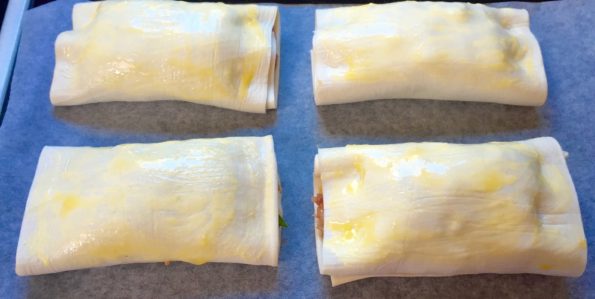 Beat the egg with a little salt into a cup, and brush the top of the pastry rolls. Sprinkle the seeds on top. Bake in the oven for 35 – 40 minutes, until golden brown.
Do you have a fave snag roll recipe you'd like to share? Be our guest! 
Chrissie