The easiest, moistest, most delicious cake / pudding you will ever have. 
On a health kick and trying to cut out the butter and calories from sweets? Look no further – here is a recipe that will have your family crying for more.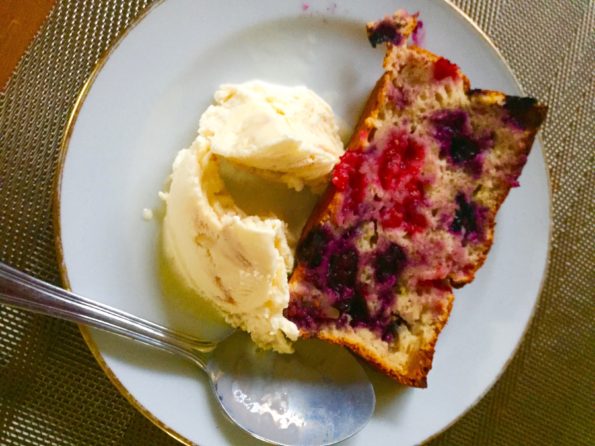 Ingredients: 
1 and ¾ cups of plain flour
½ cup raw sugar
1 and ½ teaspoons baking powder
½ teaspoon salt
1 dessertspoon finely grated lemon rind
1 dessertspoon finely grated fresh ginger, or finely chopped crystallised ginger (optional – if you don't like ginger – leave it out)
2 eggs
1 teaspoon vanilla essence
1 cup of plain yoghurt (don't use low fat!)
¼ cup milk or almond milk
¼ cup canola oil
Juice of 1 lemon
1 cup of fruit – can be a mix of blueberries, raspberries, strawberries cut into pieces and you can throw in some toasted chopped nuts if you want – possibilities!
Method: 
Heat oven to 170 degrees Celsius. Spray a loaf tin with coconut oil spray.
Mix flour, sugar, baking powder, salt, lemon zest and ginger and nuts if using. Mix well. Add fruit and mix gently through.
Measure out in a largish measuring cup the following in this order: milk, canola oil, yoghurt, eggs lemon juice and vanilla and whisk with a fork until well mixed.
Slowly mix the wet ingredients into the bowl of dry, and mix gently but well.
Pour mixture into loaf pan. Bake in oven on lower shelf for 60 – 65 minutes, then test centre with a skewer to see if it comes out clean. It's a very dense, moist cake, so will take some time to cook through. When cooked, let sit in pan for 10 minutes, then turn out on to a tea towel on a rack so it won't mark. Keeps well up to a week, if it lasts that long!
Tell us, did it work for you???