A wonderful old German neighbour of mine years ago, who was Sally Bowles from Cabaret reincarnated, told me that, "Liebling, a face-lift is as good as a 5 star holiday."
I looked at her face, which was morphing into the wind tunnel look with trout pout lips that could have, like the Titanic, supported both Kate and Leo leaning out to sea, and had my doubts. And like most of Hobart, I had my doubts about trying this third or thirty-third iteration in a spot in Battery Point. Just like a face-lift. Same location, different frontage!
My original question comes to mind, 'What makes some places take off and prosper, while others blow away in the wind like feathers from a duck's backside?' This little spot in Hampden Road, on the corner of South Street and opposite Francis Street, (hence South on Hampden) had seen more than its fair share of, well, difficulties. For a start, it really is down the hill a little past the well established Jackman McRoss, the Prince of Wales Hotel, D'Angelo's and Magic Curries. It's in good company, but are those extra few steps really so hard?
Remember Jam Jar? Then Chippie's Right Royal Fish and Chips? The latter involved a hugely expensive face lift but, all to no avail. The theme just didn't catch, and I hear there were partnership issues from get go. Breaks my heart to see so much effort go to naught.
However, this new face lift is under the care of experienced chef and restaurateur, Ian South (how's that for serendipity? South on South Street?), so I guess calling it South on Hampden was a no brainer.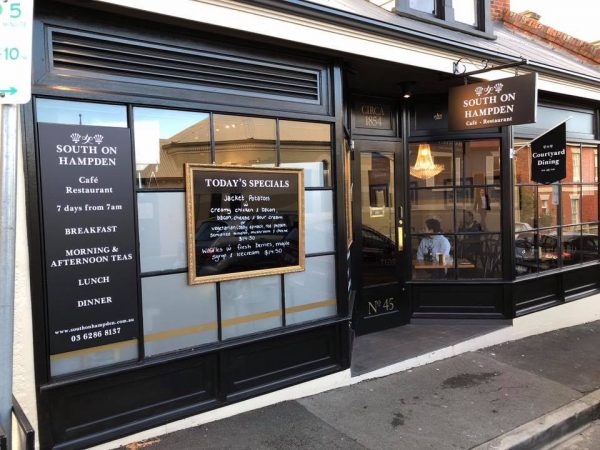 And as well as the new management, there's been major renovations. Gone are the ersatz caricatures of royals, the bolted down tables, the bar you had to move a mirror to find. Outside, there's a sunny courtyard, and a private bar tucked in an alcove where one can shelter from the weather, or social meet-ups one isn't in the mood for. Hobart is small don't you know, and a cosy hidey hole could be very convenient.
So we head in for a brunch one day, which was so good that a big group of us came back for dinner. The space is light and bright, and while the chandeliers remain, they somehow go with the space. The service? Bright and cheery from the floor staff – how did Ian find those gems? And while I am told afterwards the menu is a 'work in progress' and will of course change with the seasons and available produce, it's comprehensive though teetering on being too big, and the wine list makes my heart sing.
Yes, finally a restaurant with local Tasmanian wines at little more than bottle shop prices. What's not to love? Take this for instance: 42 Degrees South Sparkling, $38. As with a Roaring 40's 2016, even a Chartley Estate 2016 Pinot Gris? $38. A Milton Vineyard Pinot Noir looks almost expensive at $48, and with the exception of a Veuve Clicquot Yellow Label Non Vintage at $125 and a Barossa Shiraz at $48, the wines are Tasmanian. And there's ciders, whiskies, the usual suspects all at reasonable mark ups.
For brunch, I had to give the South's version of "Avocado Delight" $18 a go. Great value at $18, with the usual avo smash, goat's cheese, poached eggs, greens, blistered tomatoes, a delightful sweet potato and quinoa fritter on grain toast. Eggs were perfect, I loved the fritter, and the tiny sweet 'blistered tomatoes' were a great accompaniment, nothing overwhelming the avo. A garnish of 'twisted potato' (thin strands of crisp potato) sitting on top of the layers of fresh crunch and flavour underneath took the dish to next level. My friend had her own version of breakfast.
Eggs Benny? Yes, with bacon and creamy mushrooms, a really well balanced hollandaise, on a bed of rocket with a soft bun. $16.90 and a snap at that. There's a full page of choices for 'All Day Breakfast' and another full page for 'All Day Brunch' with hearty choices including burgers, seafood etc. and sides. This may be pulled back a peg or two I am told later, and I applaud that.
Our return trip was a great opportunity to really test the waters. And waiters. Twelve of us, ready to party, ordering from all sections would try the kitchen, and I'm glad to say the chef delivered. Ian wasn't even there, and the wheels turned effortlessly.
One of us had the 'Duck Breast with thyme potato, field mushrooms, greens and blueberry jus', and pronounced it perfectly cooked, and the unusual blueberry jus was an inventive take on the ubiquitous duck with cherry sauce. Or orange for that matter. $35? Good value, when pub food is ranging from $27 to $42 for lesser dishes.
Being a big fish burger lover (go figure, but it's satisfying) I had to try the "Fish on Brioche" with a delicious sesame crumbed fish fillet, topped with cheese, lettuce, tomato and tartare sauce on a toasted brioche bun, served with parmesan and 'gourmet truffle chips'. At $19.90 would have to go down as a favourite for me and a burger I would go back for, regularly.
Someone had that Penne Pasta, again $19.90 with chicken, bacon, broccoli in a pesto cream sauce, 'delicious'. And there were sighs of delight around the table as the twelve of us munched and drank Hobart's best value wine list. The truffle chips which come seasoned with sea salt, truffle oil and parmesan at $9 make other chips look, well, sort of ordinary. And I know there are chefs muttering about the ubiquitous use of truffle oil and is it real? Or fake? But in this case, it's a welcome change from the standard crunchy fries.
There's a lot more than what we had though. There's the wonderful old fashioned milk shakes that were there in the Chippie's days, scones jam and cream, oysters and shooters and so on. And in spite of the variety of dishes, and other people in the restaurant, all the food came out in good time and perfectly cooked. That's a feat in itself.
I still think the menu can be slightly smaller, you don't have to please everyone all the time. And you know what? You never will. But twelve of us left sated, happy, ecstatic with the bill, and all vowing to go back. 'Nuff said.
Chrissie 🙂 
South on Hampden / 45 Hampden Road, Battery Point TAS 7004 / Phone: 03 6286 8137 / Open 7 days, 7am – onwards. ALL DAY BREAKFAST & BRUNCH / 3pm to 6pm – COCKTAILS & CRAFT BEER ON TAP IN THE COURTYARD / 5pm to 9pm – DINNER / www.southonhampden.com.au