Urban Greek is just that. Greek. Traditional Greek food in a decidedly urban setting: Hobart city. Just what makes a really good restaurant? Where it buzzes and zings and is comfortable in its skin? That's what this review is about. That secret sauce.
George Kakkos is a medico. From Greece. And how he ended up running the super success story that Urban Greek is, will be told in a later post. For the moment, I want to break down the elements that make this place busy, day in, day out. A success in a tough industry, that gets tougher every year, for all sorts of reasons, is to be celebrated, and for me, analysed.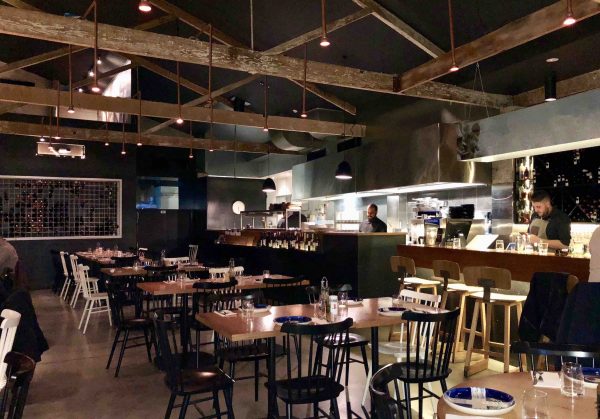 Breaking down the secret sauce elements, or key factors that diners look for, here's a summary:
Décor. The transition from the death of Garagistes took a little while and obviously some thought. The collapse of that iteration in this space would take a lead story of its own, suffice to say that the bones were good to begin with. A long, open galley kitchen, a modern polished concrete floor, and a big airy space with open beams, communal tables as well as the traditional 4 and 6 seater settings and a bar/waiting area. George has added bright Greek mythology-referenced artwork on an entry wall, so you're under no illusions as to the theme and the food. It's clean, bright (without being too bright – well-placed down lighting is essential in a dining space).The ambient colours, apart from the art work, are dark – browns, blacks, with the odd white chair thrown in for a spark of light here and there. The space works.
The welcome? Instant, and friendly. A waitress has us greeted, seated and menu'd in double quick time. And here's the thing: when you run a restaurant, a lot of your costs are fairly static. Rent, power, insurances etc. even your staff costs should settle down to a reasonably predictable amount. So it just makes sense that to put extra effort into training your floor staff to move quickly with authority, turning tables. Why seat 80 and feed 80 when you can do 160 or more, in more than one seating? These staff make the business money and pay their way. Just as good kitchen staff do as well. Notice the waiters in Lygon Street, Carlton in Melbourne who come from generations of waiters – skilled, slick and noticeable for their professionalism? That's no accident. They understand the fundamentals of business: to make money, and capitalise on the space wherein the business operates.
3. The menu? For me, the Urban Greek menu is a trifle big. With a selection of dips, two pages of entrées, 'Vintage Plates' of Greek favourites and a full page of Charcoal Grill options, then 4 salads and 6 sides, almost every base is covered. Is that necessary? No. I don't think so. But, at the same time, the food we order comes out quickly without fuss, and perfectly presented.
4. The food by the way, here is great. The chefs know their stuff, and some of the big plates are quite complex pieces of timing with a big variety of ingredients in the dishes. And the ingredients? Quality all the way. The photos I've included here tell the tale.
The only slight let down for me, was the dessert choice. A deconstructed Baklava? Why? Is the only word I can use. Why fiddle with something that is perfect in its own time honoured way? Take that back to basics, and you have a great dish. Not a fiddly, hard to eat 'arty farty' dry version that loses its place in the cavalcade of other great, authentic food. Be warned – the serves are generous, as is the tradition in Greece.
5. The Drinks menu? On the whole, reasonably priced, with an interesting selection of beers, wines and ouzos. Again, our drinks are ordered quickly, and come out served in monogrammed glasses that just adds to the quality of the service and atmosphere. Shamelessly, we spent almost as much on drinks as we did on food, which goes to prove my point: good fast service will turn a good restaurant into – well, probably not a gold mine these days, but a successful thriving business. We enjoyed a Lost Buoy Rosé at $39, Shambles Summer Ale, $9, a spectacular Kelvedon Pinot Noir at $58, and some carafes of ouzo at $19-$25.
6. And so we come to the bill. Food? $224.50 for 4 of us, and we did eat a lot. Over a few hours. So no complaints there. I'm not even going to tell you the drinks bill, because some of our team like a drink or ten. But why not? Life's short – party hard.
7. My last point is one that's so vital, yet so forgotten by too many restaurateurs. Detail. For me, that attention to detail is what separates the men from the boys. Monogrammed stemware. Beautiful blue and white Greek plates. Serving dishes that suit the food on them. And most important as well: each dish is plated with care.
What's the take away from this? A restaurant is only as good as the sum of its parts. And the sums here add up to a really good experience, that one would want to revisit, often. As obviously many do. George knows his regulars, as do his staff. Is the devil in the detail? Try Poseidon. His pitchfork rules.
Chrissie 🙂