Gaby is back on the high seas, and this time she headed solo for Antarctica. "It's a bucket list," she said. "Antarctic cruise? Tick" And so she set off, with a suitcase full of wine, just in case, some thermals and high hopes. Here is the second part, unedited, and funny and fascinating as always. And the wildlife isn't always overboard! I hope you enjoy.
"This is written by Gabriela Geispitzheim. I am not a writer and this is just a Diary and my personal impressions from this Trip.
CHIMU ADEVENTURES Expedition Cruise on the AKADEMIK SHOKALSKIY.( an Expedition Vessel) in the wake of SIR DOUGLAS MAWSON .
Departing from Hobart 14th December, returning to Invercargill on the 8th of January."
Picking up from Part 1, the ship ploughs on through Ice and while they hit an ice flow, the ship survives and Gaby gets to know her fellow passengers a little better: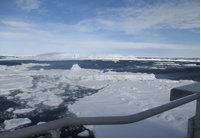 "According to the Satellite pictures we have a good chance to get into Commonwealth Bay. this would be fantastic as it has been 6 years this  was possible and then we might be able to get to Mawson's Hut. This would be a real event.  I'm sitting here in the dining room writing and periodically there is this BANG when we hit an Ice flow.  As we've been doing very good time (usually 10-11 Knots) we might get there the day after.
It's now almost total daylight. Last night when I looked out at 11pm it was still light. And somebody said that at 3 am it was light.  Dinner was Duck breast or Fish.
They're showing movies downstairs at the Lecture Room every evening at 9 pm. I think last night was a James Bond. I'd rather hang around the Bar for a nightcap and then read my book in my bunk.
In the night I woke up as there was a difference in the engine sound and some banging noises. It went on for quite a while and I found out in the morning that there was a huge bank of Ice in front of us and the ship had to do all sorts of manoeuvres to get around it and through it. Now the water is just about totally calm and almost no wind. Apparently we are very, very lucky.
We are now in Commonwealth Bay and should reach our destination mid afternoon. We are all very excited.  We have Ice floes all around us but the ship can either pass them or push them aside. One we just saw with some penguins on it. In the distance we see a landmass.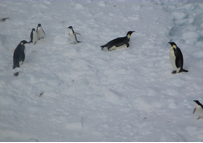 About 1 hour ago we crossed the Antarctic Circle at 66.33 degrees, 150 Degrees. We had a celebration in the bar with mulled wine and a stamp of achievement on our forehead. ( Like when you're at a rock Concert). This area we are in now wouldn't be accessible to a much bigger ship than this which  is our advantage. It is currently 0 degrees on deck. Unfortunately no sun.
After lunch now.  We continue going through very dense Ice floes. Some are almost as high as our ship. Occasionally the ship has to reverse or change course to avoid them as much as possible. But constantly it is BANG, BANG, BANG. It looks like we can crush through several meters of thick ice.
We had a big seal lying on one of the floes and several times Penguins. I watch them dive off the floes as we near, poor things getting disturbed through us!  Now we're beyond the ice on clear water again heading towards our destination, Cape Denison.  We are now in 24 hour daylight and have been through the roaring 40s and 50s and now 60s.
What an exciting day today!  Today is Christmas Eve.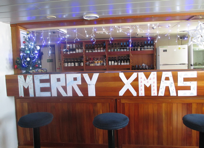 We've been having Breakfast earlier than usual at 7:30 in anticipation of a shore excursion.  Unfortunately the wind is still quite strong (about 25-30 Knots) and the KATABATIC winds which come up frequently do not allow us to do so. We are just cruising along the Continent. It is partly sunny and we float along among huge Icebergs and ice floes.  Some with penguins or seals on them. It amazes me that the place is still teeming with wild life, in spite of the freezing temperatures.
Some of the icebergs are attached to the ground and some of them are floating. It looks a bit like an Arizona landscape, the flat sea with the icebergs rising sheer up to several 100 meters in height. That's why they call this here the desert of Australia. A little while ago we just passed briefly into the French territory of Antarctica and celebrated this with champagne on the Bridge. (It is only 10am!)
It is now sunny. Zero Degrees but the wind makes it feel colder. The ship will stay close to Commonwealth Bay and we hope that if the wind eases later today or tomorrow that we can go back to Cape Denison and Mawson's Hut.  We can see with binoculars the hut from a distance, but fast ice is preventing us from going in.  There is still too much wind for a shore excursion, so we just keep cruising along the icy shoreline, icebergs and ice floes with penguins frolicking on them.
We also see some whales. This could be the same whales we see here around Hervey Bay when they come there to have their babies! As it is almost calm here we use the opportunity to have showers (without bruises) and lazing around. I am taking photos from around the ship and the galley.
Christmas Day: Still cruising around hugging the jagged ice shoreline. After lunch we went on a Zodiac excursion dodging between ice floes, some of them with penguins or seals on them.  We can see in the near distance the B9B iceberg. He is something like 50 KM long and 35 KM wide.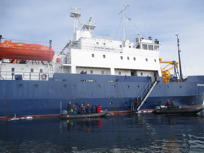 Getting in and out of the Zodiacs is always a complicated exercise with some of the older and less mobile. I don't understand why it is not compulsory to have a Dr. certificate stating that a person is capable of doing such things. It is holding everything up a bit. But I must say, the staff are very good helping them.
It is beautifully sunny today. Zero degrees. We took back to the ship a large block of ice for our drinks tonight in the Bar.  Back on the ship the call comes "PLUNGE TIME!"
It's the ritual of jumping into the water from the ship. The sauna is being heated up meanwhile.
Well, I thought there might be 1 or 2 crazy people, but it ended that we have 10 fools on this ship.  We are having great fun watching this and lots of video footage being shot.  Apparently the water is much less cold than the air outside.  Even 3 of the female guests are doing it.  To celebrate our heroes and Xmas, the bar opens 1 hour earlier and drinks are on the house.
Dinner is also special with 4 courses and crackers and party hats and little souvenir presents for every one.  Afterwards back in the Bar we are having a disco and a few of us, including me are dancing. More drinking! A round of vodka which has to be "SKÖLLED."(drunk down in one gulp). A bonus one for the ones who manage to do so! ( This includes me of course).
Most people are retiring back to their Cabins by about 11pm. Only the hard core is left!  A while later I go up to the bridge and can see that the sun has started to set. At the same time, about 90 degrees to the side there is a Half Moon. It is now about midnight and it's the first time that we're having almost clear skies and just about no wind. Perfect.
A couple of others join me now. One of them our chef who is only a young guy and 2 of our team leaders.  We decide to wait to watch the sun set from the top deck. It's freezing cold.  Our chef brings us another round of vodka to keep us warm.  Now we are watching this incredible spectacle.  At about 1am the sun sets. And now the amazing thing!!!!  A few minutes later it is rising again from the same spot. I am taking several photos to prove this. The moon has disappeared?  Absolutely amazing!  I feel very lucky to have witnessed all this.  I get to sleep at about 3am.
The next morning I wake up with a hangover of course and miss breakfast. Getting up at 11am and the call comes in that the ship is alongside the ice shelf and we are going on a walking expedition on the ice. Quickly donning the 3 layers of clothing and the arctic gear on top. It's snowing and very windy.  Zero degrees but the wind making it much colder. More like -10
This is a huge ice shelf and the B9B iceberg near by. It's quite difficult to walk as partly there is about 30 cm of fresh snow. Partly just ice. We are not allowed to roam around too far away from our team leader as there are crevasses, sometimes partly hidden by snow.
Not all the passengers have braved it on this excursion.  We only walk about 1 km away from the ship. The ship is almost invisible through the wind and snow.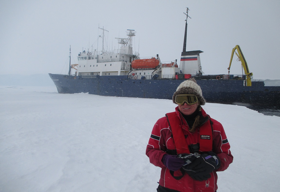 Suddenly 4 Penguins appear next to us. For them we must be the highlight of the year as normally no ship comes here. And a couple more penguins arrive. They must have come out through one of the crevasses. They come right up to us and perform a lovely show.
Back on the ship to defrost and lunch, then afternoon lecture.
The next day we just cruise around as we still hope that the ice might shift and we can get to Cape Denison. Unfortunately this huge ice shelf surrounds the continent all around here.  The poor people at the French base Dumont d' Urville are waiting for a supply ship which should have got there before Xmas, which of course has not been able to get there so far because of the Ice.
Lectures, eating , sleeping, reading, playing cards…Ice floes, icebergs, birds, penguins, seals.
Next day after breakfast we go on another Zodiac excursion. It is fantastic weather. 5 degrees and sun and just about no wind. The sea like a mill pond. Unreal!  A short distance away we have fantastic icebergs. At least 200m high with sheer cliffs.
From the distance it looks like a city with skyscrapers.  We cruise around them at a safe distance.  We have Orca whales all around us. One is even diving under our Zodiac. Also lots of Ice floes with penguins on them. They enjoy our visit and perform some very cute acts.
Back to the ship for lunch. Beef stroganoff with fresh salad and profiteroles. It has just been explained that the ice shelf still has not shifted. We wait until tomorrow and then unfortunately we have to make tracks toward our next destination, Campbell Island. It is disappointing but this is nature! And we had a good time and have seen some incredible things.
We are now more than 1/2 way on our expedition/cruise and most of the passengers have, to a certain extent, communicated with each other. Mainly through shared tables at meal times and in the bar.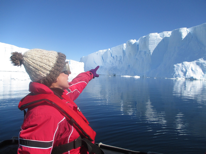 I don't take Breakfast at the dining room – too early for me to eat. I take a coffee and one of the nice Bickies to my bunk. About 1/2 hour later I go and fetch a plate with fruit and yoghurt and a pastry.
At lunch time I try to be social! I quite enjoy talking to the 2 Swiss who are filming this whole thing. We speak German and they are happy about this too I think.  Today I was not so lucky and was next to this woman who after every sentence giggles???? She and her husband have something to do with car spare parts. He is quite OK.
My roommate is 46 and works in Aged Care. Divorced, 3 children.  She is quite ok. About 1 week ago she shacked up with another man and a few days ago I found them here in our cabin in a quite compromising position. I told them that the cabin is not big enough for 3 people and recommended the showers where, on one of them, someone has put a note. "Save water, shower with a friend".
One guy who apparently is a Hydrologist and very high up and "intelligent", according to my cabin mate. When I watch him when he is sitting in our lectures or movies, he usually sits with his mouth gaping open and a blank face. I tend to think that people who do that are of a lower intelligence!  His wife is also in a high position doing something with oil rigs.
A gay couple who occupy the most expensive cabin on the top deck and living in a penthouse at Darling Point are really sweet and I like them. I think one is in fashion and the other one is a doctor.  There's Bill, an ex-bank manager who is almost all the time with earphones in his ears listening to "all sorts of music". I quite like him too.
Of course we have about 1/2 the single females in the 60-75 age group. Talking about their wonderful grandchildren, the cruises they did (one lady has been to the Antarctic already 2 times, and the Arctic).
Terry and David next door. David is a widower and had some throat operation and can only eat liquids. He is OK and shouted me a drink yesterday.  Then there is the old couple from Singapore, I think that he is well over 80.  They are really funny to watch. She is completely off the planet! Different outfits all the time and always late. They are also in the super Cabins.
Basically, if 1/2 of all the passengers would be gone it would be much nicer.   Especially the women.  Our expedition team leaders are much more interesting and if I can, I stick close to them. But they are usually quite busy…
Thank you Gaby. Your diary always is interesting, and I look forward to seeing the other wonders of Antarctica in the next and last episode through your unique eyes. Honest, entertaining, always a ton of fun. 🙂