Day 2 of our fantastic trip to the Tahune and we hit the river and the (small) rapids.
And just a quick refresh. "Why? Has to be the first question I ask myself as I leave the Tahune and head back to Hobart. Why did it take me 14 years in Tasmania to actually get to this magic place? How can anywhere be so incredibly magnificent, and yet so under the radar? I feel lighter, brighter, and calmer after just 2 days exploring the bush in Southern Tasmania known as the Tahune, or 'peaceful place by running water'. Ain't that the truth."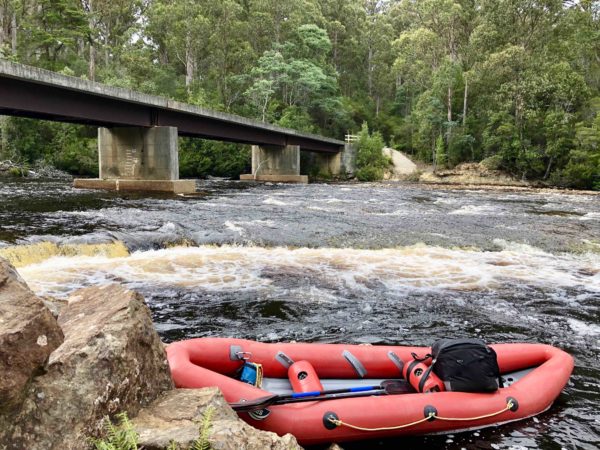 Originally built and managed by Forestry Tasmania, a private investor, Ken Stronach, took over the Tahune Air Walk in December, 2016. While Ken himself may seem distant from the actual property, he certainly seems to have the magic touch when it comes to staff and management. The drive down is a hard 1.5 hours on the road, past Geeveston, deep into this pristine southern bushland, but once there, the welcome is as warm as one would wish anywhere.
Day 1 we paraglide and do the actual air walk which is surprising in its length and height. On day 2, we first do a couple of fast walks. The first, around the bend of the river opposite the visitors' centre, called the Huon walk, where a rustic wooden walkway built over the forest floor winds through and around the green. And it's so green. Every shade from lime to dark bottle green, and russets and browns of ferns and bark that is incredibly soothing. You are in, and of nature here. I think that's the difference with the Tahune and a lot of other ersatz wilderness areas.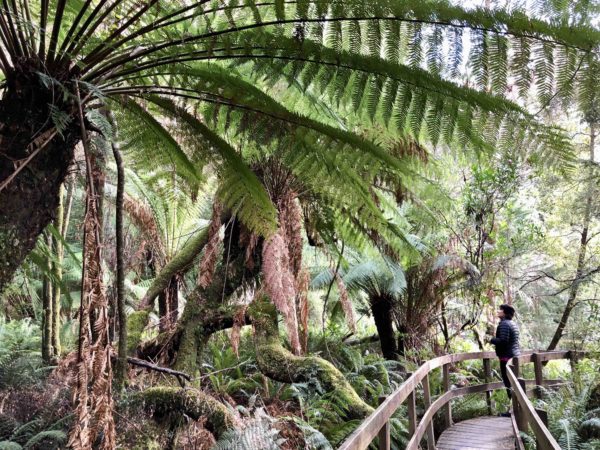 The tallest tree in the world is deep into the bush and we can't visit the Centurion to ogle its spectacular grandeur, but there's a photo in the visitors' hut which just gives a window into the height of this mammoth. Ian, our ever amenable guide takes us over the suspension bridges and past McPartlan's original house site. The policeman who settled there with his family to guard the logging, McPartlan's house is there still, at least the footings are. And there's a perspex printed screen with a photo of the house overlaid on the site. It's wonderful, and eerie at the same time.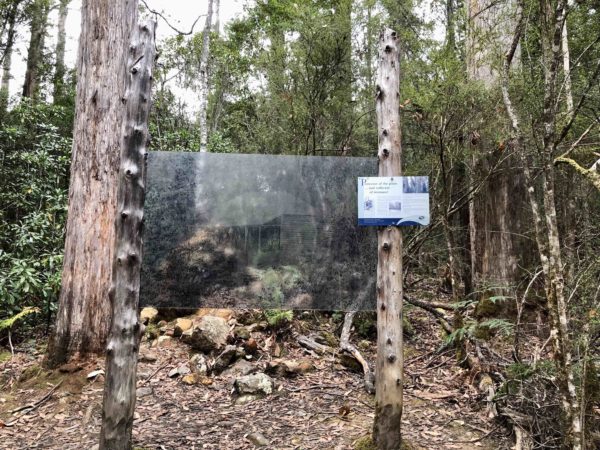 But today, it's whitewater rafting, we're rafting the Tahune! And Susie and I are excited as we head to the bridge site where we choose wetsuits, wet shoes, helmets and life jackets (all provided) and our guides run us through the drill. Our group is diverse, and so are the guides. A little about them here: Chris heads the expedition, and in his words:
"I've landed the best job ever: taking people down the beautiful Picton River in southern Tasmania, surrounded by giant trees and Huon pines. It's hard to think that 10 years of working with young Australians; guiding rock climbing, hiking, mountain biking and of course paddling have taken me through a good chunk of Australia, off to Canada and finally back here to such an amazing spot.
The urge to stop the van life after travelling and working through 4 states and overseas was so strong on coming back down here that I had to make it happen any way I could. I've always had a fascination and love of the Southwest, with some of my most memorable hikes being through the Arthur Ranges and out near Melaleuca. I'm extremely grateful to the Tahune to be given this golden opportunity to keep doing something that I love, in such a spec spot. You can't ask for a better office really… And I can't wait to be sharing it with people all year round!"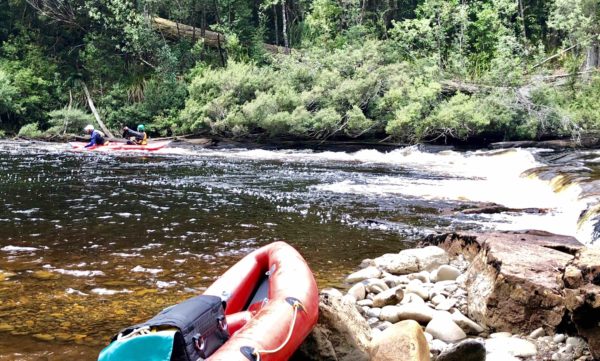 Chris's love of the area and his absolute delight in his vocation is infectious and I think we have to agree with him – lucky? Yes. And so are we to be sharing this special area with him. Katelin (also known as "Chook" so she tells me) trained on the Mersey River in snow, and has been rafting for a year. And then there's Martin, English to his bootstraps, but also in his words: "Martin has been involved with adventure sports all his life. Starting off as a paragliding / hang gliding instructor and ski guide around Europe his career naturally progressed to an ambulance paramedic due to the condition of most of his students.. Having attained a commercial helicopter pilots license, he can still be found careering around the sky but he is still happiest floating down the wild Tasmanian rivers in a raft, it's just a shame that he is very good at falling out." And yes, he did get soaking wet!
We head down river with Chris, Martin and Katelin ushering us over, around and sometimes across this beautiful Picton River. The peace and quiet is palpable, almost echoes in fact, and we settle into a rhythm of paddle, steer, whoop as we make our way down to a pitstop where the Anzac biscuits are broken out with thermoses of hot chocolate. What's not to love?
Chris and Martin entertain us as they play around the rapids as we watch on tucking into our treats and congratulating ourselves on our newly found skills of rafting and negotiating these fairly gentle reaches of the river. For more experienced folk, Chris starts the journey further up stream, but you know what? I'm just happy with where we are, and so is everyone else.
The trip is over all too soon, and we all agree we would turn around and do it all over again. And having earned a good lunch, the café again surprises with a delicious chicken and avocado panini and a delicious chicken salad. At around the $12 mark, I think this place has to be the best value for fresh and delicious food in Tassie at the moment. And hey? When you've been sampling nature and water as we have, the appetite's there.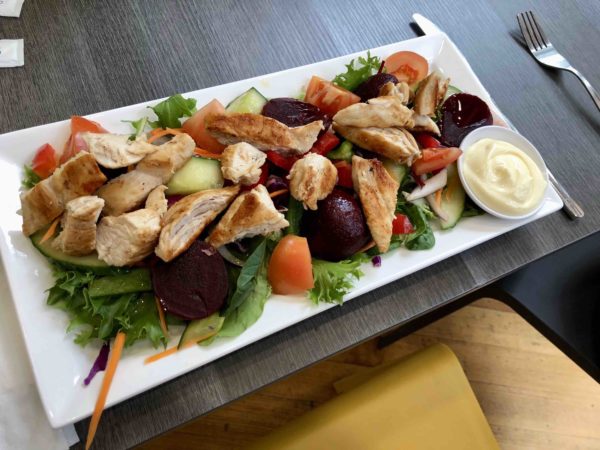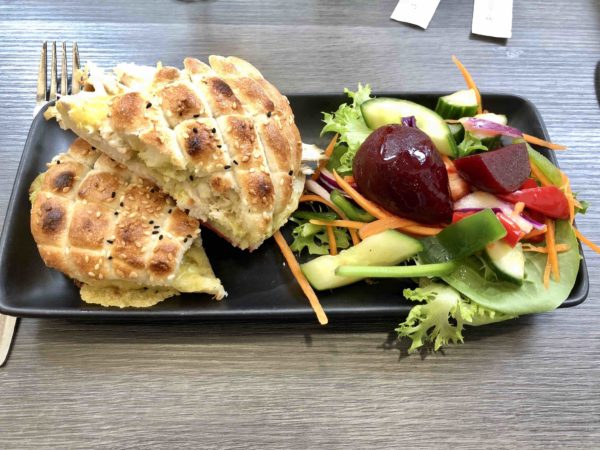 The room was comfy, and it's with heavy hearts that we actually have to pack up and leave this exquisite place. And it's not without some actual envy of the happy crew who work here, daily, but never take it for granted.
Thank you Emma for your hospitality, and all the staff for their care, knowledge and sheer joie de vivre. There's a reason for that, and it's called the Tahune.
Chrissie 🙂
Just the Sizzle were guests of the Tahune Air Walk, but our opinions, as always, remain our own.