Gaby is back on the high seas, and this time she headed solo for Antarctica. "It's a bucket list," she said. "Antarctica cruise? Tick" And so she set off, with a suitcase full of wine, just in case, some thermals and high hopes. Here is the first part, unedited, and funny and fascinating as always. I hope you enjoy.
"This is written by Gabriela Geispitzheim. I am not a writer and this is just a Diary and my personal impressions from this Trip.
CHIMU ADEVENTURES Expedition Cruise on the AKADEMIK SHOKALSKIY.( an Expedition Vessel) in the wake of SIR DOUGLAS MAWSON .
Departing from Hobart 14th December, returning to Invercargill on the 8th of January.
First night at HADLEY'S Hotel in Hobart
I meet my roommate for this journey and I think we should be a good pair for the next 26 days. We are all having dinner and speeches with the organisers and the purpose of this trip is being outlined.
This is an expedition following in the footsteps, or better said, following the course Mawson took when he went on his journey in 1911 to be (apparently!) the first man to get to the south pole. (A few of his mates did not make it back). We are aiming to reach Mawson's Hut at Cape Denison. There is a replica in Hobart which we are to see.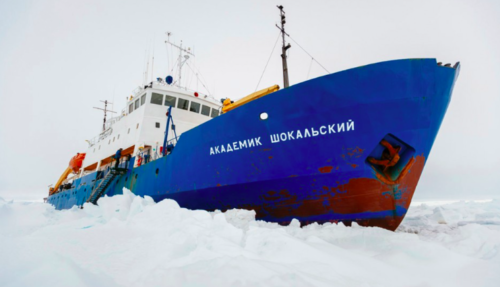 Our ship is a 75 meter Russian Vessel, an ice strengthened ship. (This means it can go through floating ice but it is not an Icebreaker). The same journey has been tried for the last 6 years but as there was too much pack ice;  they where not able to reach Cape Denison and the hut. This year looks like we might be lucky and able to reach our destination. We are 47 passengers and 8 Lecturers in different fields. Conservation, Biology, History, and Botany.
Reading their resumes is incredible where they have travelled to and what they have done all over the world.  The 2 Chefs are Australian and all our supplies have been taken on board in Hobart. 22 Russians are running the vessel and do the housekeeping.
My cabin, which I have to share, is on the 3rd of 5 levels. It has 2 bunks, a porthole, a desk, a couple of cupboards and a washbasin. It is quite roomy and has lots of storage space. There are showers and toilets near by. The upper levels have the more "luxurious cabins" which have ensuites and windows.
It is always nice and warm inside the ship. The bridge is on level 5. All areas apart from level 1 and 2 (crew quarters and engine room) is open for us to explore, including the bridge. This I did as soon as possible when we started sailing and is very interesting. We are told we are not allowed to play with all the knobs and leavers! We have a desalination plant and the water tastes quiet OK. Toilets are similar to those on a plane. Towels and linen gets changed every 3 days and the cabins cleaned every day.
We depart Hobart in the early evening going down the Derwent River towards the ocean. This took a good couple of hours and Dinner is served in this time. 3 course meals with a choice of 2 main courses. It is surprisingly good. The bar has a good range of Australian wine and several types of Spirits.  I brought some wine with me which should last me quite a while…
I go after dinner on the Aft Deck where smokers are allowed. Light my Cigar but nobody else is here. One Russian lady comes out too. I try a conversation but to no avail. Another guy comes out, I ask him his name: he says Boris, then walks away. Well, I shall keep on trying to communicate!
The Crew is allowed to smoke everywhere apart from the areas where we tourists are!  (and they DO!) (The Captain smokes on the Bridge if none of us is there).
Now we are on the open Ocean.  The ship starts to roll quite a bit with the swell coming from Starboard. This increases a fair bit more during the night. I did not sleep all that well. Excitement, maybe too much Wine!
In the morning, I and just about everybody else is seasick to some extent. We have a lovely Scottish Dr. on board and she gives out pills and patches which should make us feel better. In my case it does, but still my body tells me that my bunk is the best place to be. The movement of the ship is so strong that we slide around in our bunks.
I am missing out Lunch, so do many others. I am not in the mood to drink wine at Dinner and that really says something! The next day is not much better.
On the third day still taking the pills but getting a bit better. Back on having wine again now with Dinner. Things are looking up. Also food is starting to come back in my mind. Last 2 days just Tea and dry biscuits. Also getting a pretty good nights sleep now.
We are on the way to Macquarie Island and should be getting there late tonight. I am on the Bridge in the late afternoon and with another passenger we see "land ahead!" Approaching the island the sea is getting a bit calmer.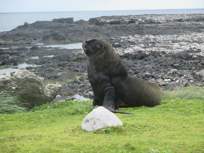 I am taking this opportunity to have a shower and wash my hair. Well, this is an undertaking which requires nerves!   The shower is pretty big and has handrails all around and a wooden bench to sit down. It has a rubber mat on the floor. But of course with soap and shampoo it does get slippery. I find a way to apply shampoo and to scrub with one hand. But as we are still rolling around pretty badly I continue this procedure with sitting down on the bench. Eventually I finish this task without slipping. It feels great afterwards. My roommate was not so lucky and acquired a nasty bruise.
The Bar is very busy tonight and I am starting to get to know some of the other passengers. We are quite a mixed Bunch. Age range I guess from about 45 to mid 70s. Mostly couples of course but the singles are almost equal male and female. Of course there are a few which I cannot imagine how they will get in or out of the Zodiacs for Land Excursions. We shall see!
Most of them have widely travelled. A few have been to the Antarctic before and also to the Arctic (some several times) and to every part of the world in between And because of the hefty price for this Expedition I think all the people are pretty well off financially. Most are Australian, a couple from Singapore who are really funny, one from Korea, a few New Zealanders and a couple of Swiss who are filming a reportage for Swiss television. So, overall and judging from the first 3 days I think it is a pretty good bunch!
We are getting ready for our first land excursion the following morning on this World Heritage Island. There is no Jetty to land. There are about 20 people living here usually for 12 month terms as there is a weather station and CSIRO and all sorts of reporting equipment. (Apparently here they can know if North Korea launches a loaded missile?)  We have to go through very strict quarantine procedures as only recently they have been able to eradicate animal pests like Rats and Rabbits and also plant pests.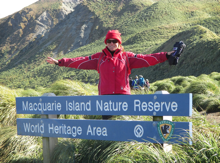 Currently it is about 6 degrees. We have 5 Zodiacs on board to get to land. Getting people down steep steps and on to the boats is a very delicate process with some of the older or less mobile. The Russian Crew with their "iron grip" are doing a fantastic job. The Zodiacs take 8-9 people at a time. The swell is pretty strong and we are all getting wet at least up to the knees. Of course we are wearing Boots and waterproof clothing. Landing on shore in this strong swell is also difficult. It is quite funny to watch, but everybody takes it in good humour even when getting quite wet.
We are landing in this wide bay and it is partly pebbles and sand. But this is at first hard to see as there are 10 of 000s of Penguins, seals and Elephant Seals everywhere. And also lots of big birds and nests of Albatrosses and Petrels. All of the animals just had their young. It is absolutely awesome!
We are told to keep a distance of at least 5 meters and that all animals have right of way. But this is difficult as they seem to be very curious and if you stand there still they come up to you and inspect you and even nibble on you. The Elephant Seals can be up to 6 meters long and weight something like 5 or so tonnes. You do not want one of those coming too close to you. Their teeth look very dangerous.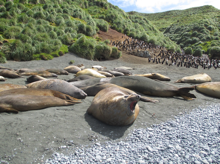 At some area about 1km up the hill is where the very young Penguins are with their parents. Again 10 of 000s. Here the smell is pretty bad. They are all huddled together and big birds are skirting them to get a baby penguin if it is just for a moment not being looked after by a parent. I watch this happen several times and it is pretty gruesome. But this is nature!
Back to the ship after about 3 hours exploring. We relocate to another bay and follow the same experience with the Zodiacs on the Afternoon Excursion. This time we get a guided tour of the station. This is very interesting and it must be quite something for the Staff who are here for up to 12 month. There are supply ships only about every 3-4 months. As there is no jetty (when asking why they do not built one, it is explained that the weather and wind can be so bad that no structure survives.  This is one of the windiest places on earth) supplies come from the supply ships with helicopter or a big amphibian vehicle. We are extremely lucky with the weather as it is sunny in the afternoon and some of us are even able to take off some of the heavy clothing.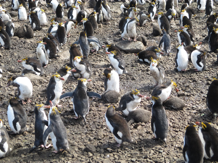 We find out the next day that on the day after our visit is was overcast and drizzle. This excursion is also about 3-4 hour's and we walk up to a hill where we have fantastic view. The grassy path is on both sides and also on the path completely surrounded by see lions. They are lolling around or sleeping. Lots of them entwined with each other. A big mass of Blubber!
On top of the hill we can watch Albatrosses conducting their mating dances in flight. So elegant.
Back to the ship. Bar always open at 6 30. Time for a drink and exchanging experiences. It was a full day and absolutely amazing.
Dinner always at 7:30. Entree and choice of Main, and desert. It is really incredible what the 2 Chefs can do in this Galley. Our food is equal to any Restaurant food and also the presentation is very nice. All glassware is glass and plates porcelain. The tables are covered with sort of rubber mats that things don't slide off. Of course this is not fool proof! My appetite is back and I am feeling normal again.
We have entree of salt and pepper Squid which is deliciously tender. Main course for me is Venison with mash potatoes and green beans. The other choice was Atlantic Salmon. Desert is Apple Rhubarb Crumble.   Everybody is at very high spirits tonight.
During the day we have lectures. Usually one in the morning and one in the Afternoon in the lecture room. Unfortunately this room is located on the lower level 2 and is quite stuffy and not ideal in rolling sea. But most of us do make the effort. Later in the evening we take up anchor and depart towards Commonwealth Bay. This should take about 4 days.
The sea is quite rough today. As usual we are surrounded by Albatross and Petrels. We also see some whales in the distance.  It is quite windy today and everybody is walking all over the place hanging on to the handrails as much as possible. Some people are still on seasick tablets. I am feeling good and sleeping pretty well. Being rocked around all the time feels a bit like being in a Cradle I imagine.
After Lunch which is really nice again I go up on the bridge. We had a competition as to who can guess when we see the first Iceberg. My guess is tomorrow midnight. Well, I am very wrong, we can see a big one straight ahead already.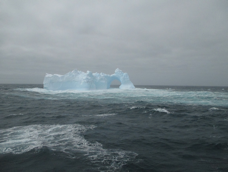 Lot of passengers now come on the bridge to this exiting moment. We are getting nearer and nearer. It is a very interesting one as it has a big opening like a bridge. Apparently we see only 1 fifth of it above water.
Igor our Captain circles around it for us to take Photos. I guess it is about 3 stories high. So, just a small one. During the afternoon we see a few more.
We have another lecture in the Afternoon about Ice and how it forms and so on. Dinner tonight is a Antipasto plate and steak and very nice chocolate cake. All very good. Even after 1 week we still have fresh Salad and Parsley decoration. During the day we can help ourselves at any time to a range of tea and coffee, with delicious Bickies and Pastries and fresh fruit. The only thing missing is espresso Coffee.

We changed course a little and it is not so rough anymore. Next day we start seeing ice floes and small Icebergs in between. Some of the Ice floes have incredible shapes. Like animals or cars or anything imaginable. The ship steers around the bigger ones but small ones are just pushed aside or crushed. It will be interesting when the ice floes get denser and we have to manoeuvre through them.
Thank you Gaby. Your diary always is interesting, and I look forward to seeing the other wonders of Antarctica in the next episode through your unique eyes. Honest, entertaining, always a ton of fun. 🙂