Life's always tough for babies – they need to learn how to crawl first, then walk, and somehow manage the complexities of life on this earth. That journey is always fraught with falls, disappointments and some successes. 
So it is with any new restaurant, and why I usually like to save my reviews until that new baby has settled in, teething problems sorted, and is marching to its own tune.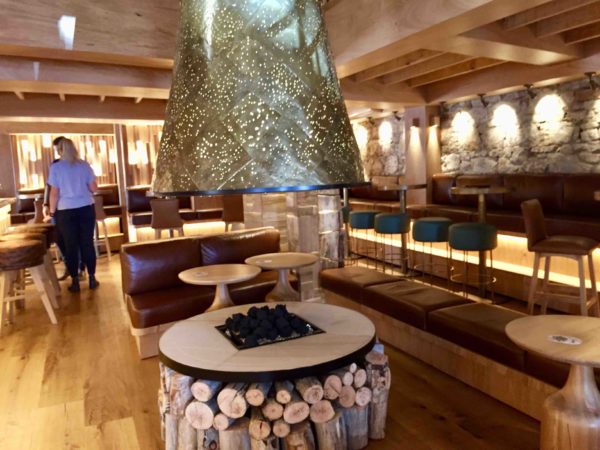 The Den, Salamanca opened with a bang on December 12 last year, and the fit out was lavish. Lots of wood with the accompanying smell that we humans find so… comforting. It was so new and shiny as I wandered through that it hit me as being a pretty big sign that Salamanca was prosperous, and justified the huge expensive fit out that makes one just go, 'Aaaah'!
It's Norwegian Wood on steroids and with two well stocked bars – upstairs and down, with a kitchen that looks tiny but spreads itself on a couple of levels to accommodate the prep and dish area as well. Josh Mathewson (ex-Saffire) is head chef, and has designed a menu that's short, sharp and tasty.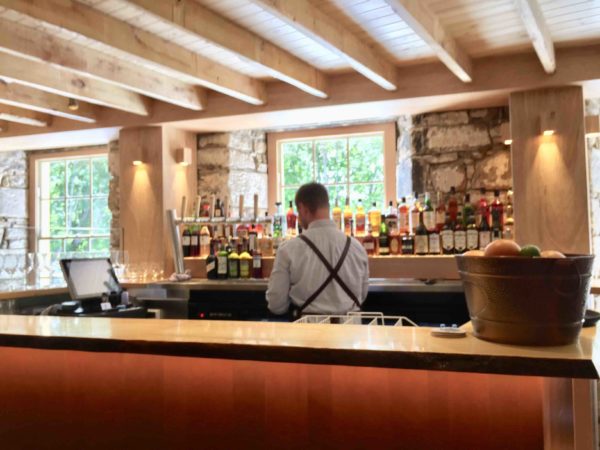 So when we strolled in to have lunch in February, we were expecting big things. And on the whole, Josh and The Den delivered. A word here about the cocktails: they are seriously good and at various times we've ploughed through the Cherry Mojito, Espresso Martini, Yuzu Cooler (a wonderful hot weather drink), and the Tas Berry Sour. We've earmarked some others that just beg to be tried.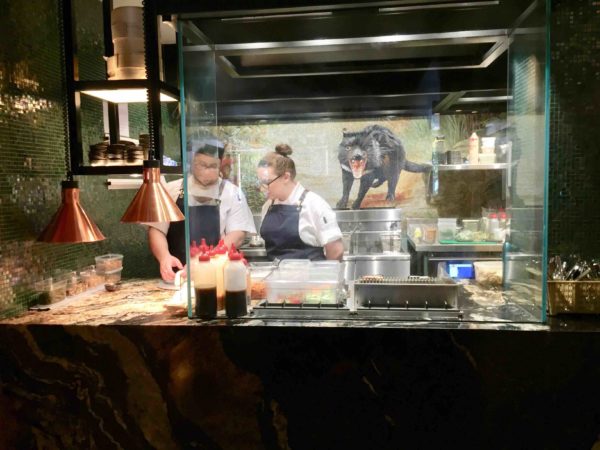 As for the food, the menu for The Den is headed Tasmanian Tastes, and there's obviously a focus on prime Tasmanian produce, but with a heavy influence of Asia. And Mexico peeks in there occasionally. It's interesting, and made choosing difficult. And I wouldn't be surprised if most chefs are a little envious of the kitchen that's on show in the top level. Who wouldn't be happy with a gorgeous mosaic of a Tassie Devil in full snarl reminding you where you are?
With a starter of Jalapeño Poppers, we tackled some fiery hot chillies with a light crumb and oozing tasty cream cheese. $14 for 3. While Josh informed us that the heat of the chillies varies, these mothers screamed for attention.
I had to try the loaded Kimchi & Cheddar fries, $13, which while being house made chips, didn't quite work as well as I'd hoped. The Korean chilli-laden cabbage made the fries soggy, and I wasn't convinced that cheese was a great pairing. The salads had a choice of mushrooms, noodle, pear and walnut or a tasty looking Szechuan pepper and citrus calamari version – with chilli, spring onion, coriander, cashews, bean shoots, rocket and nam jim, and this won me on another occasion and absolutely was on the mark. $16.
We forged ahead with a delicious Bao bun as light and soft as any we've had, and filled with pork belly, crackling, kim chi and a house made hot sauce. The duck version was sticky as promised with sweet pickled daikon, and the beef Bao holding brisket, peanuts, spring onion and bean shoots again hit the mark. And these guys, at $24 for the 3 were great value.
We had to have wings, and the aromatic honey sweet soy with sesame seeds, pickled daikon and another house made sweet sauce, at $16 for 8 was value, and made perfect soak up the drinks food for happy punters.
There was a disappointment though. We were pointed to an octopus special that Josh insisted would hit the spot. Sweet, sticky, with a tart gel, I tried the occy and it was tough, chewy, and went back. It was a big lesson for a talented and enthusiastic young chef. Never send anything out you haven't tasted. Marco's kitchen rule 101: Taste, taste, taste.
But you know what? He listened, apologised, and I am sure that Josh will not make that mistake again. And while our first waitress was rather more interested in standing in the doorway than taking orders, things got exponentially better from there. Clifford is in charge of the venue, and has his finger well and truly on the pulse. One feels The Den is in good hands.
We looked at the desserts, just two: Sweet Banana Spring Rolls with salted peanut praline, macadamia nut ice-cream, milk caramel $13; and Fried Matcha Bao – vanilla ice-cream, burnt marshmallow and matcha milk, $14. While they read as tempting as any sweet, we just couldn't find room and decided the Yuzu Cooler Cocktail would be less pressure on the abdominal walls.
Things got fairly untidy after that, and some wonderful new friendships were made as we moved outside to enjoy the view.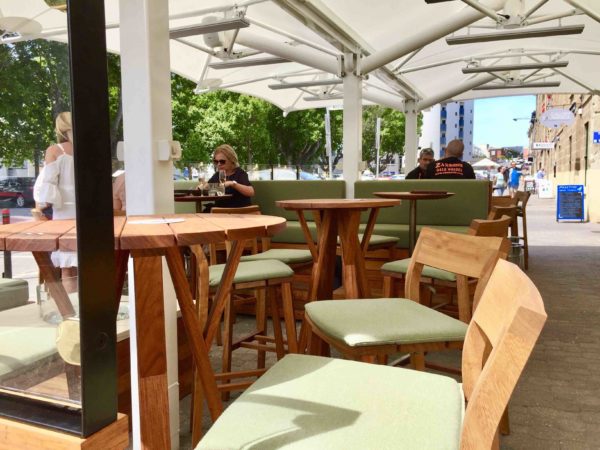 All in all, this new baby is bang on the money as a new addition to an already well-supplied Salamanca area. It has a cool vibe, a slick delivery, and the attention to detail is there, in the fit-out and the service. And for a cruisey few hours of indulgence, it would be hard to do better.
The Den / 63 Salamanca Place Battery Point TAS 7004 / Ph: 0499 888 233 / Open 7 Days / $$ / www.theden.com.au
Chrissie ☺