To review Susie Luck's naturally brought up this question: Asian fusion – Melting pot or mish mash?  It takes a great deal of knowledge and thought to bring a cohesive menu to the diner that doesn't smack of a scattered 'little bit of this and a little bit of that.' 
Susie Luck's with the maneki-neko or beckoning cat is the latest incarnation which has risen like a phoenix from the ashes of Smolt, in Salamanca Place. It's light, almost like a bubble tea on steroids, and pretty much hits the spot as 2018 unfolds in Hobart.
Coming from the team who created Smolt, Smolt Kitchen and Frank we would expect a fairly sophisticated redesign and rebrand, and we're not disappointed. These guys know a thing or two about the industry, and their market. Why go to all the trouble and expense of a complete re-brand?
It makes absolutely good sense in every way. The attention span of the market these days is horrifically short, and what was yesterday's exciting discovery quickly becomes stale bread as other, newer places open like fast forward jack-in-a-boxes.
Smolt was no shabby enterprise either, and had established a loyal following for its good service, food, and great location. But as fashions change as rapidly in food these days as in couture, and the public search for more excitement on their palates as much as surroundings, a big tweak and drag to the space from generic into Asian made sense.
And since the Vietnamese Kitchen closed to reopen as Phat Fish last year, Asian was suddenly missing on the agenda down in Salamanca, so Asian fusion makes perfect commercial sense. (Phat Fish has Asian overtones, but is more Australian/Asian fusion than Suzie's.) And for us, the former Smolt space is definitely better in its new iteration. A cocktail bar that oversees the kitchen, or dining if you like to swivel, caters to those who just want to drink, or drink and wait for a table.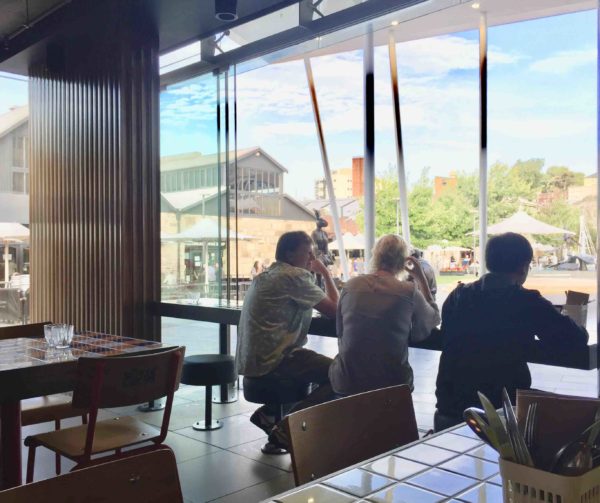 That's a fashion from the 50s that is coming back hard and strong, and provides a fun and fluidity that's been missing from restaurant décor for too long. A cock-eyed rooster overlooks the entire space, and the kitchen has a stronger presence than before.
The space is light, bright, and almost tongue in cheek with the logo of the lucky Japanese cat dominating and welcoming. But far from Japanese, the menu is predominantly Vietnamese and Thai, with a few Malay/Indonesian/Chinese dishes thrown in for good measure. And that's a good thing. Hobart is replete with Japanese restaurants and bars these days, and while Mr. Good Guy serves up interesting fusion food at the Ibis in Maquarie Street, it made sense to head into that space in Salamanca.
Ryan Watson, the chef in charge of Suzie's has done his homework with a research trip to the East and has been given a pretty open brief by executive chef of the Hobart Restaurant Group, Scott Heffernan. So the menu dances between nibbles, small share plates and larger dishes like curries and roasts and braises.
The great thing is it's balanced in terms of flavour profiles, so you can order effortlessly from all parts of the menu and enjoy a big range of flavours, textures and tastes without a jarring note. If this were music, you'd call it a symphony.
We devour the Vietnamese wagyu beef carpaccio ($18) with cassava crackers, pickled mushrooms and black garlic, fresh, incredibly good quality beef with a perfect blend of salty, crunchy sweet and sour.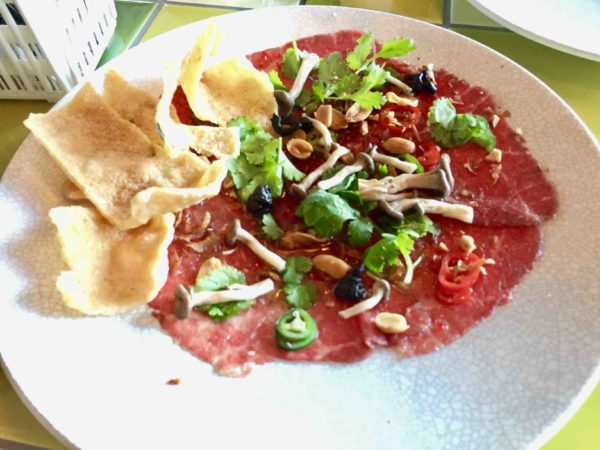 The chicken and coriander dumplings ($18) with peanuts and lime/chilli dressing echo the flavour profile of the beef, but are well cooked and tasty. We try a duck roll special with a house made rice paper roll that is a little tough on the outside, but tender and tasty inside. ($19)
Then a lemongrass cured kingfish ($24) with rice crackers, coconut and finger limes which is light, delicate and the finger lime 'caviar' add a blast of citrus that serves the fish well.
For a bigger dish we share a spectacular crisp pork hock with chilli lime caramel, green mango and cashews ($31), but there's a good selection of Mandarin braised duck, red roast chicken and curries to choose from. Spoilt for choice. We make a special note to return for dessert as they look incredibly moreish, and there's a Lotus Banquet that includes 9 dishes for $55 a head which is pretty good value in the scheme of things.
Overall, and covering several visits, we find the food reliably fresh and tasty, with some dishes suiting our flavour favourites more than others. A noodle dish doesn't quite hit the big flavour mark on one occasion, and the pad thai didn't quite have the crunch and lift that you expect from this street market food. But on the whole? Pretty damn good. However, there's a tendency for the kitchen to throw peanuts, chilli, coriander and lime juice on pretty much most of the smaller dishes, which unfortunately gives them a sameness. Take the variety of garnish to another level, and you'd have a pretty spectacular sea of food to choose from.
As for drinks, we wash it all down with a Victorian La La Land Pinot Gris at a very reasonable $11 a glass, but the cocktails are inventive and if that's your poison, then go for it. There's always going to be something crazy on the list that will incite a "Who knew?" from someone in your group, and they match the food with a zing that'll get the excitement happening. And from $16 – $20 they're not too hard on the wallet either.
Overall, Suzie Luck's is a destination in Salamanca that's pulling the crowds and deservedly so. There's much to try and savour, both in the food and the drinks, and the space? It works, and works well. And I am very pleased to see that they're open for brunch from 9 am on weekends now as well – with a definite Asian twist on the ubiquitous brunch menus around town. If you haven't been yet – give it a try.
Chrissie 🙂
www.suzielucks.com.au / 2 Salamanca Square, Hobart 7000 / Ph: 03 6224 2554
/ e: [email protected]