My friend Gabriela is as Austrian as Lederhosen and though she's lived in Australia for many years, her 'r's' rrrroll off her tongue like a Masarati revving for a race. Gaby loves to travel, and keeps a diary which is as unique as she is.
Her take on Cuba was entertaining, and I decided to share it with you as one shares a new cocktail. It's fizzy, a little exciting and her opinion on the food? "It's awful Christina! The food is dreadful everywhere, but it's still a very interesting place. Different."
The piece is long, so I've split it into three to give you an entrée, main course and dessert, as befits a food blog. And while the food in Cuba might be awful, the stories are prime beef. The photos are not perfect either, but they're the best I could do in the absence of Gaby at the moment who is hurtling towards Antarctica, but that'll be another story. 
Gaby and Brian dig deeper into Cuba to find just what makes this incredible island tick. They encounter some people who show them their island, just how good a gay Mardigras can be, and more awful food. But that just seems a given…
In Gaby's words:
"The next afternoon we wander into the town square, our ears leading us to live music with people of ALL SORTS dancing. There's old, young, every size, shape and colour. It is amazing to watch! And there's a couple of guys in drag also mixing in for good measure. We find out later that something's happening in town, and we're right in the middle of it.

In the evening we meet DANIEL again and have another forgettable! (bad) dinner of chicken, salad and rice with beans. (Brian insisted on spaghetti – it turned out to be Heinz from the tin. NO MORE OF THIS PLEASE!)
We end up at a venue where there's a competition of drag performers with 3 Judges presiding. It's absolutely packed. Must be several 100 people there. Gay, Lesbian, straight.  Every colour and shape. All happy and peaceful. The show is really tops! Puts our Gay Mardi Gras in the shade. We are completely blown away and kind of "this is just not real", but it is.
Next day we get a bus to TRINIDAD (on the south coast). No problem getting on the bus this time!
It takes us about 2 1/2 hours. The countryside is very lush with small mountains (hills) coming up.
Arriving we are met again at the bus station by our new host (arranged by our last host), REINIER and his wife MARICELA. He is an absolute HUNK (black) and she is also really pretty – a little shade lighter.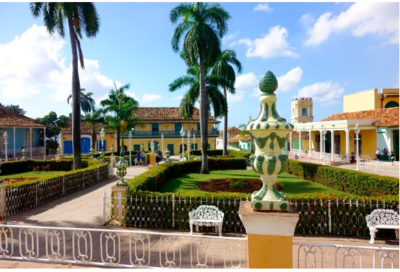 As Trinidad's town centre is more or less a pedestrian zone with cobblestone streets he is shouldering our suitcase and off we go on about 10 min walk to our casa particularus.
Our room and bathroom seems to be brand new. The décor has lots of gold, with silk-look bedcovers!
We even have some soap in our bathroom which by this time we celebrate with a little happy dance.
Scoping the place out, we find a roof top terrace with a lovely view over the ocean in the distance, and in the garden, an avocado tree with fruit the size of rock melons.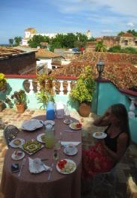 They have this 3 year old little girl who is just sooooo cute. Of course the parents are living here too in the house.
Strolling out into town, and we are hit by the fact that Trinidad is THE TOURIST TOWN! There's music, tourists and the ever present touts everywhere.
As we are already a little seasoned we can avoid some of them.
For the last few days I have discovered the way to go. We bought some Chilean wine (about $4-8 a bottle) and drink this on the terrace with some salty insipid crackers (like our Sao bikkies) at sunset before going out and Brian has a couple of beers. All accommodations have a fridge stocked with water, beer and something similar to Coca Cola.
The town is UNESCO-looked after and like a little showcase. Looking from our terrace we could be somewhere in Tuscany. There's some really picturesque hills in the background, and if it weren't so hot we'd probably go for a hike there.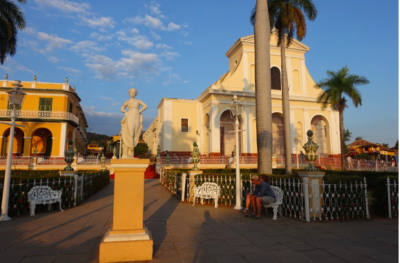 Being during the week and the low season, it's not very busy tonight. Snooping around the town, we find a restaurant which looks like an antique shop. An upmarket one though, with crystal chandeliers everywhere, crystal glasses, silver dishes and cutlery, plates with gold rims and monograms. Again, we marvel at some of our surreal finds in a world full of surprises. Our 3 course dinner with shrimp cocktail, lobster and crème caramel came to$15.00 each. This was about the best meal we had so far, traditional and for us old fashioned dishes, but well cooked and presented. What a relief to find good food well cooked. They also had quite a good band and Brian was asked to dance with one of the girls. That's something that doesn't happen every day of the week and is an offer which of course he cannot refuse.
Afterwards out in the town square there is music every day from 9 until late (1, 2, 3am).
The music is fantastic. Bright Cuban style – a mad mix of rhythm and beat, there are lots of people dancing, but mostly tourists. We watch with interest as single girls are being picked up for dancing by Cuban gigolos. (I'd like to find out how it works, for money or services? Maybe both? Do the young tourist girls know the rules here? Do they care?)
The next day it's hot and just strolling around town during the day we meet a very nice Dutch couple. She is an "UNDERTAKER " working for herself and apparently business is so good that she is considering getting a partner. She gives us a good quote, just in case we require her services!
After coffee and a few beers, we agree to meet up the following evening for dinner. Not planning to be clients, but happy to make new friends.
After an edible but ordinary dinner at some restaurant downtown (the ubiquitous shredded beef which at least is tasty), we hear Beatles music in a back street and find the "YESTERDAY CLUB"; a band of 6  (bass player black, singer white and 2 others who are Jamaican) playing all the old Beatles songs. The funny thing is, they play like it's new and fresh, and we have to blink and pinch ourselves just to make sure we haven't slipped back 40 years.
Before meeting our new friends for dinner the next day, we stroll around the town park and come across a little old, black man (he is 60 years old we find out later, so not as old as we thought). Peter was a fighter pilot trained in Moscow (so he says?) and he's working as a tour guide here whenever he can find somebody to take him on. He's not shy to talk about politics which is very unusual.  We intend to find him again later today to talk some more.
We have a great night out at the Restaurant Museum again and are joined by another Dutch couple. We end up dancing at the RUMBA CLUB and somehow make our way back to our CASA at 2am.
We've pretty much set a pattern of sleeping late, then just lazing around until mid afternoon SIESTA.
But today I have a little excitement in the morning when I see a SCORPION on the wall just next to our suitcase. Our Host comforts us telling us it is only a little one and they are not deadly in Cuba. Just very uncomfortable if stung. Do we believe that? Not sure.
We had arranged to meet PETER again (black guy in the park)  and he starts telling us that he believes that Castro will be dead in a few months and they'll have an election next year. He thinks there's a politician from Santa Clara who might be the go for Cuba. Peter thinks that the grass on the other side of the fence is not very green in comparison with Cuba. We are interested in his reasoning, and have to say he has a point: for after all they enjoy free health care, free education, free dental, free public phones, about $3.00 per month electricity bill. But then the average wage is $30 per month, so for us, we guess it's all relative, and $30 per month wouldn't leave much room for high living. In a way, it explains all the touts and gigolos who populate heavily the public areas looking to make an extra dollar or two out of the much richer tourists.
This time, we have dinner out at a restaurant that has been recommended by some tourists and has a good write-up on the LPG. It's just so-so. Lobster and shrimps ok, but the octopus is shoe soles hard. But the ubiquitous shredded beef is ok.
After, some more of the same music at Plaza de Musica. But, we're now noticing that the music is pretty much made for the tourists, always the same, mostly just salsa, which tends to get a bit monotonous.
Back at Casa at the early hour of 12pm! We can hear loud music every night through our little window until always about 3-4 am.
Our next day is REALLY LAZY! Breakfast and back to rest in bed. Afternoon coffee and later meeting up with PETER to say bye-bye.
We bought on the street 12 Cigars. Biggish for $5. Not sure what's in them. Horse, Cow or dog shit?
I bought a box of 25 in Havana much smaller ones for $50. They are Monte Cristos.
If this is my last entry into this diary you know why!
The next day I am still alive after smoking a huge cigar last night.
We had quite nice dinner at our CASA. Prawns, fish, rice, salad of avocado and gelato afterwards.
Then we went out and met up with the Dutch couple had more Mojitos and music. Some how we got complimentary glasses of 7 year old rum from our "Mafia" host Caesar. (I'm suspicious of this, and have a feeling we've paid for it somewhere, somehow)…
The next day we're moving on to Cienfuego, so we pack it in and have an early night at 12am."
And so our travellers get ready for the last couple of legs of their journey around Cuba. By this time they're starting to get the lie of the land, and figure out a few big question marks. Thanks Gaby. 
Gaby and Chrissie ☺