Why is high tea suddenly so fashionable? Something so old-worldly that it's in fashion again? I just hope we don't start calling each other 'old sport'. 
Great Gatsby feel it is. I just want to don a slinky sequinned number and slide over to those dainties that beckon like tiny temptresses to me, and my hips. It was Anna Russell, the Duchess of Bedford and Queen Victoria's Lady of the Bedchamber who reportedly introduced the concept. Apart from high tea and the queen's eccentricities, who knows what secrets Anna went to her grave with?
It seems the stretch of culinary desert from lunch to a fashionably late dinner at 8pm was too much, for her and the queen, so in 1740, high tea became a thing. There are suggestions that the 'high' came from the high stools workmen sat on in inns, or perhaps the tradition of the 'high table' where banqueting guests were seated below the wealthy host and important personages. Who knows? We certainly weren't there, or if we were, we have no memory of it.
And here we are, in the morning of the twenty-first century, spoilt for choice as we sip and sup. Because they are vastly different in scope and style, I've chosen to compare two high tea experiences from either end of the scale.
"… the room still moves ever so slowly around so that you can't escape the vista outside." 
Wrest Point, a solid reminder of recent former times, and still going strong in its place in Hobart's small community, has chosen to serve high tea in their very high (formerly the Revolving Restaurant) The Point. The space that moves above and over the watery landscape of Sandy Bay has had several incarnations but for my money, this is the best.
The decor is stylish, muted, and the room still moves ever so slowly around so that you can't escape the vista outside. The staff are supremely well trained, deferent without being obsequious, and the whole experience is a seamless span of afternoon delight.
The tiny mini-quiche had the best pastry I've had on a quiche in years – short, buttery and light. Everything was, well, delicious.And a glass of French bubbles on arrival didn't hurt either. For $42 a head, the cost is in line with other venues, but the quality of the food and the spectacular room take this one to a high point. Really.
Wrest Point, under the guidance of Andre Kropp, are really focused on their food and beverage, which is great to see. A towering icon on the Hobart shoreline deserves the best. Not just to be an events or gambling venue, but to rekindle those grander times when it was, surely the only place to be. Will it ever be again? Who knows? But it's a different world now, and there are many players in the market.
A world away, though a short 30 minute drive in reality, Glen Derwent Heritage Retreat sits, an old manor house, on the upper reaches of the Derwent river in New Norfolk. Liz Virtue reigns as head of the household, and has a passionate commitment to recreating the calm and thoughtful times of yesteryear. What an incredible name for a host.
The house, being brought back to life inch by inch, gives off a charm that is palpable and when I visit, I just want to run my fingers over the satin of old wood.
Liz and her pastry chef Ruth Montgomery, put together their take on high tea, with the usual suspects of cucumber sandwiches, scones and petit fours that tempt and please. There's even crème brûlée, pots of chocolate mousse, lemon tarts, the variety is there, and each treat makes me smile as I swallow.
The teas come in a range that should satisfy even the hardest connoisseur but here, while the comestibles are tasty, delicate and always hit the spot, it's the ambience that envelops the guest like a velvet cloak. Sitting in this 200 year old home, looking out at grounds and trees one wishes they could speak.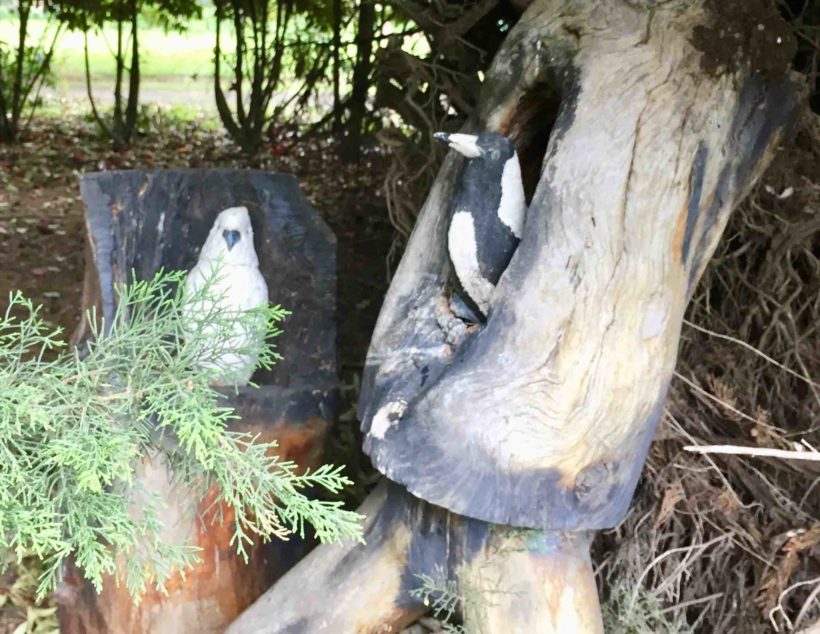 Don't be fooled by the grandeur either. There are wonderful whimsical touches that highlight Liz's sense of the absurd. All you need is to look, and ponder.
From times of old to a cutting edge take on a tower, high teas in Hobart offer something different, as always. Hobart's hidden treasures just expanded like warm water, the only thing you will need to watch is your waistline. But hey? Life is short. Party hard. 
The Point High Tea / Top Floor, Revolving Restaurant, Wrest Point, 410 Sandy Bay Road, Hobart TAS 7005 / Ph: 03 6221 1888 / Open Fridays for High Tea from 2.30pm  – 4.30pm Wednesday – Sunday / $$ / www.wrestpoint.com.au
Glen Derwent Heritage Heritage Retreat / 44 Hamilton Road, New Norfolk TAS 7140 / Ph: 0427 480 057 / Open Wednesday – Sunday (except Fridays) for high tea from 10am – 4pm / $35 / www.glenderwent.com
Chrissie 🙂