A museum café by any other name would smell the same? To paraphrase the bard… Seems  it holds when it comes to museum restaurants. 
Across the globe, museum cafés and restaurants all seem to suffer from architectural fatigue. What is it that leaves an important sector of a museum visit – the food – as a tired and lacklustre tack on?
So often, a visit to any museum or large art gallery constitutes forward planning, and at least half a day, sometimes a full day to enjoy.
Almost without exception, the damn restaurant areas are no more than tired cafeterias with display cabinets 'showcasing' saggy pre-made sandwiches and salads. Museum cafés suck. Globally, mostly they suck. Our Museum I shall talk about here, which in Hobart includes our State gallery, and with more than $30 million spent recently on a massive upgrade, the place is spectacular. A pleasure to visit, to take in the current crop of exhibitions, and revisit as time permits. The historical tour is a couple of hours alone, and interesting, with hosts who are knowledgable and engaging.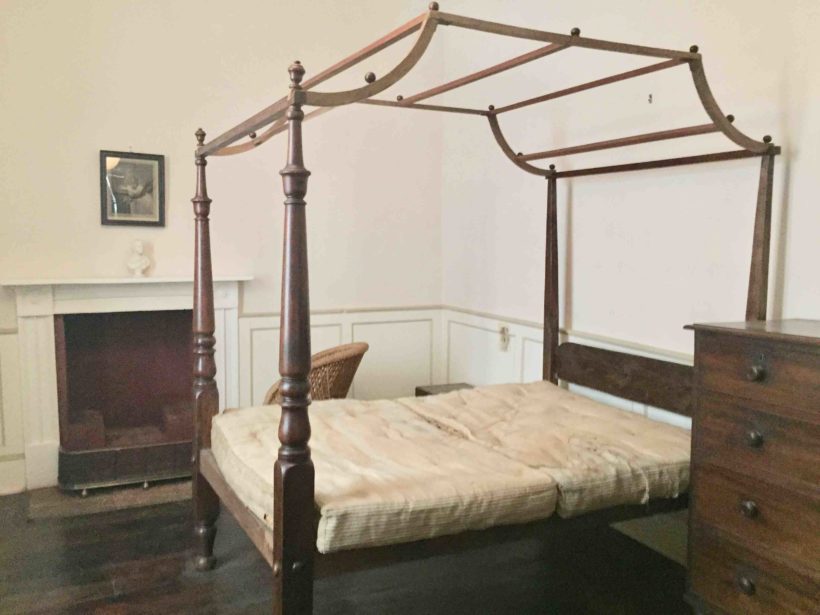 A very, very old bed
I've seen theatre productions in the central atrium (The Tempest was a standout), and it's become a bit of a family favourite to visit with small people who love the interactivity of many of the displays. So often, it would be ideal to be able to take a break, relax and dine or snack in a space that does justice to the rest of the building.
The TMag café does not do justice. And it's not the chef's or cook's fault. By any means. It's the damned space and design itself. Positioned at the side of the front entrance, the area has obviously been stuck there as a neglected, but necessary addition. There doesn't even seem to be a proper kitchen. A hole in the wall off to the left of the serving area doesn't do it. Even a small one can produce miracles in the hands of a good chef.
But no, this has a serving bench with a workbench behind which has to double or triple up as the main preparation, cooking and service area. The equipment is rudimentary, and so only the most basic of food is available: Soup in a crockpot, toasted sandwiches/focaccias, salads, and bought in pies, cakes and biscuits.
With a group of excited visitors, we sat outside to enjoy the sun and some food. And it wasn't bad, but what a disappointment, the whole ethos here, after the splendour of the museum and gallery itself. Order at the counter, take one of those blasted number poles because they can't be bothered to number the tables or give table service, and the food was, well, blah. See above. I call it museum café syndrome.
The kitchen could also rethink the serving styles. Pie and salad on a wooden board, with a knife and fork, and a toasted focaccia on a plate. Vice versa would seem so much more apropos, if you ask me. Décor is cafeteria blah as well. Untidy and hardly welcoming. Why, just why are museum cafés so awful?
You might say, when there are so many great places to choose from in Hobart, why would they spend a few more dollars and thought on the only area where one can settle in a modicum of comfort? Well, they have a captive audience, and a good food destination would increase the numbers of visitors naturally.
The restaurant space should be up there with the rest of the building and the production. At the moment, it really isn't. And isn't that a shame? 
Tasmanian Museum and Art Gallery / Dunn Pl, Hobart TAS 7000 / Ph: 03 6165 7000 / Closed Mondays / www.tmag.tas.gov.au
Chrissie 🙂