Draw a radius an hour's drive out of town, and Hobart's foodie experiences will still surprise you. In a good way.
From cheese makers, to oyster growers to the perfect pizza – it's all there and more. The roads are good, the country's pretty, and no one's in a hurry.
Looking at all the options, it's so hard to choose, but you've got to start somewhere, right?
1.  The Source, MONA/ $$$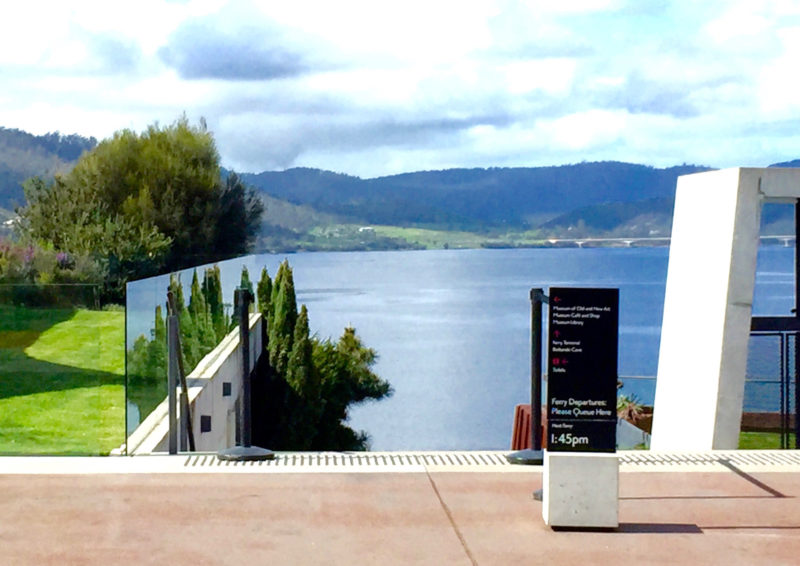 Since the landmark Museum of Old and New Art, or MONA, opened in 2011, Hobart suddenly sprang onto the world stage. Privately owned by eccentric gambling millionaire and Hobart's favourite son, David Walsh, MONA is a wonderland of food, wine, beer, art and antiquities that rival any collection in the world.
The big daddy is The Source, a top end restaurant that is quirky, but delivers outstanding food in surroundings that sing. On site is also a great bistro (with fantastic pastries); a café in the museum that spills out on to the water's edge; Moorilla, the original winery with great wines and the brewery that makes the popular MOO Brew – what else?
2. Luma Pizza Bar/ $
As you head out towards Sorell, a village on the way to Port Arthur, a stop off in the Cambridge Homemakers' Centre is a must. Don't be put off by the bland outer-urban shopping centre. Here lies a fantastic tribute to the wonder of pizza, and Adrian Beckett along with chef Andrew Clark are serious about this superb Italian food. The décor is cutting edge, the woodfired pizza oven delivers much more than pizza, and there's a great selection of wines and beers to wash their incredible food down. They are always experimenting, so there'll be something new to try for sure. Don't miss it.                                                      
3. Tasmanian Gourmet Seafoods / $$
Often acknowledged as 'the best fish and chips in Tasmania', TGS has much more as well. These guys are the wholesalers, so you can bet their fish is still kicking. In season, the lobsters are ocean fresh, and cheapest anywhere.
Their seafood dishes are generous, incredible value, and though the demountable café with some rough wooden benches outside are fairly ordinary, the owners focus on what they do best: fresh seafood, cooked to order with love and care. At great prices. Magnificent.
4. Bangor Wine and Oyster Shed, and Nonesuch Distillery / $$$
Go past the airport, turn right at Sorell, and on your way to Bangor, make a stop at the Nonesuch Distillery to sample some of Rex Burdon's delicious drops. His Sloe Malt Whisky is incredible, and he'll explain the process and the botanicals if you ask. You'll want more of a taste, so take some home. Your family will love you. Just make sure he's in before you go.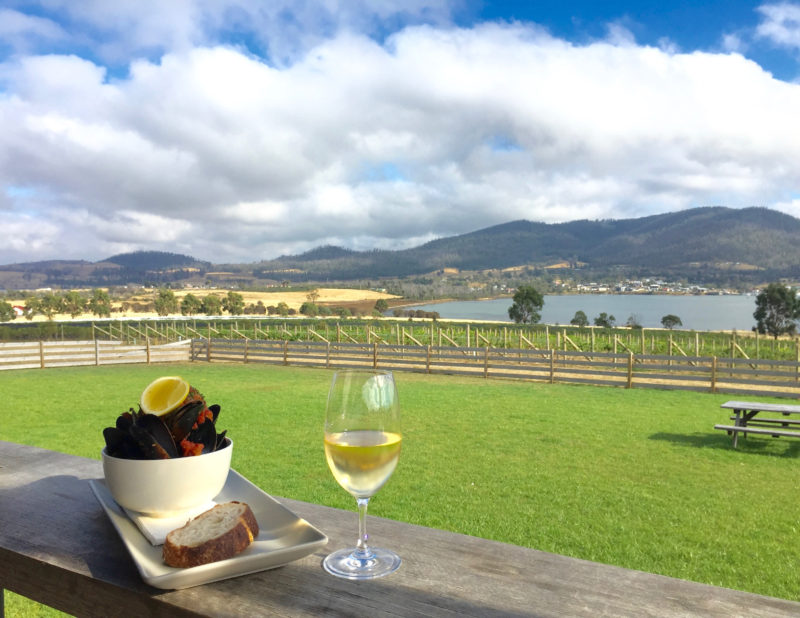 Bangor's magical view and food
From there, wind your way to Bangor where the oysters are farmed in front of you, and the restaurant, with views that will make your jaw drop, is way beyond a 'shed'. Bronwyn Strange is the chef, and she does the best mussels around, and continues to come up with tasty dishes from just caught local seafood and produce. And they are serious about their wine. Matty Dunbabin who runs Bangor with love and grows the grapes (and sheep) says 'terroir' covers the entire wine tasting experience. He might be right.
5. Frogmore Creek / $$$
If you're looking for a four star meal at a reasonable price, look no further. Frogmore was first and foremost a winery, but chef Reuben Koopman, ex-Michelin and a genius, produces what a lot of locals acknowledge is 'the best food anywhere in the world – bar none'.
Part of the wine trail, and just 20 minutes from town, Frogmore is a food experience to be savoured. Exquisitely presented small share plates, incredibly caring and attentive service, and views that stretch across the vineyards to the Coal River, just go and find what the fuss is about.
6. Grandvewe Cheeses / $$
Heading in the other direction, in Birchs Bay, lies a whimsical cheesery that you'll find hard to forget. Diane Rae makes spectacular sheeps' milk cheese on the premises, and you're welcome to taste, and taste. There's a sunny verandah to drink in the views, and while the old girls (sheep) have their own retirement village, Diane's son has been whipping up award winning Whey Liqueur. Ewe will love it!
7. The Hairy Giraffe Café / $
If you're heading to Bruny Island, and that's a must visit for any self-respecting food lover, then coffee and a snack or cake at the Hairy Giraffe on the highway down, shouldn't be missed. Set in a grand old church, chef Antony does the best vegan chocolate cake on the planet, and Paul and Pagan (Yes, that's really her name), oversee a bustling lunch trade as locals sit and knit in corners. They are planning a move to the Huon, but Kettering is still doing its thing. Different? You bet.
8. Bruny Island Cheese Co. / $$$
So you're on Bruny Island, and the Bruny Island Cheese Co. looms. Spend some time there. Nick Haddow, part of the team that brought Matthew Evans' Gourmet Farmer to television, makes award winning cheeses that are boutique, unique, and artisinal. And what better to go with some amazing cheese? Some of the new brews that Nick has developed to match. Beer and cheese. Perfect.
9. Masaaki's Sushi / $$
Masaaki met and married a Tasmanian girl, and Geeveston is the lucky town he landed. A sushi master, Masaaki hand makes with care every item in front of his devotees in his tiny place that he runs to his rules, his time. This is seriously, the best, freshest and cheapest sushi you will buy anywhere.
Even the garnish is fresh from his garden, and sometimes, he'll just close up to go fishing. And why not? Life's short and Tasmania is beautiful. Masaaki intends to enjoy every moment.
10. Rathmore House Retreat /  $$
On the opposite side of Hobart, lies the hidden dairy and farming country of the central highlands. Just an hour's drive from the CBD is another world. Cally Lyons comes from a life cooking for royalty and loyal foodies, and now hosts a retreat in a sandstone manor built in 1828 that will soothe the senses and feed the soul as well as the body. There's budget and luxe accommodation, and she'll tell you the best food places in the area to visit as well. It's a community, and a little off the radar past New Norfolk, but once discovered, you will rush to tell your friends. Her truffled scrambled eggs make breakfast a feast fit for a king or queen, and your day's had the best start possible.
For a few great side trips, plan a little, and Hobart's foodie experiences might just be bigger and better than you could ever have thought. 
Chrissie 🙂