Hobart Highlights? A snap. Sandy and Damon from Houston, USA, are devoted foodies and seasoned travellers. Their friends, Kirstin and Simon contacted me through my blog when they wanted to explore the foodie delights of Tasmania.
How small is the world now, thanks to the internet? Kirstin had an unfortunate visa hiccup, and so it was Sandy and Damon who descended on Hobart, caught up with me for some drinks and a debrief, and then hit the road. Sandy's notes turned into a big story, so we've put it in sections for ease of use for you – our intrepid travellers who look for good advice, that cuts the time and decision making for you.
Here's the first instalment, and of course, they begin in Hobart:  
Hobart Highlights: Twelve Great things to do in Hobart
1. First night? Macq01 Story Hotel is a great way to start: from the white billowy bed to the Story Bar for cocktails is a short lift stop and a great way to orient around the waterfront.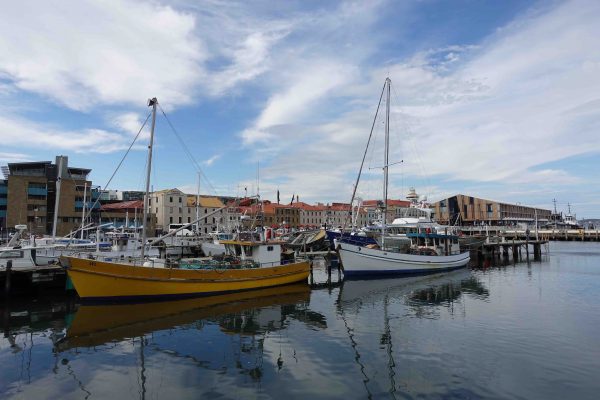 Hobart's Salamanca waterfront with the Macq01 Hotel in the background
 2. Street Eats @ Franko is Hobart's gorgeous summer hawker's market that sets up every Friday night with awesome music – so wander the stalls, sit on the grass and chill, or watch some fire twirlers or whatever entertainment is on that night. We started with a duck spring roll at The Porky Duck, moved next to steamed pork buns at Deep End Farm and finished our meal with a Wagyu slider and turmeric chicken wings at Quartermaster's Arms. With full bellies and heavy eyelids, we sauntered back to the hotel for a nightcap of Tasmanian whiskey (Belgrove for Damon and Fanny Bay for me) and then promptly crashed into that white billowy bed.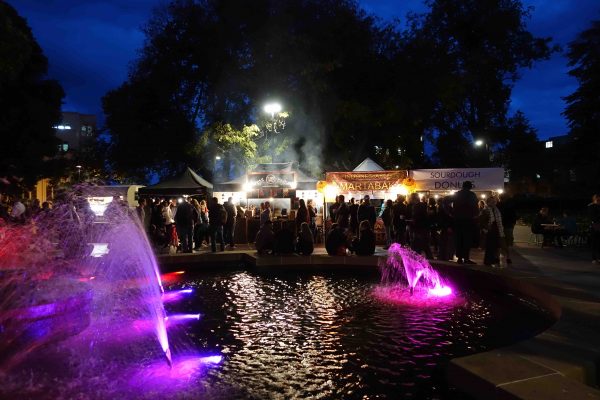 Street Eats @ Franko
3. Our first full day in Tasmania was all about getting provisions for our two week stay at a house in Oyster Cove. We started at Pigeon Whole Bakers for coffee and pastries to start the day. I enjoyed a kouign-amann (a French sugary crusty cake of buttery heaven) and Damon had their Basque tart.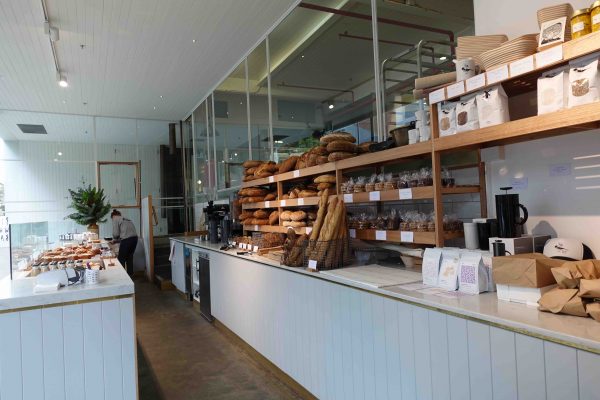 Pigeon Whole Bakery
4. The incredible Salamanca Market, right near the waterfront are enormous and a must visit. Saturdays can be lost here, no problem. We strolled the stalls and filled our totes with amazing produce from the Huon Valley and cheeses from Coal River Farm.We indulged in some whiskey and gin tastings and spent time talking with Luke from Hartshorn Distillery and marveled at the use of sheep's whey to make vodka and gin.  We followed our tipples with a Korean fried chicken bao from the folks at Seoul Street. We supplemented our provisions and grabbed staples at Salamanca Fresh and turned our attention towards provisions of a liquid nature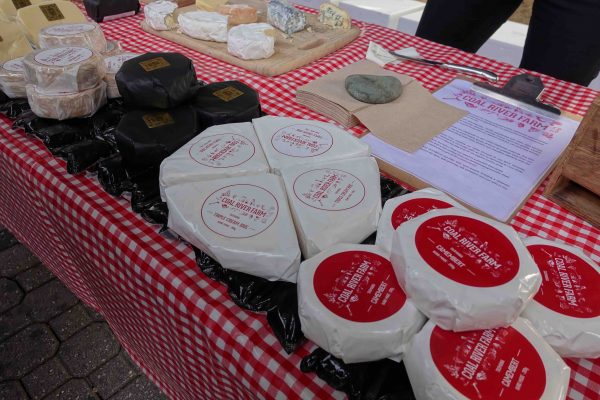 The Coal River Farm stall at the Salamanca Markets
5. Our bartenders at Story Bar had recommended Destination Cellars so we sought out the store and walked away loaded with wines and whiskey to kick off our stay.
6. Sunday morning, we headed back into Hobart for the FarmGate Market. The weather didn't make for the most market-friendly day (especially for Houstonians) but we bundled up and donned our rain gear.First order of business was breakfast, so we found a dry spot and had coffee, a Taiwanese omelette and an egg toastie.  We've learned that the best way to get to know a market is to follow the crowds. If there is a long line at a stall – get in it – even if you don't know what it's for.  People are queued up for a reason.  That's how we came upon most of our selections.  We came away from the market with African sausage from Our Taste of Africa, The Olde Spikey Bridge Peanut Butter, fermented condiments from Rough Rice, Elgaar milk, yogurt, quark and haloumi, a lamb shoulder and a thin flank steak of beef.  Set!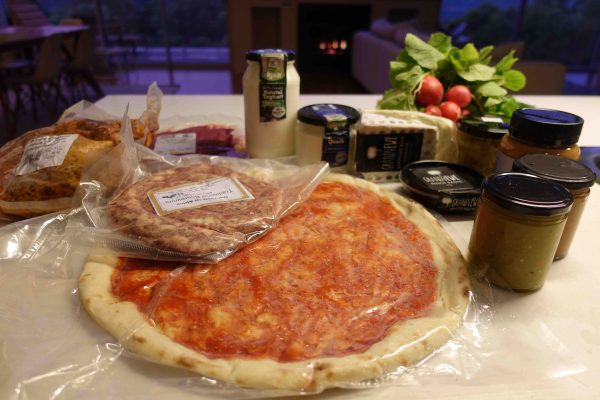 Goodies from the Farm Gate Market
7. You can't come all the way to Tasmania and not take the camouflaged Mona Roma to the museum. We splurged for the VIP room and enjoyed the pampering during the ride. We dodged the rain off but had an amazing time at MONA.  The building and architecture was every bit as amazing as the art.  And the bar wasn't too bad either.  One of our bartenders back at Story Bar had told us about Heartwood whisky and lo and behold, the MONA's bar had a bottle of Calm Before the Storm.  Damon and I split a glass before departing the museum.
8. Gold Bar was the recommendation of our bartenders from Story Bar. I had an impeccably bitter Negroni made with an Aussie amaro called Okar.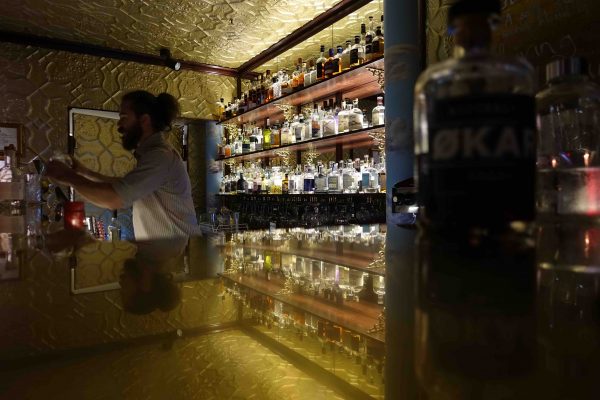 The very gold Gold Bar
9. We'd been wanting to try Society Salamanca so popped in for a cocktail. I had a Negroni and Damon had a Paper Plane.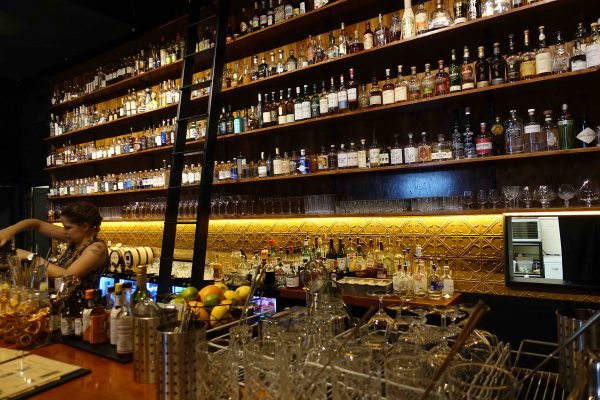 Society Bar
10. We took our bartender's recommendation of New Sydney Hotel for dinner. At first glance I wasn't sure if New Sydney was a place we'd enjoy but Damon's lamb and my tofu pancakes (yes, you read that right – tofu pancakes) were a delight.  We'll definitely go back.
11. This time we walked through Battery Point and its surrounding area. We fell in love with the bungalows and cottages in the area and spent the day playing the game of pick where you would live if you could.
12. The Den for drinks and a snack is a must – the décor is pretty cool, with a great mural upstairs.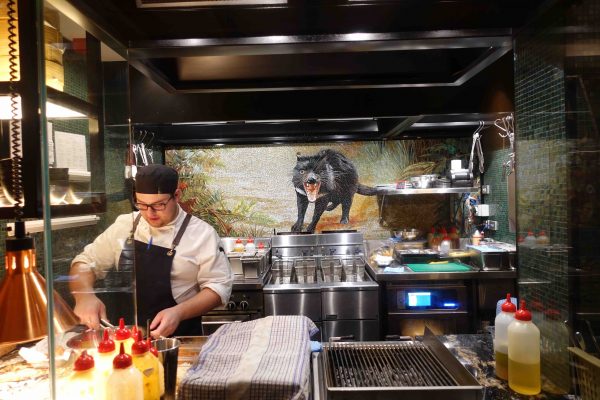 The Den, and a cool mural
And there you have it. Mind you, Hobart is an endless source of pleasure and rewards much more exploration than our brief stay unfolded. So treat this just as a start, and you can't go wrong.
A couple of tips for newbies:
Watch the colloquialisms: Since we would be spending the day in Hobart we needed to find ice coolers to keep our goodies from the market cool.  I didn't realize how hard it would be to find a cooler!  I made poor Damon stop at every gas station but everyone looked at me like I was crazy.  It wasn't until a sagacious stranger pointed us to the hardware store that we learned we should have been asking for an 'esky'.
Know the drink/driving limit! As we came upon a roundabout out of town we saw police lights and thought we were coming upon an accident.  It was no accident.  It was a check-point.  Watching the officer walk up to Damon's window with a contraption with a tube I realized that neither of us had any clue what the legal limit is in Australia. Note to self – before traveling outside of areas I've been to (1) check to see if you need a visa and (2) know what the legal limit is for alcohol.  The officer asked Damon if he'd been drinking that night – yes, 2 drinks. How long ago? 20 minutes.  Ok, blow.  He did and he passed with a 0.24.  Halfway there.  Oh my! I was already trying to figure out how to bail him out of Aussie jail.  I was just so glad we were too tired for that cask-strength nightcap.
And so, moving on from Hobart highlights, Sandy and Damon head to the south around Oyster Cove and Cygnet, and we deliver those faves to you next time. Watch this space!
And for some other highlights, check out this previous post here.
Chrissie 🙂