Diving deep inside Penang is something you must do slowly. So many wonders await to unfold and bathe you in awe.
I felt lucky I had set aside 3 whole months to investigate this fascinating island, and when it came to an end, I realised that even 3 years would be too short to do it justice.
Here are some highlights inside Penang that spoke to me and my friends as we explored mostly on foot – it's that kind of place. Take your time, stop often to refresh and eat. And yes, eat is such a big thing here that no meal or mealtime is taken lightly. Even snacks are queued for from favourite vendors, each one specialising in a particular bite or dish handed down through generations. I've included a couple of favourite places to wander and enjoy the sunset, so treat this as just a small sample and do your own digging. It will reward you, have no doubt.
First, deep inside Penang and in the heart of Georgetown, is my favourite street, Chulia Street. A bustling, busy road that snakes across the city bearing cafés, bars, antiques shops, hardware, bike repair shops, basket and homewares, massage and beauty businesses, in fact, if you can't find what you want on Chulia Street, you're not looking.
Add to that street carts that spring up at dusk, as well as bars that suddenly erupt into the night like alcoholic volcanoes, seats and stools spilling out into the traffic, and you have some small idea of how this town ticks. Like a loud clock. Clanging well into the night, only to begin all over again, in fresh clothes, the next day.
And then, everywhere, there's the street art which I never got used to, and would love to see that in my hometown. So clever, interactive, and arresting always, one had to stop, and stare. Just be careful there's not a bus or taxi or even a gaily decorated trishaw looming behind you. You could be a street hazard. And the food? The street food is almost always good, just trust the crowds – they know.
Further out of town is Batu Ferringhi – or Foreigner's Rock – where the Portuguese were early visitors, a busy beach town just 15 minutes out of Georgetown on most days. (Traffic can be horrendous as the single lane road winds around the rocky shore from town to the beach town, and I was stranded a couple of times due to violent storms. But hey? Someone always came to my rescue – it's that kind of place.)
Batu Ferringhi deserves some solid exploration – and not just the big hotels, though the Hard Rock Café and Hotel is there alive and pumping, the Rasa Sayang exhibits a quite remarkably whimsical décor which deserves inspection on the way through to the glorious outdoor seating area which borders the beach on one side, and the pool area on the other.
If you look carefully at the room above, you just might notice that the tableau at the back is tilted sideways, the sky and clouds are upside down, and the huge Dali-esque lips are counterbalanced by large black moustaches placed on some of the chairs. Interesting. And we're just scratching the surface of inside Penang.
There's so many great places to eat, like the whole of Penang, one is spoilt for choice, and while the street vendors and the night market food courts are all good, we dined one night at Frandy's on the Beach, which is a little further out of town along the shore, and were treated to really good food, all fresh and cooked with care, plenty of icy beers for just under $20AU a head. The setting is glorious, and a crazy mix of neon and plants and beach and sand make it a pretty magical place to indulge.
The crazy eclectic décor of Frandy's has to be experienced to be believed, and that poor woman with the scarf on, patiently waiting for her pay at the end of a long night, almost singlehandedly churned out great food from an enormous menu to a plethora of diners and drinkers.
Wonder why I take so much time and care interviewing chefs and telling their stories? This is why. They are heroes, in my humble opinion and deserve to be feted and recognised.
If Ray from the Jazz Hats is playing at the Hard Rock – don't miss his show. He sings like Barry White and can still cut a mean turn on the dance floor. As well as Frandy's, another favourite dining place became a largish open seafood place on the beach, across from Bora Bora (yes our favourite beach bar), and with a wet market display of fresh seafood, just caught at the front as you wander in.
Check out the fish, crabs, pippies and squid at Kak Ani's Seafood Restaurant and tell (Auntie) Ani herself as she holds court and orders her staff to serve while she hits the pans and turns out the best chilli crab I've ever had.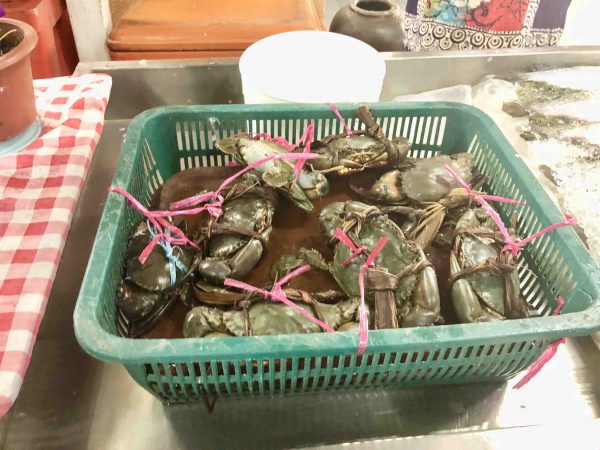 And another favourite nosh place? Back towards town, past the floating mosque and near the Tanjung Bunga markets, is the Tsunami Village Seafood Restaurant.
And don't be put off by the odd entrance, through the middle of a workshop littered with a sailor's dream of boat parts, engine bits and grease aplenty, it opens out into a wide deck overlooking the beach. Fishing boats rest waiting repair or the tide, and the soft shell crab and deep fried eggplant are absolute must-eats. It's no frills, like many places here, but the service is slick and food fantastic. Again, for a massive amount of dishes with oceans of cold beers? $16 – $20AU a head.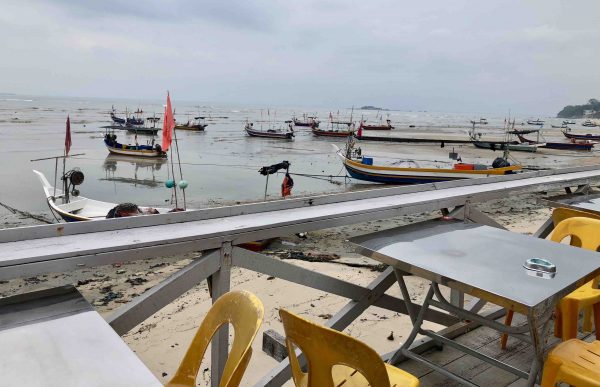 There's much more to come, as I relive the marvellous 'Where's Wally?' journey through labyrinthine street-scapes and bustling food courts, serene mountains and chattering jungles. Inside Penang? We've only just begun.
Chrissie 🙂 
For more on Penang, see our Dim Sum take here https://justthesizzle.com/travel-penang-highlights-cheap-eats/