We're going on a wine hunt, and the Hunter Valley has the trophies.
A wine trail is always a good idea, and the Hunter Valley, just 2 hours' drive from Sydney, with its history and temperate climate – perfect terroir – will reward you. Here's our favourites compiled with some help from James Broinowski from DrinkCo and Small Island Wines in Tasmania. He's been around, makes some fabulous wines himself and came up with some smaller makers who shouldn't be missed.
While the Hunter  is known for its semillons, chardonnays and shiraz, there is much more there besides, and some new boutique cellar doors make it an exciting place to visit. And then there's the food. Pin your ears back, and hit the road! If you make it for the Hunter Valley Food and Wine Festival in May and June, just be sure to book well ahead. Wine lovers come from everywhere!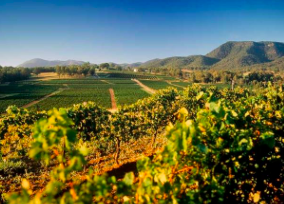 1.  Berenbell Vineyard Retreat $$$ 
First up, a base in Pokolbin, right in the heart of the Hunter is ideal. The vineyards and cellar doors are close, Ken and Suzie, who've been at Berenbell for 10 years know the area inside out, and for luxury self-contained cottages that will make you sigh with joy, they are great value. And there's great cellar doors and good restaurants close, with the Matilda Bay Brewhouse just a short stroll away. Just in case you like beer as well. Ken and Suzie will wave you off with a "if you need anything at all, just call!" Say no more.
2. Mount Pleasant Wines $$$
You may as well start at the top. The "Winery of the Year for 2017"with Jim Chatto, the winemaker, has been winning awards for some time. His Mount Pleasant Elizabeth Cellar Door Aged Semillon 2007 has a raft of golds, and deservedly so. A rich straw green, with room to develop, it's an outstanding wine. Then there's the Mountain D Full Bodied Dry Red 2014 which showcases Shiraz, and a Chardonnay made from hand-picked, whole bunch pressed grapes replete with fruit flavours that sing on the palate. With many of the wines only available at the cellar door, this winery is a perfect place to visit, and then? There's more! If you need a break from all that wine tasting, right on site, the Chateau Elan Spa will get you right in a jiffy.
3. Tallavera Grove | Carillion Vineyard $$$
Head up to Tallavera Grove, one of Davis Premium Vineyards, along Mount View Road and sample some outstanding alternative varietals, including a rare Vermentino which is like a complex Sauvignon Blanc. Their Chardonnays deliver superb fruit with a hint of oak, and their Carillion The Crystals Orange Chardonnay is elegant, and well worth cellaring – it's got years in it yet. (And the Orange in the name refers to the area, not the colour!) A regional blend of Cabernet Merlot Shiraz is definitely worth a taste. The Hunter iconic restaurant, Bistro Molines is next door – enjoy the wines matched with food made for the whole experience.
4. Usher Tinkler Wines $$
A new and exciting wine business, Usher Tinkler's cellar door sits on the road in the original Pokolbin church. Don't be fooled though by the plain exterior, this is a family run winery that pushes boundaries, and blends easily traditional and contemporary winemaking practices. Inside, the cellar door is a hymn to local wood, and they showcase their hand made salumis and cheeses made to match their wines. A really different wine and food tasting experience, with solely family vineyard wines, their sustainable platform of nose to tail informs their winemaking as well, and their Semillon/Chardonnay and Shiraz/Pinot blends are outstanding value. The Nose to Tail label showcases a wonderful range of cruisy, easy drinking wines that will have you trying all varieties – from a zesty White blend of Semillon/Chardonnay to the red and a Rose which is a strawberry, fruity blend of Shiraz/Merlot.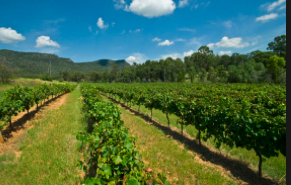 5. Brokenwood Wines $$$
One of the highest regarded wineries in the Hunter, Brokenwood spawned a host of Australian wine identities and winemakers. Want some history here? You've got it – the shiraz vines planted in what was to have been a graveyard still produce exceptional wines with huge flavour concentration and are highly sought after. Both rated 97 out of 100, their ILR Reserve Hunter Valley Semillon 2011, citrus and honey notes, and their Tallawant Hunter Valley Shiraz 2015, are 'pure Hunter terroir'. Their single vineyard philosophy has been a driver throughout Brokenwood's development and the cellar door? Clever and efficient.
6. Small Winemakers Centre $$-$$$$
Right in Pokolbin, with almost 50 wines available to taste, you have to find something you'll love! They stock wines from 26 of the best Hunter winemakers, so if you're looking for something a little different, you'll find it here. Ian Little's Llamas in Pyjamas 2015 Malbec is a standout, with a beautiful fruity finish, and Thomas Wines 2015 Elenay Shiraz is a Hunter benchmark for this grape style. You can book for a cheese and wine tasting, and for private groups – there's the Icon Lounge. Perfect.
7. Tyrrell's Wines $$$
Head left onto Broke Road, away from the tourist hub, and Tyrrell's Wines, a family winery since 1858 will come into view. With award winning, iconic Hunter wines, the company also launched the first Hunter Valley Fine Foods Markets in 2017, driving the natural pairing of superb local produce with fine wine. Their cellar door is exceptional – you'll see the old oak vats and red cellar still in operation, and the original iron bark hut that Edward Tyrrell lived in. Their Hunter Heroes range is amazing – verdelho, semillon, chardonnay and shiraz – are all 100% Hunter Valley and you will go back for more. Their Vat Series will cellar well, and their Vat 1 Semillon, 2005 is acknowledged as one of the best Semillons ever made. Their Cellar Door is slick, professional, and a perfect example of what a great cellar door should be.
8. Thomas Wines $$-$$$
Driving out onto Hermitage Road, and you'll find Thomas Wines, another award winning Cellar Door. Reasonably new, Andrew Thomas makes individual vineyard wines, and his Braemore Individual Vineyard Hunter Valley Semillon 2016 is limey, citrus and grassy in perfect balance. His shiraz is a great example of Hunter reds, and will cellar well.
9. Margan Wines and Restaurant $$
A little drive out of Broke, Margan produces some of the best wines in the Hunter, their Medal winning Vermouths and trophy winning Ripasso are must tries. These are incredibly well priced estate wines, and when Andrew was named viticulturist of the year, no one was surprised. He imported the first Albarino vines to Australia, and some say, he can predict the weather! A trip here for lunch will reward with superb produce straight from their hand tended garden, with a menu built around the wine of course.
10. Meerea Park $$$$ (Cellar Door at Tempus Two)
Back on Broke Road, a new and spectacular addition to the Hunter cellar door family is Tempus Two, owned by the Roche Family. The architecture is incredible – the brief? "A modern interpretation of the simple country shed". The architect delivered. While they have private tastings if you wish, they can also cater for groups of up to 30 – this is serious terroir tasting. And don't miss the Meerea Park wines while you're here. Rhys and Garth Eather, from a long line of Hunter wine forebears, are creating spectacular wines that have garnered international attention. The Aged Release Alexander Munro Individual Vineyard Hunter Valley Shiraz, 2007, at 97 points is a must, it will cellar until 2037, and at $120 isn't cheap, but who's counting? Enjoy!
And there you have it – our picks from some of the best offerings so you don't have to spend hours researching. We did all that for you. And if you're coming to Tassie anytime soon, there's a fantastic wine trail so close to Hobart you won't believe it. 
What's stopping you? Nothing I hope. Enjoy. Chrissie 🙂 
Travel: A wine trail just minutes from the city? Yes in Tasmania..