What is the difference between a chef and a great chef? For me, it's when they bring the conversation around to their legacy – that they are chefs and mentors, and that's the key that drives them. 
Adam Moore is on my list of greats, and as we caught up recently, chefs and mentors was where the conversation began, and finished. But what a journey he's had, and his interview is chock full of wonderful twists and turns, and a deep wisdom.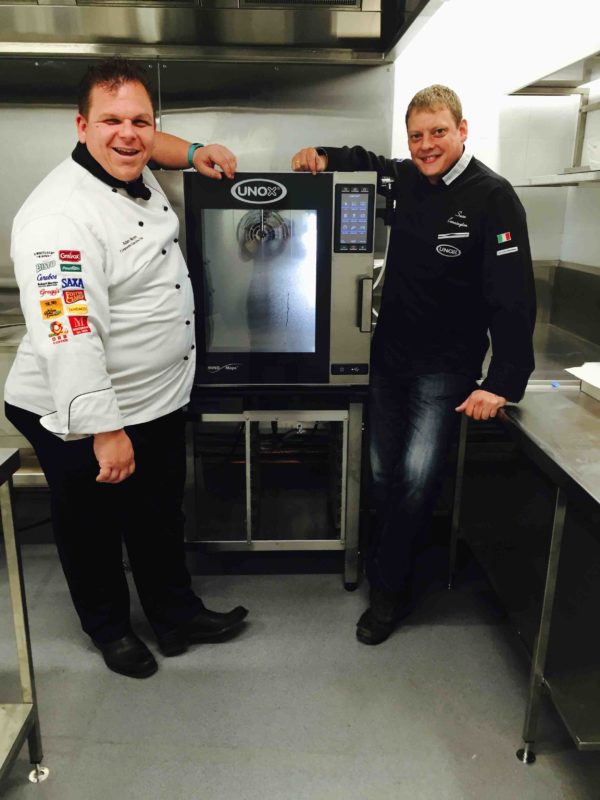 Currently Executive Chef at Cerebos, that food giant obviously appreciates everything Adam brings to the table, and coupled with his television series,  and his own blog, he is still as busy as ever.  
Enjoy his story: 
"I've been cooking for 25 years, and the best part is I get out of bed for work happily every day. How lucky am I?
Where did I start? Lucky again I guess, I got to do a hospitality course at school on a pilot program, so when I finished my HSC and got a job at the Novotel in Darling Harbour, where they had a full on food trades kitchen, I learnt the lot: butchery (including charcuterie), bakery, pastry, everything. You name it, I was thrown head first into learning all the basics, and my chef and mentor was Reinhard Roithener who's still working now. He's executive chef at Sentoza Resorts in Singapore, and you know what? He's probably the reason I'm still here and he gave me a huge breadth of knowledge. I'll always be grateful.
It was a fantastic time and place I found myself: doing my time out of Ryde College, Hans Schings was head of cookery and he and Reinhard kept tabs on us big time.
Reinhard would give out homework every weekend. It was always 5 page numbers from Larousse Gastronomique that we had to study, cook from and know perfectly by the next week.  If we hadn't done our homework, we were in trouble. It was 1993-94, I was getting $2.80 an hour, and glad to do the time. I was so passionate – Wednesday was supposed to be my day off. Day off? Forget it. I'd head to the fish markets (we bought on average 2000kg a week) leaving home at 3am to get there by 5am to check the produce and prices for Reinhard, and what an education that was!
We'd have Turkish Coffee at 9.30am, then I'd go into the fish mongers filleting room to fillet the fish. Those guys were absolute pros and taught me all they knew. It was the best education I could get.
Oh, and you know what? Because I was so poor, I actually held down 3 jobs my whole apprenticeship. I did front of house for the Mercure in Paramatta and worked for Michel's pastries on the side.
I also completed a traineeship doing a 6 month stint front of house as well, and I got my first posting as assistant General Manager for Food and Beverage even learning about wine and wine sales. What an education that was. If I did have some time off, I explored so many different avenues and was in awe of the top restaurants in those days – Banque, Bistro Moncur when Damian Pignolet was heading the stoves, I'd save up and eat there and dissect every part of every dish to learn as much as I could.
But my first love was always in the kitchen. I decided that hotels were not really the life for me, so I bit the bullet and left, applying for a job in a small restaurant. as a kitchen hand. It was mothers' day, and hellishly busy. Even though I was fully qualified, starting back as a kitchen hand? Somehow this just felt right.
Well you know what? 2 days later the chef walks out and my real cooking career began.
It was a different style of food from what I'd been trained to do, but my deep and broad experience stood by me big time. I learnt fast and settled in to a rhythm. From there it was a massive journey through a big hotel chain, working my way up through the ranks to Corporate Executive Chef of George Weston Foods and Campbell Arnotts learning the industry brick by brick. It's been highs and lows, but you know what? I found I love the corporate gigs. Like Mark Baylis, from Unilever I've found my niche in a big company that has multiple products and where I can use all streams of my experience.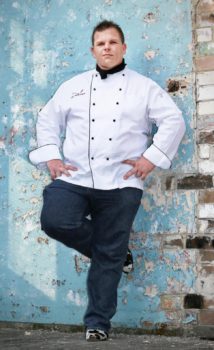 What's not to love? Now at Cerebos, I get to create recipes and products for millions of people, and sponsor scholarships for up and coming chefs through my corporate connections. Now, I get to give back, and have been involved with Clubs NSW, Gault & Millau, The Royal Show Fine Food Awards, and run by the ethic that I'm not doing my job properly if the guys below me don't want my job.
I get a massive kick from mentoring young chefs, interviewing other top chefs for their wisdom and knowledge, and a highlight? Seeing a young chef go to New York to work at 11 Madison Park. How fantastic is that? I've had a wonderful career, and there's still lots more in the tank."
Thank you Adam, and I'm sure you have lots more to give as well. You can catch him at www.chefadammoore.com.au and his talk show, Talking chef on Vimeo.
If you're looking for support or need help with stress, go to our www.offthehotplate.com chef support site and check it out. We're here for you.
Chrissie 🙂