John McFadden is the ultimate chef's chef. Coming back from competition in the USA not just once – but twice – as World's Best Seafood Chef, and then taking the grand title, World's Best Chef? Well, you can't get more accomplished than that. We caught up to tell the story of his second huge win, and tell the tale of excellence from the beginning.
Even more outstanding is the fact that he competed alone, against teams of 3 from all around the world. I doubt that the Championships will see that happen again. John has set the benchmark, and it's stratospherically high. John's story begins with acknowledging the support from key people who helped him get there. In his words:
"The investors and our CEO, Daniel, who's the co founder at Squizify, (John is General Manager) have been really supportive of my journey from the very start, even when I won the golden ticket here in Australia. We're selling digital food safety and more into food service, and here I am as a current World Food Champion. What a cracking story, right?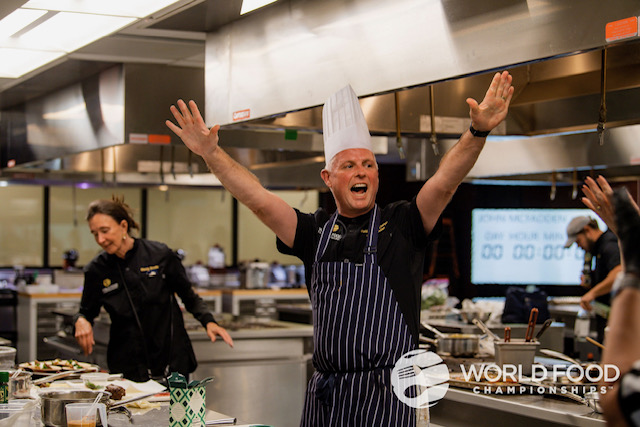 "It's an amazing journey and incredible story. I really take my hat off to those opportunities and the people that have helped me on my way: Brad Bennett at Le Cuilinaire hospitality school. The team at Technical Chef Australia, Sarah Maric and George Hill, they've been great. Unox ovens, Wayne Viles, he supported me all the way through as well and Mohammed Dib at MD Fresh, Tim Collett at Foodservice Australia, Fina Foods, ACF & Simplot
"I came back in May after winning the World Food Championships and it's been a little bit overwhelming. I didn't really appreciate the magnitude of what I did win until I was back home with all the media attention, the network TV stations, magazines, and radio interviews. And I've been really fortunate here in Australia that everyone's really gotten behind it and celebrated with me that I've come home as a world champion in one of the biggest food sports in the world.
"So to be the very first international (and Australian) to take it offshore in the whole ten years of the competition is an achievement in itself. So it's sort of like record after record after record. And to think I'm here at 52, what's exciting about it all is it doesn't matter how old you are if you really push yourself. Do your research and your homework and work friggin' hard – things happen.
"My family, who didn't come with me on both journeys put little cards in my luggage. Although I didn't have a team there, I had a great team behind me. So even to do it solo against teams of three in the competition over there, that was epic. And it was really funny because the way it all came about when I arrived, all the teams that went over to represent Australia in Dallas last year, there were a couple of girls in dessert, there was Lucas for barbecue, there was me in seafood.
"But I wasn't aware you could have teams of three and up to five where you could tap in and tap out – at three at any time in the kitchen. But in all fairness, I practised my dishes. I knew what I needed to do, I had my lesson plan, and I knew if I executed, I'd be there somewhere, because I knew I was really satisfied with the dishes that I did put together.
"The differences? There were a lot – Celsius/Fahrenheit, kilos and grams to ounces and pounds, and just the metric changes were something you have to adjust with. Bentonville, Arkansas, was the culinary school where the final table was hosted. Sam's Club and Walmart were major sponsors of the event and I actually reached out to a lady at Sam's Club through social networking and she gave me a private tour of Sam's Club and their facility. So I got to see the produce firsthand.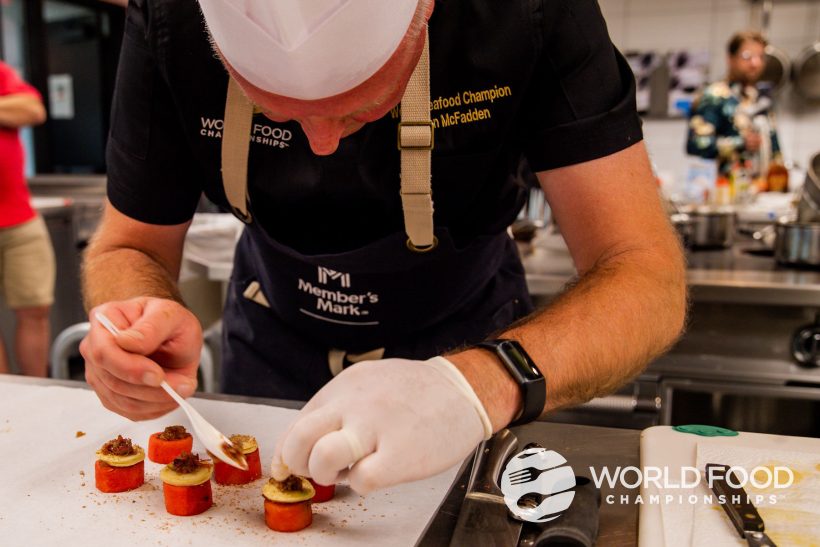 "Sometimes it was difficult. I had trouble getting micro-herbs, so I reached out to all the local farmers and growers, but my timing didn't fit with the markets. So I thought, oh, gosh, what am I going to do? And I went to the supermarkets. Nothing. So I went out to the culinary school, off my own accord, and met a lady called Cidney, a teacher out there, and she gave me a private tour of the school – all the classrooms. I got to meet some chefs and some students. When I say chefs, the teachers or the instructors, and then she took me out back, and they had an indoor and outdoor herb garden and was like, oh, my *** The angels had just fallen out of the sky because there was everything in there!
"I know it sounds really bizarre, but bronze fennel was growing there, and I needed bronze fennel, and it was there in abundance. And they had coriander flowers, and that's why I'm really glad and proud of the way that I set myself up, is that I exhausted every avenue to get everything right down to the degree that I needed a chorizo sausage for one of the dishes. And from where I was staying, I had to get Uber to a place called Fayetteville, which was about a 40 minute Uber drive or $75 Australian one way.
"I met chef Tim Ordway at Crystal Bridges Museum. He was one of the judges. If you made it through to the final round, and the final round was you had to cook courses three and four off a five course tasting menu. So I thought, I'll go out, I'll introduce myself to Tim, understand about his business and his team and what have you. And I asked him a question: I said, "Mate, I want to use lamb." He mentioned a butcher in Fayettville. But they didn't have what I was after.
"And I was like, oh, hell what am I going to do? So I had to go back to Sam's Club, and grab a New Zealand rack of lamb. Funnily enough, here I am all the way over in Arkansas at Bentonville, and I'm using New Zealand lamb. But I got what I needed. But then I found out the chorizo that they had there in the shops was the whole chorizo- not the cured sausage which I finally tracked down that cost me $150 in Uber fares!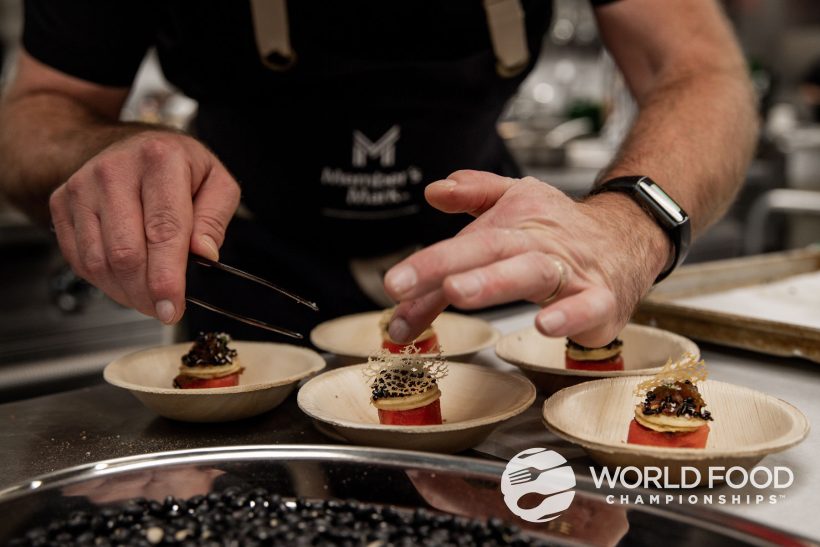 "And then I needed Asian ingredients. I got an Uber, to the Asian shop, but they're shut this day, open tomorrow. And it's all those things when you're coming from an overseas country that you're just not familiar with. But I was all good in the end because I'd done all the research, all the legwork so anything that I couldn't get, I could resource myself and find other avenues to get it. And, yep! It paid dividends in the end.
"The first challenge was an Amuse Bouche challenge. So after the first round, five teams stayed and five went home. And literally that night after we finished at 4pm, we were dining in a restaurant around the corner called Yeyo's Mexican Restaurant hosted by famous chef Raphael Rios. And the next round on Sunday morning was taste and recreate. Raphael presented a dish to us that we had to eat, try, ask questions on, and then we had to recreate it the next morning.
"The ingredients, came from his family farm, so all the produce was on the bench, waiting, but there was even produce there that wasn't in the dish, so it was to put you off. It was a barbacoa dish. So it was chuck roast, and short rib. You had to flatten it all out, marinate, roll it, cook it all in 60 minutes. With it was a black bean puree with jalapeno, a green salad and some salsa. But the salsa was more of a soupy consistency than just diced tomato.
"Mexican is one of the very few cuisines that I've had little involvement with. I've done Chinese, Asian, Japanese, Italian, you name it. But not Mexican. That was probably the challenge, and why I stayed up to 02:00 am. the night before just doing my research. Once I slipped into the final round and I knew the dishes I was doing, I felt a sense of comfort. You know what I mean?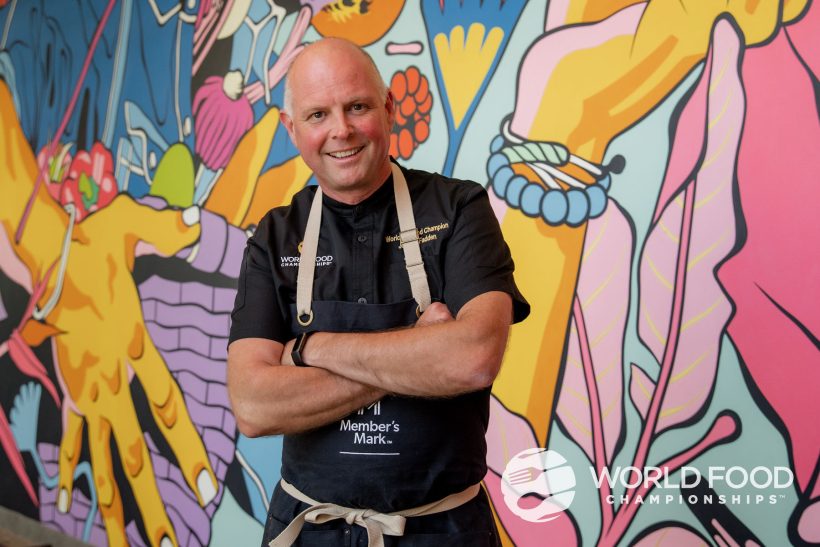 "But prior to going into that, we didn't finish till about 9:00 pm. I went back to where I was staying, did my research, got ready for my dishes, because if I made it through to the final round, we had two cooks on the final day. So we did the taste and recreate and then you're back in the kitchen doing the final round, so I had to pack for all that. But when I got back to the hotel, there was only one washing machine! And of all nights there was just back to back laundry being done. I had to wash my jackets, my aprons, so I didn't go to bed until about two in the morning. So I'm staying up, trying to do my research, do all my packing, do my laundry, and then get ready.
"After 2 hours' sleep I rolled up to the culinary school at Bentonville and we did the Taste and Recreate Challenge. I just slipped into third place. And the top three went through – I think I just slipped in by 0.12 of a point from Sterling Smith, who came fourth.
"The top three teams then moved into the final challenge – courses three and four of a five course tasting menu based on the food philosophy of Crystal Bridges Museum, Tim Ordway and his tasting menus. So you had to do ten dishes in 60 minutes. So five of each courses three and four. And, yeah, I walked away with a score of 95 and second place came in at 83. I won twelve points ahead!
I blew it out of the park."
"But the thing is, that's competition. People lose the Olympics by 0.1 of a second or hundredths of a second, and then that can elevate them into other, bigger things. It's just unfortunate for Sterling that I sort of slipped into the home base and then smashed it in the final. And I think what's been quite humbling for me is that I was solo, cooking against teams of three. So technically, they have 3 hours in the kitchen to present what they need to. I've got the same time,1 hour, but I'm doing the work of three people.
"Do I feel proud? Sure do. The prestige of coming home with not just one, but two world titles and going solo all the way through? Yeah, proud of that achievement. To think that I've been out of the kitchen professionally for about five years now, so I guess from a credibility point of view, it's nice to know that I can still cook, that I can still manage at a very high level and deliver. And I guess that for me is fantastic.
"As a dad, I love that it's inspiring my kids. Even on the final day over there when they were announcing the winners, they had Facebook Live and my kids are on there. Suzanne Clark, who was managing it, said, "Oh, John, your kids are on Facebook Live." They dropped feeds in. They go, "Dad, you rock. Kill it." And I'm like, heck, here I am on the other side of the world and my kids are there live!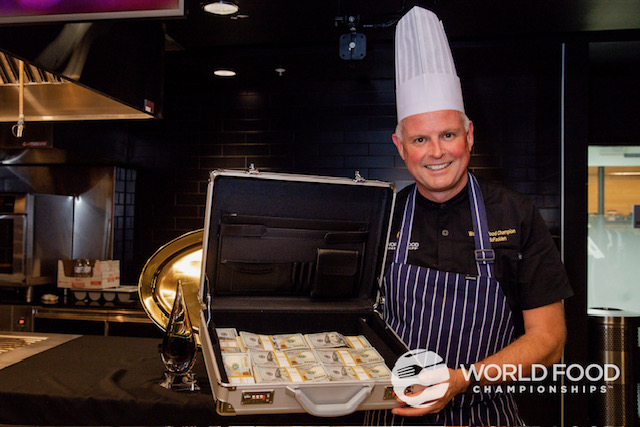 "When we presented our food, we had to speak to the judges on why this dish and its components. I had actually managed a meeting with the Lord Mayor of Arkansas before I went over. My idea was to get the history of the area from a food perspective and what's happened over the years. So when I did speak to the judges, they could see that I hadn't just rocked up without doing any research and understanding about the produce, the regions and what they've been famous for and their food style over the years as well. So the dish I did in the first challenge was a compressed watermelon with brisket, soy pickled onions, achar style choko and jacama. And that was finished off with soy, pickled onions, the brisket, puffed black rice, salted plum and an onion tuille.
For the final challenge "The third course was a surf and turf classic. It was all based on the sauce – roast crab and prawn sauce. I gave it a cauliflower puree with prawns, scallops and chorizo. And that's what I needed the bronze fennel for, because just the way bronze fennel holds itself and it's got a really strong aniseed flavour, a lot more than dill.
"The other dish was seared lamb. Had to be New Zealand lamb! I denuded it a bit, and pan roasted it. That was served with spiced carrot puree, roast heirloom carrots, dukkah, and salted yogurt. And the way I saw it presented, I was so pumped, and I just knew that I wouldn't have changed a thing.
"This next competition is the same. All the preliminary events happen all year over in the US to get a golden ticket to be eligible at this event at the end of the year. So when we get there this year, there's new sponsorship over at the World Food Championships, so the numbers are less. Last year, when I competed in the first round, there were 30 teams. This year, there're only 20. So rather than top ten going through, it'll be top seven. So obviously, because I'm the reigning champion, I get to pick the category that I'd like to enter.
"Yes, I've designed my first dish and entering in seafood. I'm waiting for a couple of things to arrive for me to practice the dish, and then once again, it'll be just all hands on deck, refining, questioning, making sure my timelines are right, equipment lists and well, it seems endless. And that's if I move into the top seven. The sponsored ingredients from members mark and Sam's Club are crab meat and crab legs and Bolner's Fiestabrand lemon and herb seasoning mix. So we have to incorporate those infused ingredients into the final round dish. So I'm sort of 50% the way through completing that dish, because ideally, you want to look at the end goal.
Add to that, smoked paprika in the first round has to be the hero of the dish and you have quite the challenge."
I'm sure you're up to it John. Can't wait to see you win again, and I wouldn't be surprised if other one man teams appear this time! Enjoy the journey, and we wish you the very best. Here's a recipe just in case you want to try something different, that's already a winner. CG.