Andrew Dunoon (R above, with business partner Bruce, L) of Elizabeth Andrews Catering is a bit of a legend in the hospitality industry. In spite of several big setbacks, he's been at the helm for decades and oversaw growth that would be the envy of any business. Lessons? Plenty of those. Triumphs? More than a few. But we dig deep to get the real juice of a big and busy life.
And just to put all this in context, we felt it pertinent to give you the actual figures: in the hospitality industry, only 20% make it past the first 5 years, and out of those 20%, only 20% make it in the next 5, and after 15 years, guess what? Yes, just 1% are still standing. Andrew is that 1%, and I wouldn't say lucky, because as my dad used to say to me, "Luck's dressed in overalls."
He began though, with parents who were in the business, and loved it.
Not all kids are overjoyed when their parents are in the hospitality game – the hours are gruelling, the investment is always big – blood, sweat, tears and money. But Andrew's folks built one of the first motels in Victoria in the 1950s. They were true entrepreneurs – loved travelling to get ideas, and Las Vegas spread its tentacles to Swan Hill, where the Dunoons expanded the business to encompass a 200 seat restaurant, a 100 seat function room, and a disco with lights in the floor, curved walls, chandeliers, and a cocktail bar – the Silver Slipper. Of course a huge rotating silver slipper set the marker out front – which the locals (in true Aussie spirit) called the "Tin Thong".
Andrew was DJ in the disco at 14 – very cool. He felt natural following the family line, and studied hospitality and catering at the Footscray campus of Victoria University, finishing with 12 months' training in Washington DC at the Ramada Hotel in Old Town, Virginia. That was huge.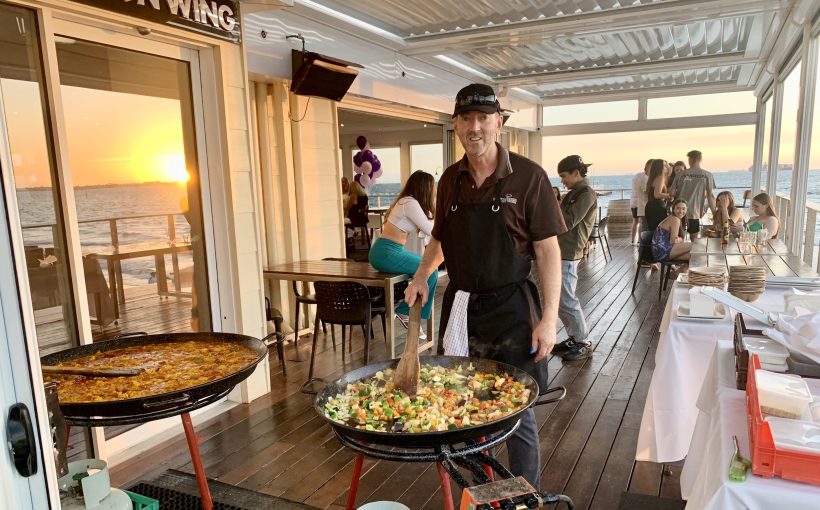 He expands on a different culture: "America does hospitality very differently to Australia, I was earning $12 an hour as a waiter/bar tender in Australia, In America I earnt $2 an hour. This made you hustle for tips and learn what excellence in customer service is or you wouldn't be able to pay your rent. At the time DC was the murder capital of the world due to gang fights with the crack drug wars. I managed to avoid any trouble but some of my friends were held up at gun point or had their cars stolen from them while at traffic lights."
Fresh from the USA, Andrew sharpened his skills in every area of his parents' business. They redeveloped parts, and in 1991, after working around Melbourne city, he opened a café in Lonsdale Street.
First big hit: 1992, the recession, and as office buildings went from full to empty, sales dropped 50%. Catering seemed like a viable option, and though it was hard work in every way (no internet so marketing was by mail drops and personal call-ins), the business grew.
Now, in 2022, this adaptability is called a pivot, but then it was a stroke of marketing genius. From here, Andrew's career in catering flew, morphing from a humble Ford Falcon Station Wagon which fitted 15 bread crates, adding a Holden Camira wagon which could fit 10 crates, and within 4 years 230 King Street was the new home of Elizabeth Andrews Catering, six times the size of the previous café. Somehow Andrew found the time in 1995 to marry Elizabeth, and the new catering brand reflected the new union.
With a bigger business, the first refrigerated delivery vans moved the ever-increasing tidal wave of dishes to customers, and Allan Campion, a well-known food writer, joined the team. Here's the thing: Andrew seemed to have his finger on the pulse and within another 4 years, he was managing 35 (from 5) staff, growing at 30% per annum consistently over 10 years.
Ever one to push the envelope, Andrew created a first of its kind spiral bound, full colour catering menu, with every dish photographed. Leading corporate catering in Melbourne, he expanded again to 309 King Street, spending 12 months fitting out the premises. I asked a question here: "Leasehold or freehold?" "Leasehold". This new state of the art facility, with a proper loading dock and high tech equipment set the business on course for the next…. Well, by this time, Andrew and Elizabeth had 3 children, and desperately needed a break.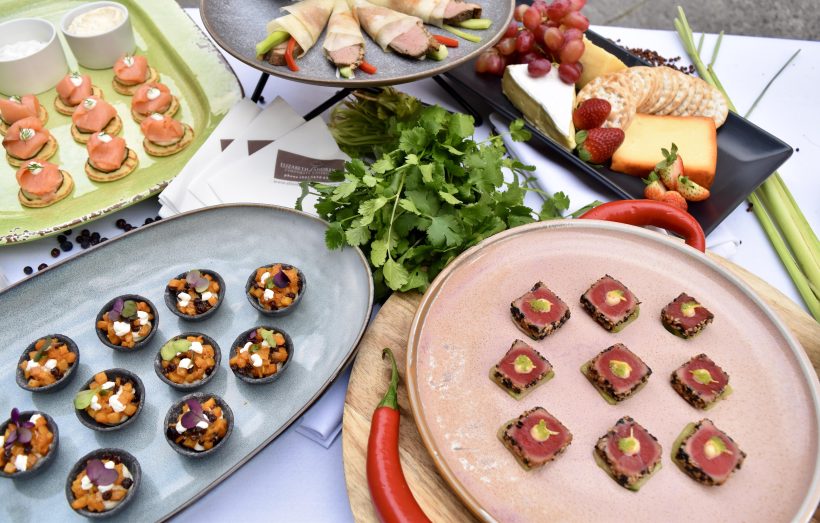 They moved to Coolum in Queensland for a vacay that went from 2 years to 6. Coolum's like that. Easy, the beach is fantastic, and life's good. Especially for families. Andrew systemised the business, promoted a staff member to manager, but when that went wobbly, a new general manager stepped in. Good at operations, but marketing wasn't a strong point, and the business suffered. In 2013, the right person appeared. Andrew met with Duncan, his brother's friend who bought into the business and became the new general manager.
You would think that this would mean a few years of plain sailing?
Nope. Not even close. Andrew didn't come back into the business, with Duncan at the helm it was making double-digit growth, but in 2016, the building was sold. Andrew explains, "The new owner also bought the building next door and? He had other plans. He got plans approved for a 66 story building and sold the project and land to a developer telling them Elizabeth Andrews did not have a lease in place (we had 10 years left on our lease)." At this point Andrew came back into the business full time to help Duncan.
What did landlord L do? Cut all contact.
I know bad landlords. Dealt with enough over the years. I felt instantly sad for Andrew and the bitter fight he had ahead of him at this time. After an almost keystone cops episode of lock changing, breaking in, sleeping on the premises, security guards vs. security guards and Supreme Court nonsense, Andrew, Duncan and team moved – with a settlement that allowed them to set up in West Melbourne, where they are still. Just as they got through these hard times and opened the new premises in March 2020……
COVID TIME. Yes. I think Andrew must have wondered, what next?
As he's proven throughout his long and busy trajectory, Andrew stepped up, and didn't miss a beat. With Job Keeper the saviour, he and Duncan managed to keep 60 staff, and again, pivoted.
Home delivery! Studying this new landscape, Government, Aged Care, quarantine hotels all became clients, and many still are today. His staff were a vital piece of the painting. Some had been with him for 25 years, and he was smart enough to recognise that kind of IP is gold. Sales dropped by 98%, but slowly sales climbed back to 30% of pre covid sales, the new landlord was a knight (if not in shining armour at least with a kind heart), and Andrew saw fresh opportunity. What about amalgamating – with other caterers?
In Andrew's words, "We stayed agile". The new acquisitions brought with them good experienced staff – and owners – new markets, new cuisines. Last year, 2021, with the lockdowns and difficult times, false starts abounded, but December was a record month, and February and March rolled in with business. During March, they hired a new staff member every day.
What was your secret Andrew? When everyone else is screaming for staff?
"We hire quickly, we operate Monday to Friday (yes, attractive in hospitality), and have a good reputation. Even today, we hired 2 new staff, making that 90 staff now – made up of 1/3 casual and 2/3 full time and part time. We (Duncan and I) share the hours – he starts at 4am, and I begin at 6am, six days a week."
Andrew continued, "We've got great skilled staff because of the other businesses we bought. But Covid brought in some unique challenges, particularly because we are very environmentally conscious: our presentation had to shift from melamine platters to disposables, which isn't great for the environment. We have a food composter where we put 100kg of food scraps every day, and once a week we empty it as compost. Duncan has a farm outside of Geelong and puts it on his fruit trees. Oh, and he drives a Tesla.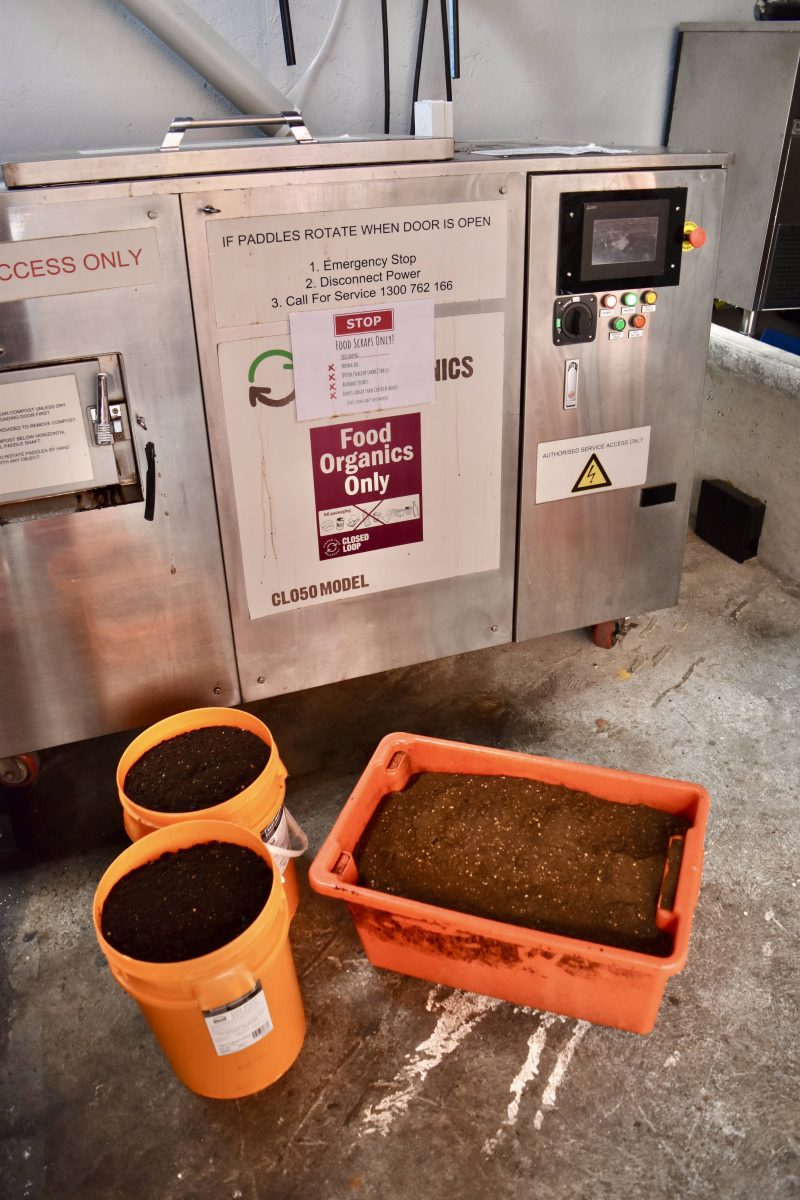 "We worked hard on finding the good outcomes and positives out of the Covid era. We've already started a profit share with staff. The first $5K every month goes straight to staff, and we're looking at a share ownership plan for the business."
And where to now, Andrew?
"Expanding interstate, so looking for opportunities and gaps in the market. And I've got a sweet tooth, so I want to introduce more petit gateaux into the corporate market. We're constantly working on quality, and improving the menu in the new private and wedding markets as well as our old favourites like the humble sandwich range."
Any issues you now face?
"Aaaah. Dietary requirements have gone crazy, and every order now has a group. But, always positive, with every pain comes advantages, so I figure that if we're good at it, we have an advantage. We're looking at reaching capacity in our current location in the near future, so onwards and upwards."
Big lessons you'd like to pass on?
"If you're looking at climbing the corporate ladder, make sure your ladder is up against the right wall, and if that's where your passion is, you'll always get there in the end."
And Andrew had clients to call, and staff to manage, and new horizons to conquer. The take aways are many, and profound, and one can only marvel at the resilience and positivity of a true example of hospitality in its many iterations.
Thank you Andrew, you are an inspiration.
And if you want to see more? Here it is: http://www.elizabethandrews.com.au
Christine Matheson 🙂