In the walnut world, freshness is key. Have you tasted the imported nuts? Yes, stale usually, and … well, rank. When I first tried Coaldale walnuts, it was revelatory.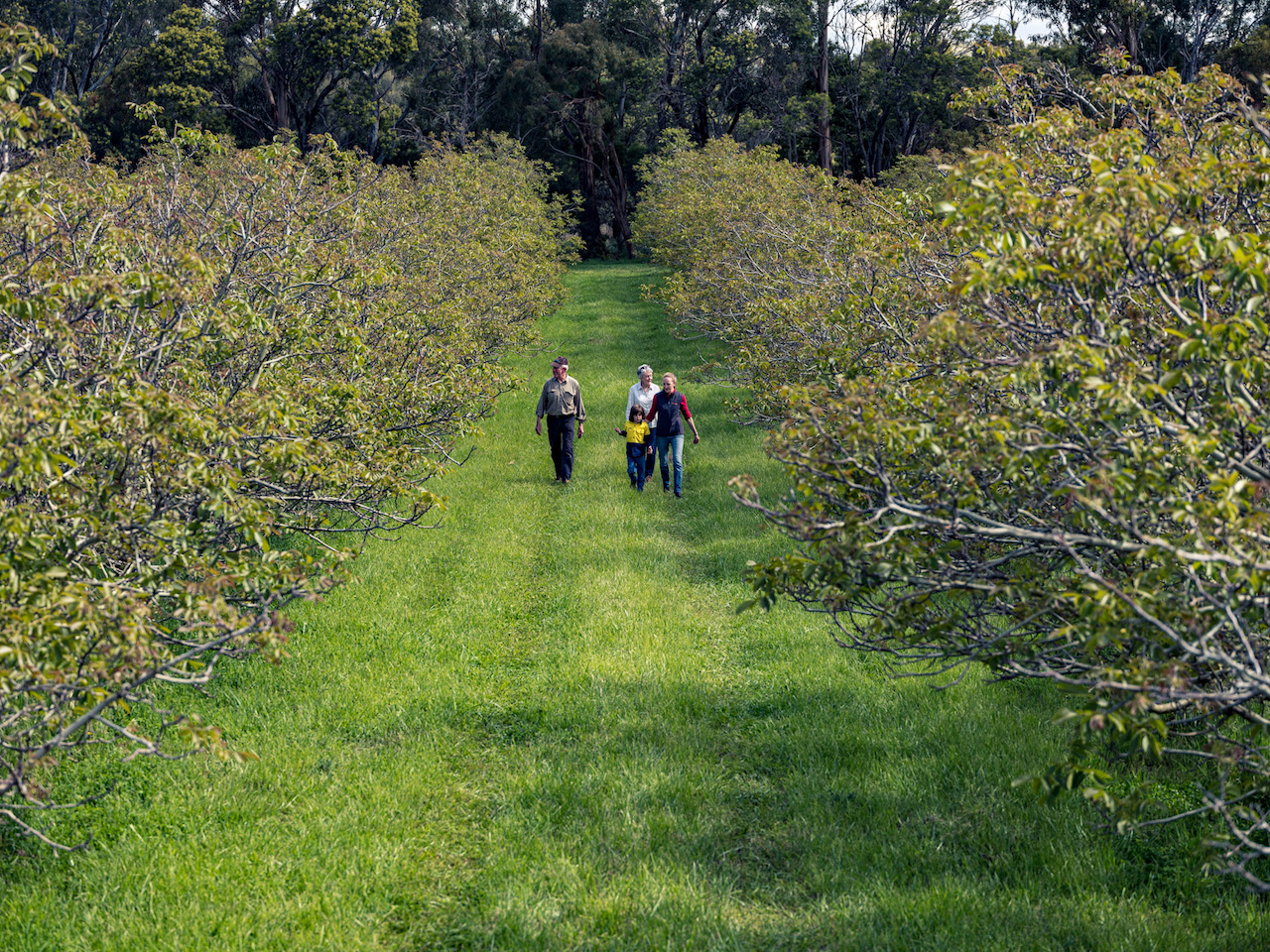 I think it was at Salamanca Fresh in Salamanca, a good deli known for stocking premium local produce. 
Sophie Milic, of Coaldale Walnuts in the Coal River Valley of Tasmania, just a short scenic drive out of Hobart, knows that the freshness makes all the difference. And that's driven this family business for the last few decades.
But unlike quite a few farm dynasties in Tasmania, Sophie and Brad are just second gen. And the business has grown, pivoted, and evolved over 26 years of tender loving care. (The photo above has Sophie Milic with parents Phil and Jane Dening, and son Jasper in the walnut orchard).
Some wonderful insights about farming and primary industry, as it evolves in this decade, unfolded:
Why did your parents choose Tasmania and walnuts?
"Both Phil and Jane, my parents, made a deliberate decision to be in Tasmania. They came down here for 2 years, and 26 years later, they're still here. As non-farmers, (my dad's a rehabilitation counsellor and mum's a nurse), a joint venture partnership with Webster Walnuts (then Vecon) ticked all their boxes.
"Webster was establishing joint partnerships with growers – sort of a win-win, and for mum and dad, support of a big agricultural company for the gaps in their knowledge of horticulture and to handle marketing was ideal. Walnuts looked like a very good bet. And it was.
"The cooler growing season in Tasmania gives walnuts a better flavour – Tassie walnuts are sweeter and creamier because of the longer, cooler growing season. It's a slow food. We're the last farm in Australia to harvest. Though we're not quite the farthest south, being a little further from the coast gives our farm the coolest growing conditions."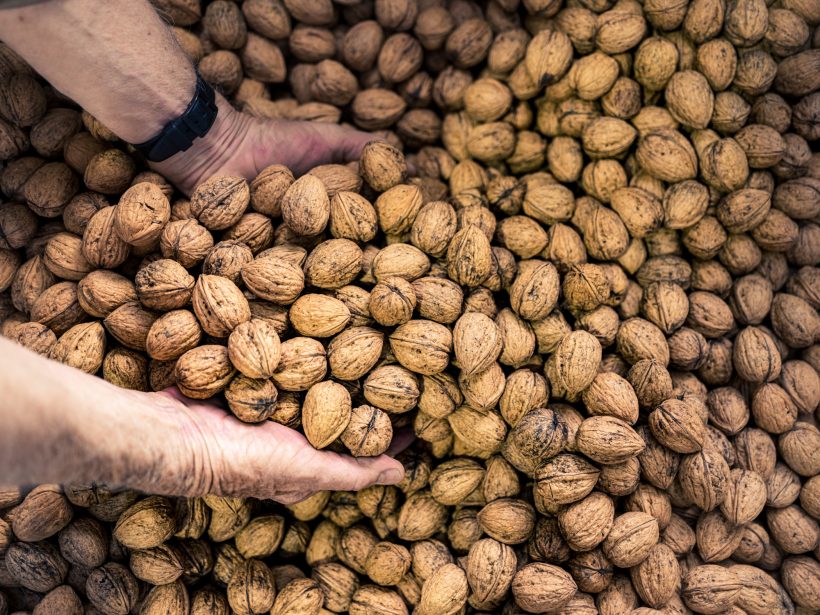 Was it always on your radar to move into the family business?
"I grew up on the farm, but had no plans for the farm to be part of my future. After Uni I headed to Canberra, worked in communications in government and then in the private sector in Adelaide. Along the way, I met my husband, Brad, and we both thought that Tasmania looked inviting.
"Last year, Brad and I began to think, 'There must be more to life than corporate careers,'" Sophie said – speaking about the driver that pushed her and Brad to take over the family farm.
"Brad and I quit our jobs in Adelaide, sold our house, and bought half the business. My husband is from Port Lincoln, and was in fisheries and now works for Australian Longline Fishing, managing Antarctic fishing boats. It's a very big leap from our previous lives, but we embraced it.
"Learning about regenerative agriculture was a bit of an 'aha' moment for me. Healthy soil, healthy eco-system – yes it's a mono-culture, from a cropping perspective. But in saying that, there's such diversity of what grows under the trees. The orchard floor is home to all sorts of insects and native animals, the orchard as an ecosystem is a top priority and we can support that.
"We run sheep in the orchard, which is complementary. We're looking at pigs, because of the walnut waste we give to a pig farmer at the moment. Even the shells get used as mulch and the smallest nuts get sold as parrot food. We're always aiming to run our business and farm as sustainably and responsibly as possible – that's our mantra, and what we live by in the business."
Was the transition for you and Brad a big learning curve?
"I'm very grateful to have good experienced people to learn from – as in, my parents. In the last decade they had moved away from the partnership with Webster, established their own brand, and were selling direct."
What do you see as key in management of the farm and markets?
"Oh that's easy: that freshness makes all the difference. We crack to order. We imported a cracking machine from France, and there's a three-step process, as it breaks the shell, then separates the shell from the kernel, then they go on to a conveyor belt for a final inspection to grade the nuts.
"Last year our new baby arrived: an optical colour sorter – a machine that takes rapid photos of the nuts and shoots a jet of high pressure air to separate the nuts that don't make the grade before they get sorted. Saves a lot of time!
"Grading the nuts is important, the premium nuts are sold in the shell and nuts that are smaller or have discoloured shells are cracked for kernel. Not much gets discarded, and even the tiny nuts get sent off as parrot food.
"Day to day, it's me and mum and dad (with two fabulous employees). We sell mostly in Tasmania, because the cost of freight is horrendous. I try to keep the food miles low, so we sell to places like Hill Street Grocer, and Salamanca Fresh and restaurants. We sell walnuts in the shell, walnut kernel and make pickled walnuts.
"Pickled walnuts are still not very well known, but they're growing in popularity. that's our Christmas and summer holidays – making the pickled walnuts. Last year we did about 6,500 jars, and we're on track to sell out by the next pickling.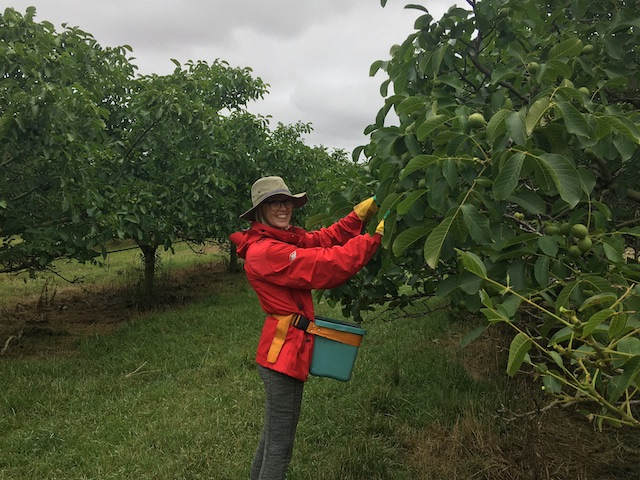 "We have to wait until the green walnuts are big enough, usually late December, but then there's only a window of about a month when we can pick the green fruit before the shells start to develop inside. They get brined and then dried in huge commercial drying cabinets over 36 hours – then we cook them with vinegar, sugar and spices. The recipe was given to mum by a patient when she was nursing. The only adaptation we made was to swap malt vinegar with apple cider vinegar – made by Lost Pippin cider just up the road from us, so it's nice to have that local connection."
What have been the big benchmarks from absorbing the business subliminally as a child, to now? What are you bringing to the business?
"It still felt all pretty new when we moved down just last year. The steepest learning curve was the horticulture side of things. I was fortunate to be accepted into the Australian Rural Leadership Foundation's mentoring program – I was paired with a viticulturalist in Adelaide – Mary Retallack – highly respected, but importantly, for me, she opened my mind to different ways of farming and put me on the path of regenerative agriculture. Learning all sorts of new practical ways of applying our sustainability ethic.
"Brad and I have brought complementary business skills from our corporate careers. I have more of an interest in agritourism, and I'm working on incorporating that into the business.
"We're a very small farm. We've started buying from another grower in the Coal Valley – the brand is so successful that we're running out of nuts! Having that expanded supply is great and it's still all local. Because we're based in Richmond – there's already big tourism coming out this way and a lot of interest in the Coal Valley – and now there's a lot more interest generally from people in where their food comes from.
"We've just finished doing the Agritourism business development program called Opening the Gate, and we're doing an annual open day and it just grows every year. This year we had a fair bit of rain over three days and we still had 600 people through. It's essentially a 'pick your own' event. Customers want to have that connection with the grower and the food they eat. This year, because of the weather, we had to clear out a shed so people had somewhere to sit and enjoy just the atmosphere of being on a working farm. And have their coffee! They loved it."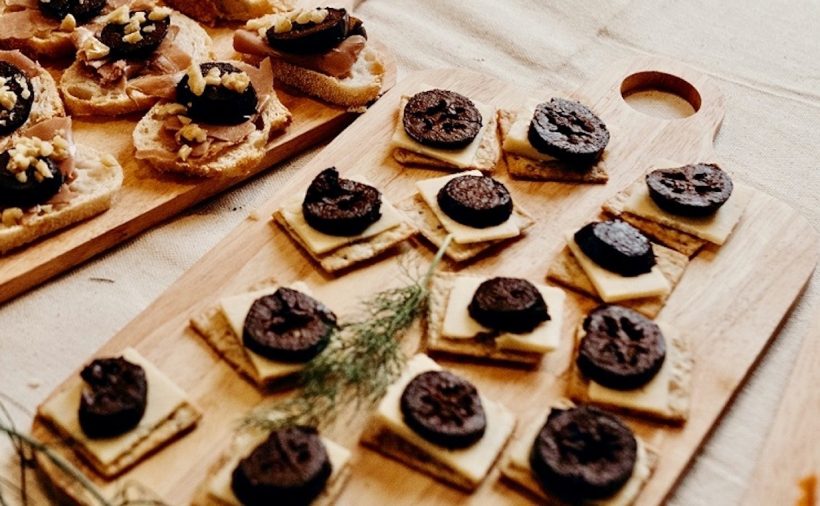 I'm sure they did. A tourist experience that's local, sustainable, authentic, and a crop produced with love and care.
Thank you, Sophie, for your time, and the energy you and your family have given to the Coal River Valley, and the fragile ecosystem that exists there because of farmers like you and your family, who make a difference.
Check them out at www.coaldalewalnuts.com.au
Chrissie 🙂