A food business expert who just … keeps giving
Jane del Rosso didn't start in food, but as a lifelong passion it's where she gravitated. And where she began isn't where she ended up. The lessons along the way were prodigious and Jane has put them to good use. As a food business expert Jane is one in a million.
What Jane does now is sorely needed everywhere – support for newbies just starting out, so every lesson doesn't have to be final. Her journey along the way is fascinating…
In her words:
"I hadn't ever thought about being where I am today, it's been a long and winding road. But now? We're delivering programs through a local council for residents who have an idea for a food business, but little to no experience, seek our help to get their food business up and running. Or if they're looking at growing and not sure how to push the boundaries – it's all about leveraging our knowledge and experience to give them the most chance of success.
"We go back to basics and look at the business topics as well as the food topics because there is always a link between the two in a food business, and we pretty quickly see what's not working. In this group, we've got mobile food vendors, packaged food products, caterers that are looking at developing a product to fill a gap in the market that they've identified. And all of those are wanting help to grow and expand – to understand where they fit in the market. Every food business has a strong obligation to their customers to be food safe and to be legal, but also to themselves – to be viable.
"And all of that is in our brief, and what we concentrate on. Now, that's a lot of information, you might say, but I think every single food business goes through that start-up stage to a point where they grow and soon reach that point of overwhelm where they need to go back to basics and fill the gaps in knowledge that they didn't fill the first time. And that's kind of what we do. I just somehow knew that I needed to step up and out, as the food business expert people needed to succeed.
"We get to live alongside those creative, innovative, committed food business owners that actually want to make a living out of their passion.
"So how we got there in 2008, (with the first 'My Other Kitchen'), we actually identified the need of those business owners to have a compliant production space and somewhere to connect with other business owners, because 15 years ago, there weren't co-working spaces. At least not to the level they are now. There were serviced offices mostly used by corporates. But with the advent of co-working spaces and even shared kitchen spaces, I fitted out a commercial space.
"I gathered a community of not only those creative food business owners, but the people who also deliver the services that those business owners will need. Graphic designer, website developer, packaging expert, food labelling expert. All of those things are needed in a small food business.
"How did I start? My journey was first corporate. And I just felt a pull to food. I went back to school, got my cooking qualifications and worked in hospitality. And then I saw a massive gap so I went back to the corporate world to earn the money to be able to set up this kitchen space. It was 100 meters of kitchen – enough to accommodate one large production or two smaller producers, and in some ways, it was actually too big. So I learned some lessons as well.
"And the lessons are always big – especially in food. But I had a budget.
"I went middle of the road with equipment – didn't go top of the range with the fit-out because I had no one to kind of feed off. We were the only ones doing this at this stage. I actually reached out to a place in Chicago called Kitchen Chicago to ask them a few questions, like: 'You're calling yourself an incubator. What does that mean there? And what kind of kitchen space are you using?
"The kitchen incubator thing over there was only just starting, but there were already a couple in LA, that one in Chicago, and there was another space, San Diego, but it wasn't a mainstream thing even then. So I reached out, asked a few questions. I kind of took on board what they said, and I based my kitchen plan on what the people would require. And I guessed at some of the equipment – luckily, I was right.
"No one can do anything of scale without a Combi Oven. I installed a couple of under-bench ovens with some gas cooktops, a wok burner grill plate, a big one. And the usual dishwashing facilities. Cool room. Had to do some infrastructure changes, which meant drainage in the floor and a mother of a grease trap, because that's another lesson I learned. Don't have too many water outlets in the kitchen because it all feeds into that waste disposal.
"In hindsight, I could have cut down on the sinks, but that's a lesson learned. It's a huge learning journey to become that "food business expert". So all of those things, all of that knowledge, all of those lessons that I learned, I now help my clients with. For instance, if you're looking for a manufacturing space, suss out where the industrial areas are that already have food businesses, because then you know there's going to be gas attached, then you know there's going to be grease trap, most likely. But if you start from scratch and have to build all that stuff oh, man, it's so expensive. And the council regulations and planning permissions have massive implications.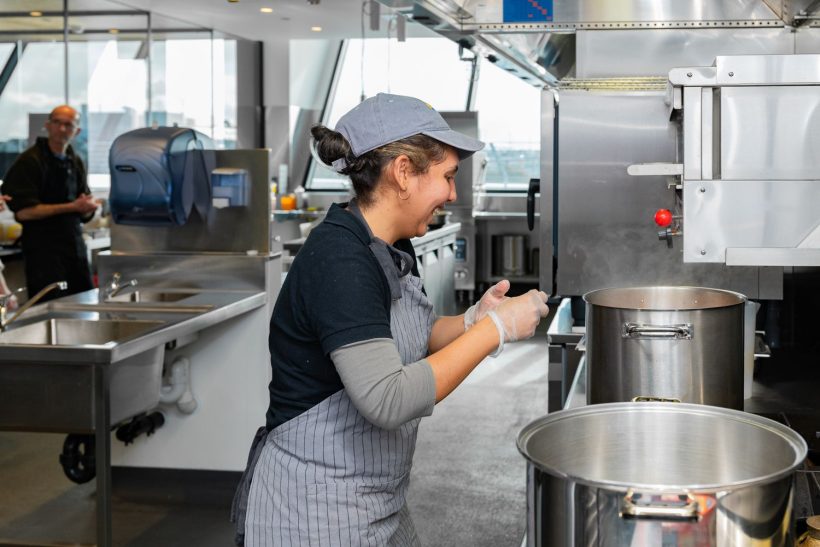 "But going back to the beginning – that's the thing. Food is not food is not food. Here's a journey that illustrates that: we had someone move out of our kitchen. After we'd provided them the space to develop their product and grow, they moved into an old chocolate factory, thinking it was going to be, well, 'oh, it's got a cool room. It's great.'
"But the motor on the cool room, for example, wasn't strong enough for a real cool room. It was set to chocolate. Yeah. So there's a lot of gotchas in that setup space, and I'm sure you could run a whole workshop on it.
"Even if you do all your homework, sometimes you don't know what you don't know. So just being able to reach out to someone who's been there, done that? That was the whole benefit of the incubator – that connection to community, finding that someone's always two steps ahead of you and helping someone who's two steps behind.
"I often talk to my clients, though, about opportunities that come your way that you may not be able to fulfil and how you manage that, because maybe it just takes a couple of tweaks in your process or finding a larger premises. We often take out space at trade shows and industry fairs.
"Aah – here's another lesson: sometimes the opportunities just seem too big to take on for the business owners. There was a show trialled in Melbourne called Lunch,Where we had six clients participate under our banner. One of them that was a nutritionist and a chef.
"She had developed this breakfast product that was almost sugar free, but it's still delicious. One of the chefs from the prison system actually approached her at that show and said,
"I would want 40 kilos a week, and we're looking for sugar free products- , can you do that for us?"
"And she said no. And I've gone, "Oh, that's just, you know, three times what you're doing now, that's actually achievable. You should go back to him and say yes."
"She wouldn't, and at the end of the day, it's their business.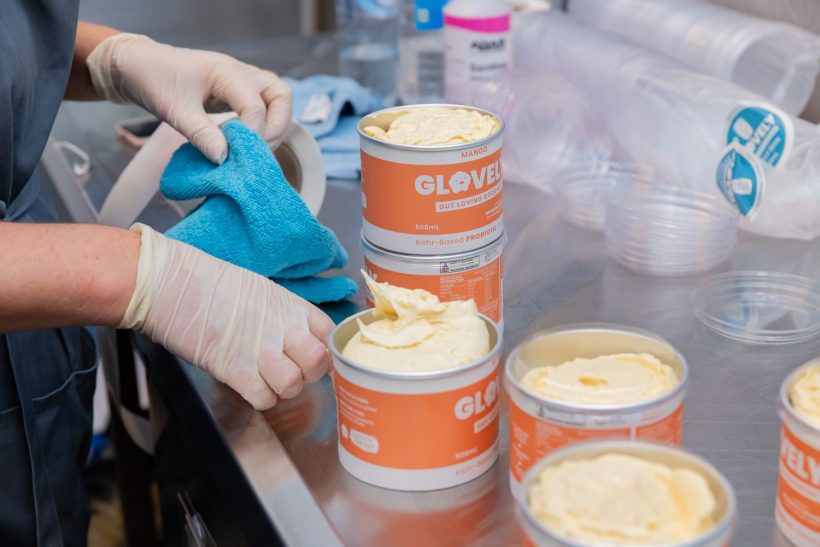 "One of the things I learned very quickly was that restaurant/catering cooking is the opposite to commercial food production. Because we deal in mostly packaged product, those recipes have to be set in stone. And so we've had a few chefs come through, but they struggle with the process – and keeping to the process and keeping to the recipe, because they get bored. Understandably.
"They're chefs because they're creative, and they want to be able to put specials on the menu. And once you develop a product, it needs to comply with the food laws. You can't be changing your packaging every five minutes. All of those nutritional values suddenly change when you add a pinch of this and a dash of that. We haven't had that many chefs make a huge business out of manufacturing, because I think whether you're making ten or whether you're making 1000, it's still kind of manufacturing because it's got to be a process. But that small scale manufacturing gets boring for chefs after a while.
"Where were we now? The genesis of all this: My Other Kitchen, which is the original name for the Kitchen Incubator. It was 2008, when I set up the business and in 2009 I opened the doors in a rental property.
Now there's another lesson learned, because adding that infrastructure to someone else's building, at some point, you have to walk away from it when you leave. I was there for nine years. I got my money's worth out of it, which is great, but the person coming after me, and obviously the owner of the building, got the benefit of that infrastructure. a training organization has moved into that space, with more than $150k of fixtures and fittings that my business paid for.
"We moved into another space and ran someone else's incubator for a couple of years. But then at the end of 2019, I decided shared kitchens were a thing now, and there seemed to be a co-working space on every corner.
"Start-ups need to have the confidence that their product is going to work. Even so, now we use other people's kitchens we know are compliant and suitable for their products. Often we have a choice between locations now, because traditionally people had to travel a long way to get to our space. At one point we had people from as far as Geelong, or Mount Eliza, or Mount Martha, which is another hour the other way, driving to our kitchen space to do their production one day a week or a fortnight or a month, and then take their product to their retailers or their customers. So now we use other people's kitchen space for our consulting. It just makes much more commercial sense these days.
"We work at a couple of co working spaces, one in the western suburbs, one in the north. And then we gather that community of food business owners, but also service providers in those areas.
"But still with that community at its heart… Because I think that's the lifeblood of incubation."
"Where to from here? Well, we used to take on a lot of bespoke clients, and we used to do a lot of workshops and events. We've actually taken all of that knowledge and we're crafting it into some online education. So watch this space, because we're almost there. People who have dreams of starting out in the food industry, are usually working to pay the bills, whether it's four days a week or five days a week. They often have children, so their time is limited. And we know that we can deliver the topics and maybe some of the skills online, which means they can do it in their own time frame.
"One of the workshops that we that we will be starting up again very soon is called Recipe to Retail and it basically runs every month because we give a high level view of what's expected in the food industry and building a food product, people think it's easy because there's no barrier to entry to do that. You don't have to have any special skills to be able to make something, put it in a packet and then market it. It helps if you do, but you actually don't need it.
"But to get it actually making money, that's another question altogether. And that is about thinking of it as a business. I don't know how many times I've had people come to me with something in hand going, my friends say I should sell this. And I say, "Do your friends know anything about the food industry?" The answer is usually, a very big NO. It's just that everyone thinks they can do it in a short time frame.
"From our experience, It's often a six to twelve month journey to get product into a packet and you will be spending probably between $10,000.00 – $12,000.00 in that next twelve months in establishing the business, complying with the food and labelling laws, , in creating a website, in crafting a brand, in marketing your product, and of course paying yourself (something most of us struggle to do in the start up phase). It certainly helps to have access to a network of suppliers that have knowledge of working in CPG (consumer packaged goods).
"If you look on it at face value, it's going to take you a long time to find someone, a graphic designer that has experience in the food industry, because the food laws go down to the level of what font and what font size is on your labels. So those food laws and the graphic design in particular, rely on the graphic design and knowing some of those food laws regulations.
"And then you talk packaging. Aaaah. Packaging. It's there to keep your food safe, but it's also there to extend a shelf life. And it's there to protect your product in transit, so when you do have to distribute it, you know it's going to reach its destination safely and in one piece. And the packaging needs to attract attention – sell the product! So packaging comes across every single facet of your product and into your business, because it is the delivery. I mean, the packet is absolutely the delivery of your brand.
"This includes if you have health claims or principles that you want to convey, that is a marketing exercise. And it happens on your packet because you have lost the connection with your customer once you put your product in a packet. I've had people who've been at farmers markets, for example, for eight years, because they just love talking directly to their customers and finding out what they like about the product, where they buy it, how often they buy it. All of that consumer research happens at that conversational level.
"There's a lot of moving parts in that space, and it is hard, because with the regulations, you can survive under the radar for just so long and things can really come unstuck. So it pays to do everything properly from the start. Tick every box.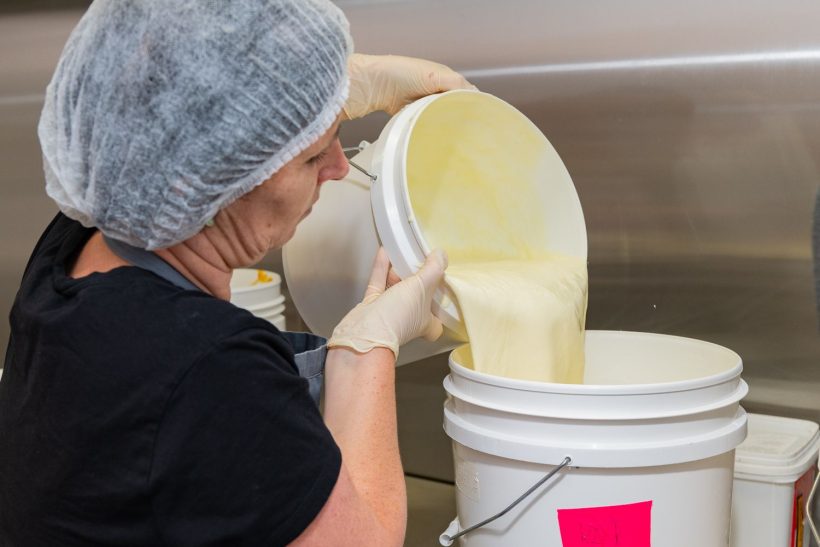 Watching Shark Tank teaches small business owners about researching your target market properly:who wants this product, and how have you proven that they want this? So that's one of the things that we do as well. We direct a lot of our questions to those customer segments and ask, well, who wants this?
"What will they pay for it? How often will they buy it? And we develop what we call the taste club around it. It tastes good. Yeah. But how often are they going to buy it? What are they going to pay for it?
Gathering the answers to these questions directly from your customer is how you can be confident your productis profitable.
"That's probably another point that I want to get across if I can. People come to us to create what's called a minimum viable product so they can take it to customers for validation and confirm that it's viable. But they can always go to other accelerators or incubators because there are others in the industry that take them to the next level. And some of them have access to appropriate funding sources that they can make available through their programs.
"So there is a trajectory for start-ups in the food industry, and it involves a lot of different people.
"But what I do, and the value we provide, is as a connector on the journey with the producer, seeing the big picture while also able to zero in on the detail, making sure they don't get lost on the way."
If you have a product you want to develop, or are stuck in someway, get in touch with Jane: