John McFadden, from Australia, is now officially "World's Best Seafood Chef". Notwithstanding this is a contest judged in Texas, USA, it attracted thousands of entrants globally, so the win? Amazing. John gives us his secrets generously, and it's almost a perfect playbook on how to win.
I first interviewed John years ago, as he stood out from the pack, and was generous with his time and knowledge. In this piece, we go on the journey with him, as the scale of his achievement is just sinking in, and the memory still fresh.
One of the key questions I asked him, was about his nerves. How did he control that?? And the absolute kicker? John had no idea because no one had told him, that he could have had a team. All the other contestants had teams of three, four and five. Where you can tag in and out, but only three in the kitchen at any one time. Not John, he was flying solo, and he still won. If that isn't a massive achievement, then I don't know what is. And like all good chefs, he knew that preparation was key.
In his words:
"The funniest thing is I'm very structured in my approach to things, and every day, I had a set routine before the competition. I would get up and have breakfast in my hotel, and go for a walk around the town. Grab a coffee, and then go back to the hotel, second the old valet trolleys and take the seafood boxes up to my room. I was really lucky with the contacts I had made. The seafood suppliers delivered daily and I had my packing list, my prep list, all laid out, and ready to go.
"It was bed by 7pm, watching a movie. The night before the final, I saw a James Bond movie that I hadn't seen. It was terrific, and I slept…. Well. I was at the competition area an hour and a half before the event, and I felt comfortable with where I was at. Interestingly, I was more nervous waiting for the result, than for the starting timer to go off. I knew, that as long as I maintained my workflow and timings, I knew I was going to be in a really good spot.
"The camaraderie over there was exceptional. The friendships, the rapport, the support, even afterwards. People are amazing. So where did it all begin? It came out of the back end of Covid. I was scrolling my LinkedIn and social pages, and came across a competition here, called Food Championships Australia, and out of all the categories, I chose seafood. I hadn't competed in anything for about 30 years. I've judged competitions, but not competed myself.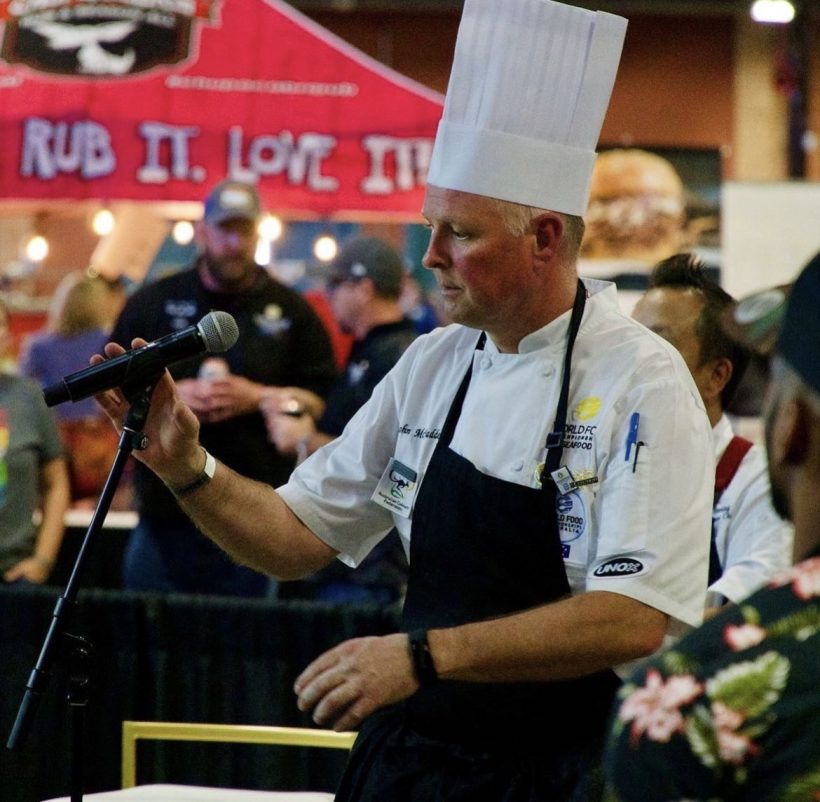 "So I saw an opportunity to test myself, and see what the benchmarks are like out there in our industry now. Part of the entry was to nominate a signature dish with a story. Well, in 2019, I was invited to do a charity event called Aaron's wish. It was a brain cancer charity event. The dish that I nominated to go into the competition was based on the entrée that I designed for this event. That night was a huge success, and raised great funds for brain cancer research and the foundation.
"There were about 400 entries into the competition, across Australia and I was in the top ten! We were given an hour to do a virtual reality cook off at home. Using Wifi, the iPad, film and video, in live time, we cooked off – with my wife chasing me around the kitchen. It was surreal. We were judged on the recipe, and presentation, and ten became five. The next step was a cook off at Home Bush Stadium, live. We cooked in the morning, the contestants were culled to three, and we came back that same afternoon.
"In that one hour cook off, I won. The prize? A golden ticket to compete in Dallas, Texas. I had no idea what the prize was going to be! I just thought I'd see how I go, and before I knew it, I'm heading off to Dallas, Texas. One of the largest competitions and they compete all year round. Throughout the year, about 80,000 enter, and the culling is enormous.
"The first round, there were 30 of us, submitting a dish, and it was automatically down to 10 after that cook off. And it wasn't just teams from the USA, it was a truly international competition. Coming from Australia, I had the added disadvantage of converting everything from metric to imperial! From Celsius to Fahrenheit, from grams and kilos to pounds and ounces. The back end research was prodigious.
"Somehow, I managed to get local seafood and fruit and vegetable suppliers who worked with me and were so supportive. We all had to supply everything, from raw ingredients, not prepared or opened to water, to micro herbs, mixing bowls, and appliances, which I had to source there. With three months of research prior to going, I was ready, and had to nominate the dishes before I left Australia, so I relied heavily on my suppliers."
CG: How did the competition run?
"The very first round I had to do one main presentation plate, and five tasting plates that had to fit on a particular sized platter. You couldn't present any higher than 3" off the platter, or you'd be disqualified or lose marks. In the first round, we had 2 hours to cook and present. They call the timing, and you have the final 10 minutes to actually get your food out of the kitchen onto the judging table.
"First round? I made it into the top ten, qualifying second with a score of 99.75 across five judges. And yes, the kicker, was that when I arrived, I had no idea that we were allowed to have teams. So I'm cooking against 29 other teams of two, three or 5 chefs who could tag in & out of the kitchen!!!! Everyone thought I was mad when I arrived. They'd say, "So where's your team?" And I'd come back with, "You're looking at it!"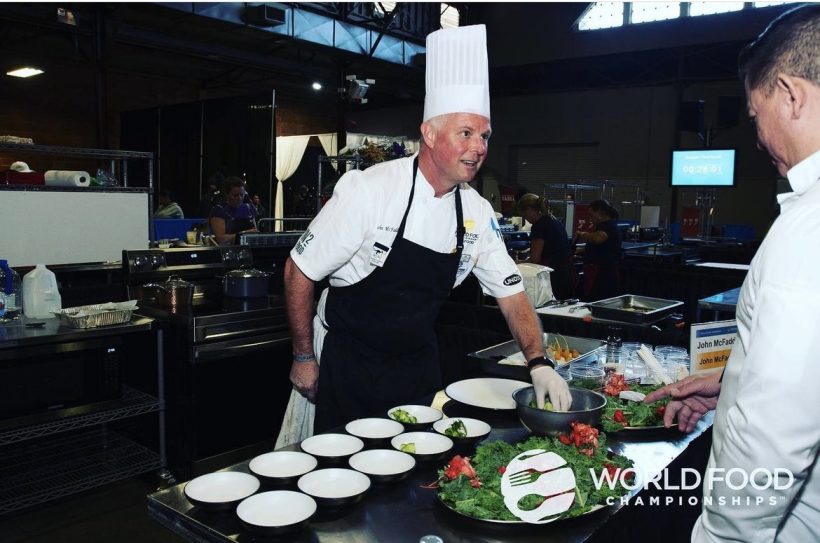 "They offered help, because with a team of three, in a two hour cook off, that's technically 6 hours of cooking time. But you know, I took it in my stride. I'd practised, and just had to execute. I had workflows and times to make sure that I was on par with the clock counting down.
"To score 99.75 in the first cook off, meant that I really did understand the criteria, and I started to think, that I could actually win this! Two days later, we cook off in the top ten. And we had to incorporate Caspy Caviar – a main sponsor.
In the final, we had just 1 hour 30 minutes to plate 11 serves. One main presentation plate, and five tasting plates on two platters. The window opened at 1 hour 20 and I served my dishes at 1 hour, 20 minutes and 25 seconds. I was first out of the ten teams to present at the judging table! With live judging, and people watching us in the kitchen as well. I had help carrying the platters to the judges' table, and we sat in a U shape in front of the five judges on a stage.
"They could ask us questions about our dishes, and I had done my research. The confit salmon dish I prepared used fish hand raised from a farm in Scotland, with a sustainability footprint as well. That added to the integrity of my dish, and the baby beetroot I used from suppliers – they were fantastic. And a local salmon supplier helped me set up with connections on the ground.
"That was through LinkedIn, and we formed a strong connection.  Keith Denard Jones put me in contact with a chef over there, called Whitey. And for the whole week I was there, he'd pick me up, grab my tea towels, gave me mixing bowls and equipment, basically, he looked after me. A guy I'd never met before in my life, and I'm so grateful for his generosity and camaraderie.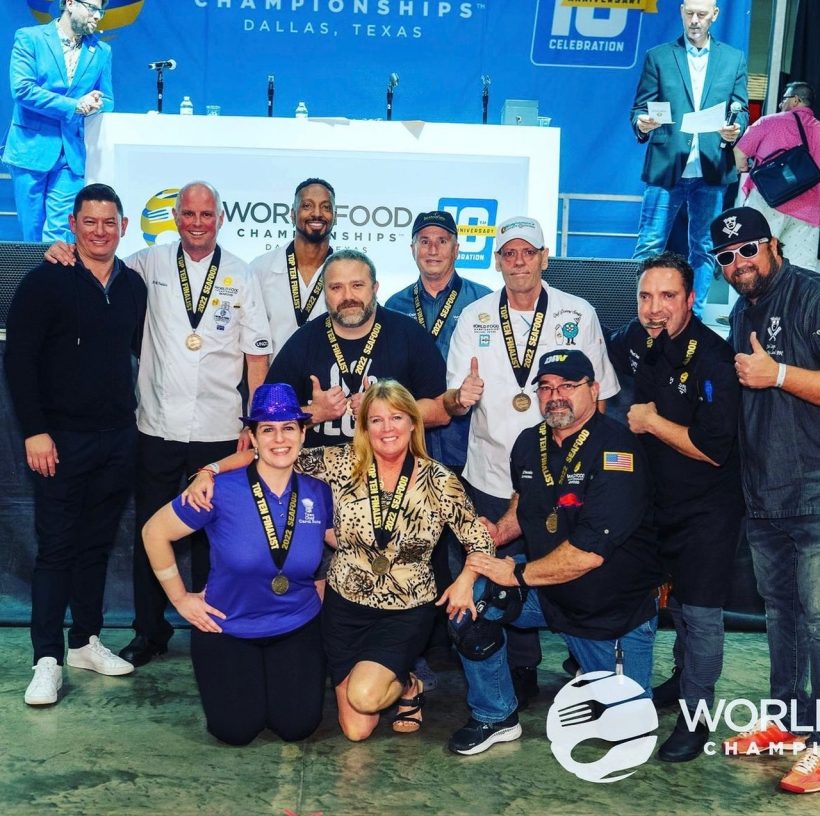 "It's the universal bond of hospitality, of being a chef, I think. So many people helped me behind the scenes to pull off a world title. They deserve recognition because without them, that success wouldn't have been possible. The judges asked me, what message did I want to send?
"And yeah, to me, being a dad of kids, if you really want it, you can put your mind to anything. You've got to back yourself, regardless of the odds. Here, I could have slipped into overwhelm in the first few minutes when I found out that I could have had a team! I could have said, "Yeah, I'm going to get absolutely smashed out of the ballpark." But, as long as I stayed on task, and in focus, and didn't let other interruptions take me off track, I knew I'd do okay.
"And I guess, having been a judge myself for chef of the year at Food Service Australia, I knew what to look for. It was weird, preparing as a judge to be judged! And I literally have no idea what the other teams produced. It was head down, all the way. By the end of the competition segment though, the other teams had help to pack down and clean. I didn't.
"But that ended up being a highlight of my trip. Shaun Hergatt, a Michelin star chef at 4 restaurants in New York came and chatted to me after everyone else had packed up and left. And he's from Cairns! We talked about the cook, and areas that I could've improved upon. (I'm fairly critical of my own work at the best of times.) I sent him a personal message afterwards just to thank him.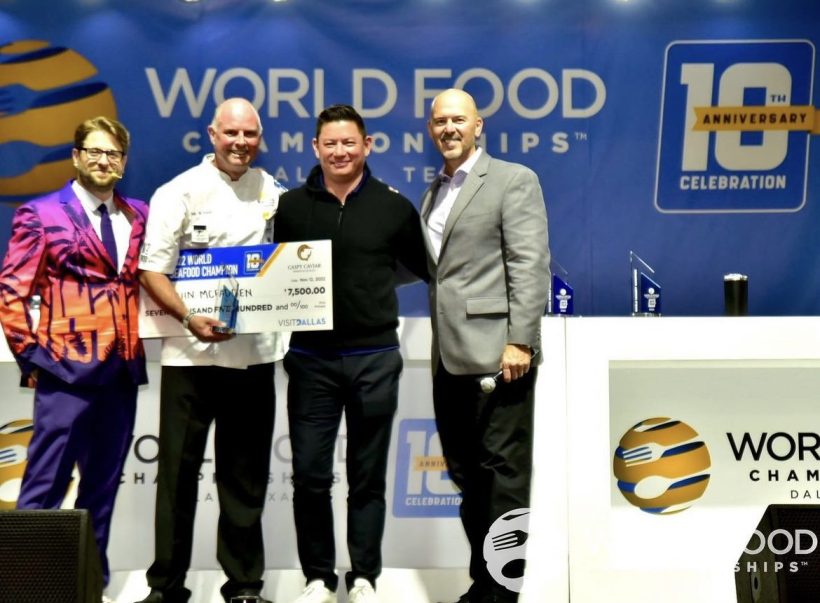 "Another judge, chef Douwe from Natural Shrimp asked me about my prawn butter, did I roast the shells ? And I said, yes, of course, and he goes, "Oh that's so old school." I love it. And I was, "Well there you go." With me, there were no shortcuts, it was traditional methods all the way."
CG: Absolutely. So what's next? Where do you go from the top?
"Well, I'm the top in one category. So we go back to Bentonville, Arkansas in May, for a huge cook off for the overall title of World Food Champion. Then, it's a level playing field. And it's massive. Out of ten category winners 5 get eliminated in the first round. We meet twice a month now until the finals, and why is it in Bentonville? Headquarters of Walmart, major sponsor, that's why. And Sams Club is another sponsor so what they want to promote will get incorporated into the schedule
"Second day, Sunday, a cook off in the morning takes us from 5 to 3, then that afternoon, those remaining 3 cook for the overall champion of champions. And apart from working like crazy on my dishes, I'm researching their food and cuisines, and I've linked up with the Lord Mayor there, and hoping to have a coffee with her.
"I'm all booked, and focused on my prep and timing. At the awards ceremony at The World Food Championships, I received a jar of the Caspy Caviar, and I gave it to Whitey as a thank you for everything he did. The entire trip just went in a flash, and before I had time to assimilate what had happened, I was back home again. And busy.
"Yumbah Aquaculture Ltd., with their amazing greenlip abalone, brought me on as brand ambassador; and I couldn't have done any of this without the huge support from my employer Daniel at .Squizify. I also wish to thank Brad at Le Culinaire Hospitality Institute, Mo at In2FoodAustralia, Wayne at Unox, Sarah Maric (see her interview earlier on here) https://justthesizzle.com/for-technical-chef-best-of-the-best/ at Australian Technical Chef, Karen at Australian Culinary Federation and James at Zupply for your amazing support in my endeavours. And a special mention to the judges? Amazing, all of them, with their knowledge and kindness."
And John heads off to work on the next cook off and set up his performance as only he can – with humility, and preparation, preparation, and practice. And preparation. I just wish I could be a fly on the wall at this next round. Watch this space!
C.G. 🙂