For those in Hobart who haven't been to Naked for Satan in Fitzroy, Melbourne, make the trip. It's worth it. Or used to be when I lived there. I hope it still is. Naked was a favourite for us and guaranteed without fail, a super cool evening at a cheap price, and great food.
Glen Dransfield as the Food and Beverage manager at Brother Mine, leapt the ditch and has a similar aesthetic in mind. (Though it'd be pretty hard to recreate the massive copper still in a back room and the crazy, eclectic décor that Melbourne does so well).
If you're wondering about the name, Naked for Satan – it comes from the still and the guys working for Leon Satanovich, an enterprising Russian who made vodka during the depression and kept a variety of locals and ne'er do wells busy and hot, stipping down to underpants as they worked in the furnace type heat.
When I was there, they used to serve Pintxos (Basque tapas) which were tradtionally served on slices of baguette with all sorts of tasty toppings. Then? $2!! We'd slide in after work and gorge ourselves on pintxos and vodka and stagger home, happy and sated.
Zac Shearer obviously wanted the same sort of ethos for his new place that took over the temporary Crumb Street Diner in New Town and pushed it to the back. But for me, Brother Mine doesn't quite get there.
The design is great. It works in this space that carries with it the feel of the former antiques store that was there, but sparkles with a few modern touches and a big bar in the front which does some serious beckoning to locals looking for a watering hole.
Some of the food was really good, but there's a few issues that for me, detracted from the whole experience. First, the service. Hipster waiters and waitresses who think they're cool – cooler than the customers who ultimately, pay their wages. They weren't bad, but just, somewhat dismissive. And disorganised. Four of them served us at various times, so not one of them knew what we'd ordered, or cared, really.
I ordered the cocktail of the day, which was an uber-expensive mix of pomegranite and vodka, in a thimble-sized glass. A sherry glass actually. Cocktail size? Definitely not! And at $22 a throw, bloody dear.
When I remonstrated, the barman's response was, "Ah, yes, we just aren't sure what to do about that. We initially served it in a cocktail glass, and it looked smaller still, so we changed the glass." haaaaa! How about changing the freaking cocktail? Upping the quantities a little, so I didn't feel that I was Alice in the shrinking room.
The menu? Perfectly small, with a good choice, and at first inspection, reasonably priced. But, again, a quibble: The mains came out alone, and unloved. With the ubiquitous sides to choose from, extra. Okay, so it's not fine dining, where one would expect that each dish came complete, but a lone piece of dried pork with a bit of crackling crumb strewn across it? Nup. And at $24? Expensive for what it was. The photos tell the story.
We ordered the octopus, smoked with a smoked labneh at $16, The scallops with leek, asparagus and pink grapefruit, $16, and the cured ocean trout with 'red cabbage gazpacho' and spring legumes, $18 for entrées. The octopus was outstanding.
A big brute, it was tender, fresh and tasty, and the labneh matched superbly. The scallops? Yes, cooked well, and delicious with their pink grapefruit pairing. But the ocean trout? The fish itself was great, but the red cabbage gazpacho was very pretty, but tasteless, and left me wondering, why?
Moving on, the aforementioned Rolled pork belly with pedro ximinez jus, was one dry and almost tough slice of pork, and the jus just wasn't enough to save it. The duck breast, at $26 was supposedly with a roast beetroot purée and jerusalem artichoke. Our dining partner loved it, but had it finished in 1.2 minutes. I did a quick head bounce as the plate suddenly appeared empty!
Susie's fish, a good slice of trevalla with clams, burnt cos and lemon butter, at $30 was marginally more successful, though the fish was tough. My first thought is that the kitchen needs to work on its timing. The cauliflower side with almond crumb and salsa verde at $7 was excellent. And disappeared in a flash.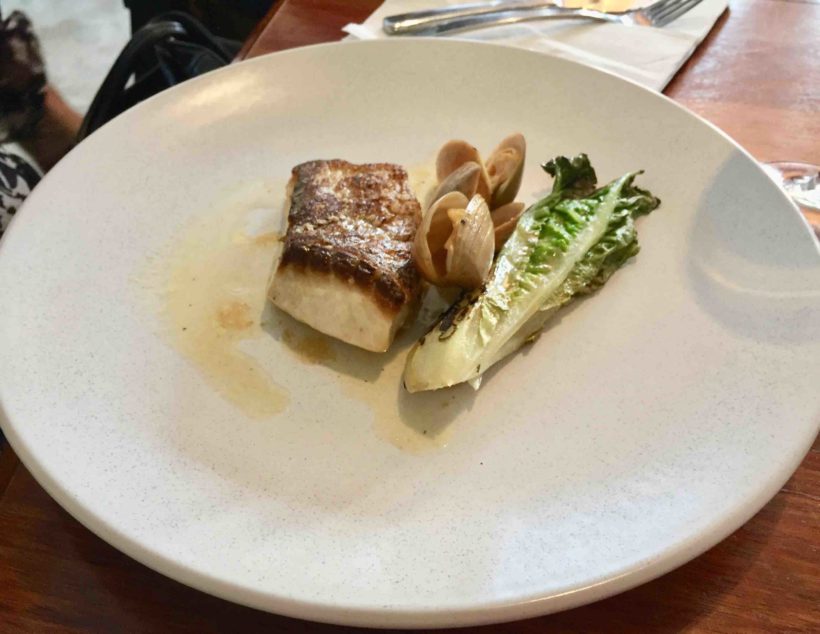 Some pluses and minuses, but certainly not living up to the hype for any of us, unfortunately. Though a little tweaking here would go a long way to making that chasm smaller.
For me, a big hit is the wine list – a good choice with Tasmanian producers in there, and very reasonably priced from $42 upwards. But then you get to the spirits, and there's not a local one in there! Anywhere. With the burgeoning distilling scene, I found that hard to fathom.
We left feeling a little let down. It was early on a Friday night, and not too busy when we arrived. It was hard to come to grips with so much promise, and some very uneven delivery. But there's room for these guys in Newtown, so I hope they get the wrinkles ironed out, and focus on consistency, and a more professional approach to the service.
Brother Mine promised much, but in the end? Some hits and some big misses. The team at the top are better players than that, I think. Let's just hope it was a temporary slip and they lose a bit of their pretentious hipster cool. That would be a start.  
Brother Mine / 31 New Town Road, New Town TAS 7008 / Ph: 03 6288 7043 / Open Sunday – Tuesday Breakfast and lunch, Wednesday – Saturday, breakfast until 9 or 10 pm. / $$$
Chrissie ☺