Is there top food in Australia's top end? You bet – here's some of the best. The Northern Territory has its own vibe. It's hot, sure, tropical is where it's at – but there's a surprising sophistication if you look.
And life in Darwin is driven by the seasons – Oh, yes, there's two – the dry and the wet. The dry is the better season to visit, when everyone's out to play. Here are your Darwin top food experiences – they're as varied as the people and the scenery. With a long history of immigrant settlement there's a real blend of east and west, in the town, and the food. And Crocodile Dundee is there – somewhere…
1. Char/ $$$$ / Reservations necessary 
As its name suggests, this gorgeous, spacious restaurant merges inside and out and the focus is on superb beef cooked or charred well. John Kilroy was one of Australia's first to develop Wagyu cattle, and he's now a beef judge. His menu gives the heritage of each cut – this is serious business!
There's seafood cooked expertly as well, and while it's not cheap, you'll find the quality is definitely worth it. The wines? You will love the list – it's big, has examples of the best from Australia and around the world, and the reds will floor you. In a good way.
2. Pee Wee's at the Point / $$$ / Reservations necessary
East Point reserve where Pee Wee's sits is a gorgeous stretch of bush and grassland overlooking a sandy beach. In summer, make sure you get an outside seat to watch the electric light show of the summer storms.
What's a pee wee you may well ask? It's a magpie, and they have a call that is a type of chortle and song. And boy can they sing. Pee Wee's showcases modern Australian food, heavy on local seafood (including blue swimmer crabs – if they're on the menu, don't miss them). There's kangaroo, crocodile, all done with an imaginative fusion twist that's surprising and tasty. And if you've never tried King Salmon wings – this is the place to do it. The wines come in half bottles as well as full and by the glass, and there's a good selection of South Australian labels and if you're celebrating something? There's a 1999 Penfolds Grange for a mere $1,000. We told you.
3. Stokes Hill Wharf / $ – $$
Smack in Darwin harbour is a collection of six different restaurants that showcase the variety of top end food. Don't miss the barramundi fish and chips, it's casual with a decidedly local buzz, and in the wet season, with great views across the harbour to Mandorah, you can watch the formation of huge mushroom clouds as they roll in to dump their water. You'll never forget it.
4. Lazy Susan's / $$$
A tribute to Asian food, this take no prisoners tour around the east shows off the best from Vietnam, Malaysia, China and beyond. The crispy pork belly is an absolute local favourite, and the food is always fresh and authentic.
No MSG here unless you ask especially, and Susan's has the biggest selection of whiskies in the territory. Karaoke nights are one howling fun time, just make sure you book.
5. Skycity Casino – il Piatto / $$$
With a modern take on traditional Italian dishes, this popular local hang out ticks pretty much all the boxes. Busy, relaxed but stylish at the same time, il Piatto makes ordinary pasta houses seem, well, boring. This is a special night, and overlooking Little Mindil Beach if you had any cares before, they'll be washed away by the food and the view. Or the stars. Somehow they just seem brighter up here in the top end.
6. Hanuman / $$$$
At the 'nice end' of Mitchell Street in the city, Jimmy Shu's top end restaurant opened with a bang in 1992. And it's still belting out Asian hits, with chefs from Malacca tossing about Nonya, Indian and Thai specialities with ease. Try the wild barramundi, or the Hanuman oysters, and the Tasting Plate is a good way to start.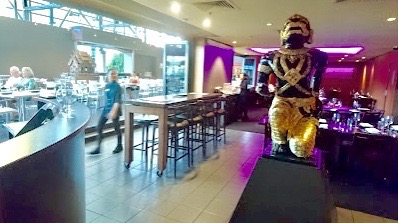 And start with a cocktail or two – at between $11 and $17, they're some of the best value around.
7. Stonehouse Wine Bar and Kitchen / $$$
Rebecca Bullen decided that Darwin needed its own true wine bar, so she took her experience from Melbourne and launched Stonehouse. Already becoming a must visit on the local scene, the great tapas, big selection of wines by the glass and top shelf dainties have created a deservedly happy vibe. Monthly tasting events add to the choice. Go there hungry, and thirsty.
8. Mindil Beach Market / $
Queen of the sunsets in Darwin, the Mindil Beach Market covers mostly Chinese food with a couple of others thrown in – Kebabs and Crêpes. It's all fresh cooked to order, but mostly deep fried. Just don't go if you're worried about cholesterol.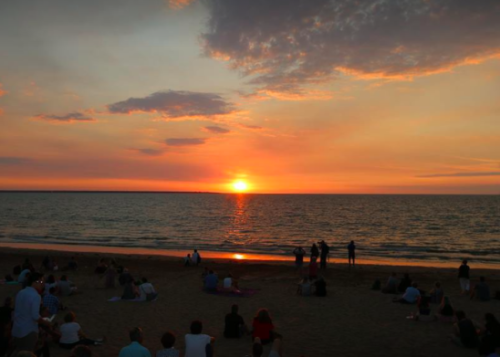 9. Sunset Dinner Cruise  / $$$
While there's a big choice of dinner cruises to soak up the sunsets and get some salt and wind in your hair, just try the cruise on board the 20 m. 'Tumlaren' or the 'Charles Darwin' Catamaran. The sunset buffet dinner cruise is a treat, where chefs manage to push out an endless selection of tasty tapas and barbecue treats from their tiny galley kitchen. And while there's plenty of space, you just might make some new bff's while sipping and supping and soaking up the sea air.
10. Berry Springs Tavern / $$
If you want to hit the road and venture out of town, on the way to Litchfield, lies this ode to Aussie country hospitality. A word of warning: they take their food seriously, so go hungry! The serves are enormous, as generous as the hospitality. There's a wrap around verandah with live music on Sundays, and their Mega Burger is a must try. It's family friendly, so kick up your heels and soak up the atmosphere. You're in Australia, dammit.
11. 303 Bar, Adelaide River/  $$
And the best for last? Did you ever wonder what happened to that buffalo that Crocodile Dundee made kneel with just his thumb and fist?? No? Oh well, he's here anyway. Taxidermied in the bar, larger than life. At the Adelaide River Resort.
Just 45 minutes' drive out of the city, on the Adelaide River, Bar 303 is where the locals will tell you that it serves the best barra fish and chips in the Territory. But just go to check the buff – he's waiting. And so is the Territory.
www.darwinharbourcruises.com.au
www.adelaideriverresort.com.au