Training as a Michelin Chef may be a dream for a lot of chefs, but it's not necessarily where they want to finish. It's a good start…
For top chef Nic Vanderbeeken, his journey to where he is now was long and circuitous. He's talking now as Executive Chef at CasCades, the restaurant part of the Viceroy in Ubud, Bali. It's a big job, with a multitude of demands as they tend to be in high end resorts, but Nic is the one to make it happen. From humble beginnings in Belgium, to being a Michelin chef, Nic told his story – fascinating, and never one to let the grass grow under his feet, varied. And Michelin is more than you'd think.
Crack a nice bottle of wine, sit back and enjoy the read. In Nic's words:
"Where did I start? At 14 and I was looking for extra money! I laugh at that now. My sister was working as a dishwasher, was I jealous! As luck would have it, my father knew a (lady) chef who ran a great kitchen, and after a year moonlighting there, I just knew that's where I wanted to be.
That turned into 4 years at culinary school in Bruges, and working on weekends at a restaurant which had its first Michelin star. And it was the usual tough gig. Want to learn to be a chef? "Clean 2 cases of mushrooms in double quick time. Then go clean the car park! It's Michelin, everything, everything has to be perfect. There's no second chances here."
While I was at culinary school, I did a stage (free work placement) in front of house – service – and I just didn't like it. What was the point of compliments if I hadn't made the dish? I wanted that feedback. So I made my life the kitchen, and worked in as many Michelin Star restaurants as I could. For me, that was the level I set myself, and there was no going back.
I ended up working in a restaurant (Michelin) for 1500euro from 8am to 2am, and was heading to burn out, so I decided to change and work in a bistro for a while. I loved that too. It was much more relaxed, and gave me a breather from the constant pressure that Michelin entails.
What is the Michelin about? Well, it's much more than you'd think. Yes, they come, anonymously to check the food, but that's just the start. After that, if they're considering you for a star, another inspector comes, introduces himself, and then does an interior check on the kitchen – hygiene, food preparation, facilities, front of house – everything about the restaurant goes into his briefcase for further consideration. So you wonder about the pressure???? The service and food is just the beginning.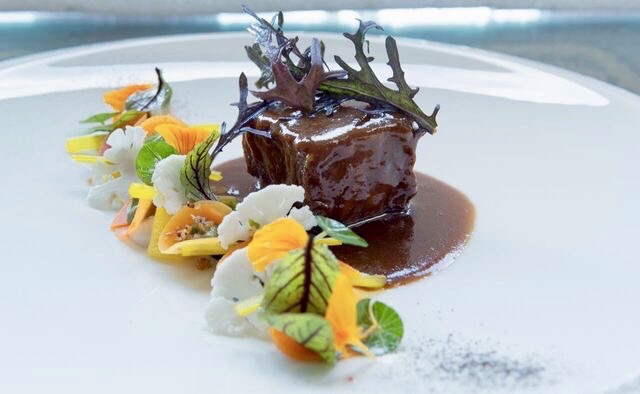 Having worked in Michelin Restaurants or Michelin worthy restaurants most of my life, you get to be part of a much larger group, and the friendships I've made and mentors I've had have been amazing. I've worked around the world and try to mentor my chefs and sous so they can grow and develop to their full capacity. My original sous chef I hired in Mexico when I was there as a guest chef – and while he hadn't worked in any Michelin restaurants, I gave him the opportunity to learn and I made sure we talk, we communicate. Michelin for me is a two edged sword, and they don't always get it right. I've a friend who should have one, and some who have passed that I'd probably question. Indonesia doesn't have Michelin, but for me, what I'm doing here is much more important than the awards now. I'm part of a culture that is growing and moving forward, and the blending of east and west is exciting.
I've been at the Viceroy for nearly 5 years, and ended up there almost by accident. I'd accepted a job in Vietnam, but when I arrived, it was a trainwreck, so I left and was going to head to Melbourne, where my friend Thierry Houthaeve was living.  This job came up in Bali, and here I still am. CasCades was originally a 'bistronomy' restaurant, but the (Australian) owners wanted to take it to next level, to update and push the boundaries. At first, there was a bit of push back from the staff, but we weathered that, and now, planning on another restaurant that will take the cuisine to next level again. It's challenging and inspiring. I've had guest chefs from 3 Michelin star restaurants to raise the profile, and Nic Bril from The Jane in Antwerp, and Namae Shinobu from the 2 Michelin L'Effervescence in Tokyo have been highlights. Most chefs I know exchange recipes and ideas constantly. It keeps us connected, and on the pulse.
We are all involved now at the Viceroy in developing menus. We discuss our fantasy dishes, then work out how we're going to make them. It creates energy and involvement – so important for a lively, happy kitchen culture.
My advice to someone just starting out? Accept that chef does know more than you BUT not everything and always be willing to learn and be respectful. Show you're dedicated, and aim for your best – to grow you have to work systematically. Be loyal, and if you have a problem, then let's talk. I am also aware that each new generation has something to teach us older ones as well. I have had some failures – one apprentice from the USA was adamant that he only would work 8 hours a day, well, he didn't last long, but I am careful not to overwork our staff at the same time. It's a balancing act. I've learnt first hand that all our staff have family and other responsibilities. And not everyone wants to be a Michelin chef.
For me, it's important as well to have gender diversity in the kitchen. I work with a lot of girls. My sous chef now is a Balinese girl, who's never worked anywhere else, and I do find that in the kitchen, the females are more relaxed and less competitive. It makes for a great culture, and that makes working for everyone a pleasure. I've got 3 girls and 1 boy in pastry – they're damned efficient, and sometimes work harder than the boys.
At the Viceroy, we provide room service, an a la carte breakfast, and a casual menu, all of which can be ordered for the room. It's a big, complex operation, and we're at the high end, so can never let our guard down. Standards always have to be met. A bit like Michelin I guess. And I'm glad to see the industry changing with a bit more informality. When I first started out, if my 'good morning' wasn't loud enough to the chef, I got into trouble! It's a new world now."
Thank you, Nic, what a massive journey you've had, and for anyone looking to step up to the plate, well, Nic is a shining example of where cooking and doing it well can take you. Does he care about not having Michelin stars now, because of where he is? Of course not! He has a big operation to oversee, and runs his world with love and passion regardless. Now, he's overseeing another new outlet at the Viceroy, and I can feel his excitement. We wish you all success with your new restaurant and bar. Viceroy just got even better. 
Chrissie 🙂