Perfect Italian pizza with a memorable name. Ti ama? It's Italian and means 'She loves you'.
Does Bella love Hobart? Is that the message? A sublime reference to the success Tasmania has brought this family or simply a Morse code insinuating that the pizza mother god loves us?
Joel and Bella own Local Pizza, and opened Ti Ama in Castray Esplanade because? Well I guess they knew there'd be a market for a slam dunk stupendous pizza in the busy port precinct, especially for lazy types like me who like to walk to their dinners and drinks.
Bella – daughter of the illustrious Stefano Lubiana no less, must have (wine and) food dynasty in her blood, and seems to just hit the mark whatever she does. Local Pizza in the wilds of Berriedale (who knew?) has always been a hit from day one, and so it is with the latest love child, Ti Ama.
It's in the same area as the former South Seas cocktail bar, and we held a small wake to mourn the memory of giant shells filled with rum cocktails, and many a lost night in that tiny den of cocktail wickedness. The space has been opened up, and the design is, well, pretty spectacular.
A giant mirror-ball covered pizza dome dominates the front window, and the servery bar welcomes as the space extends out, and up, with sassy neon, potted plants, polished concrete and a mural'ed back wall in the style of Mathers' Walk wall behind Bathurst Street.
It's bright, happy, and the sharp wait staff echo the vibe. Now my friend Donna had just come back from a swoop through Europe, where the food and pizza in Rome and Italy were the stuff of dreams still for her. So she was extra cautious. Would it measure up? Would the dough have that wonderful slightly sour taste, and chewy texture that made eating a destination, not a necessity?
We're seated quickly, and though we are early – 6ish, the place is filling up fast. We order a cocktail each – Campari Spritz $16 with Campari, blood orange, bubbles, rosemary, and Grapefruit Spritz $16 with Tequila, Aperol, lime, pink grapefruit and cucumber. Both were perfect spritz versions – crisp, fresh, interesting flavours and good value at $16.
We followed with a bottle of the Alpha Box and Dice Prosecco at $48, and while the cocktails were reasonably priced, we find the wine list is less forgiving. It was hard to find a bottle for less than $60 and while an interesting selection, it would be very easy to empty the wallet when expecting a reasonably cheap night out. Pizza and house red? This is not the place.
Focussed on the menu finally, we order a smoked ocean trout rillettes, pickled vegetables, grilled baguette $12. Then a fresh prosciutto di san Daniele, mozzarella, burrata, shaved parmesan pizza, $24.
And it was here we dithered – the menu initially reads well, and there's not just pizza – there's pasta, mains and a few Italian specialties, but the entrees and pizzas are a bit weighted on the prosciutto and salami side, so it's not as easy as it looks to get a good variety of tastes and flavours from the entrées and main course if one is here for the pizza. That said, the salmon rillettes is tasty and the pickled vegetables are as good as any either Donna or I have had in Italy. Or from my aunty who married an Italian, Bruno, who would eat the leg off the table if he were hungry and brought his Nonna's recipes into the marriage.
Moving on, the pizza is bloody amazing. Soft, crisp, chewy, sweet, sour, great balance of textures and tastes, and soft fresh ball of buffalo mozzarella drizzled with a peppery extra virgin olive oil takes pizza into real, grown up food.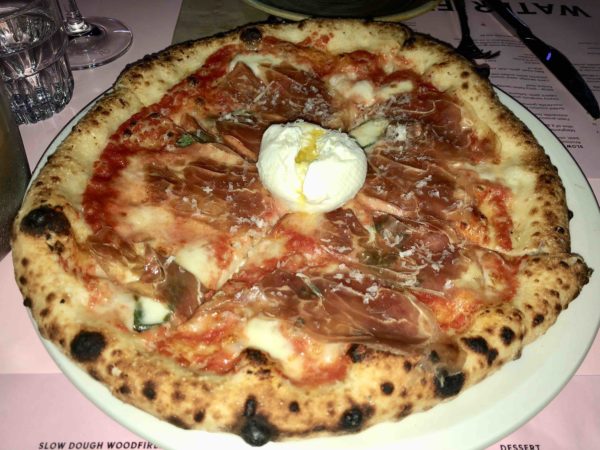 Donna's eyes light up and she gives it the thumbs up as good as anything she had in Italy – bar none.
Do we need more food? Not really, but Kaffir Lime panna cotta with fresh citrus and toasted coconut, $12, beckons. There's a cherry ripe sundae that sounds amazing, Tiramisu and Cassata and a very cool selection of cheese, but the panna cotta wins out and is soft, creamy and the mix of blood orange, grapefruit and orange and mint is perfect. And then, we are done!
A trip to the bathrooms confirms our feelings about the décor and management. There is attention to detail everywhere – from the echoes of pink that lift the space to bright, happy, and yes, feminine, to the toilets which have not been forgotten in the design. A retro Flash Gordon shaped mirror overlooks the basin, with splotches of pink in multitude tones lift the potential boringness of a small utilitarian room. Black tap wear finish it off. Clever, inspired and so refreshing from the number of places where bathrooms are an afterthought.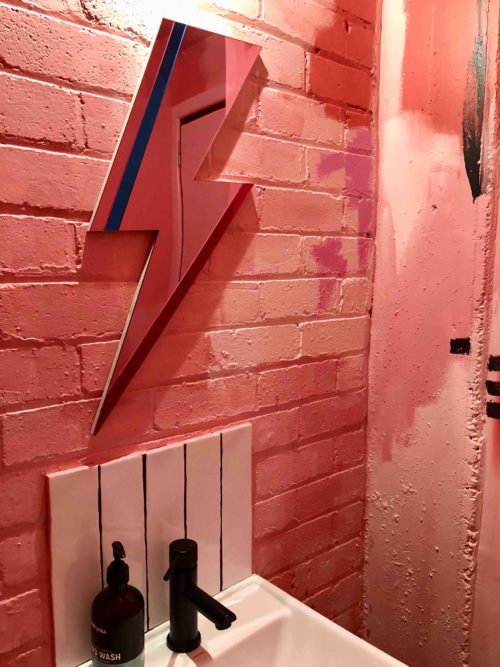 As we saunter out, we also comment that we watched tables around us turn over three times just in the few hours we were there. Happy big groups interacting, and the wait staff whizzing around getting things done and people served in good time. And as I look back at the neon sign in the main area, I suddenly get it. The name that is. The neon shouts, "Love made me do it!"
Ti Ama / 13 Castray Esplanade, Battery Point, Hobart TAS 7004 / Ph: 03 6281 9390 / Open 6 pm until late, closed Tuesday / www.tiama.com.au
Chrissie ☺