Rich Sellers has a deep conversation with me about the industry, and where it and he, are headed. This is not your normal interview and chef life recount. Rich has things to say and he feels they're important. I couldn't agree more. And his journey is as much about soul searching as it is about cooking. Read on.
Rich counts his blessings and they're many, but after 35 years at the coal face he finds himself in a twilight zone. It's transition time: the knees are giving up, his body is letting him know that it's tired and worn out – but what to do? What are the options for anyone who's spent the best years of their lives slogging in a tough industry?
Unlike many chefs, Rich had trained as a psychotherapist and life coach in a previous life on the other side of the world. He learnt about the Emotional Freedom Technique that Lalita Holmes, one of our counsellors for Off the Hotplate practises.
Rich knows for a fact that this training has helped to shape his managerial style over the past 10 years. Prior to training as a counsellor?
He describes himself as,
A pretty selfish, driven, and indignant chef – incredibly judgmental of everything and everyone, impatient and stressed to the eyeballs. Now I like to think of myself as a professional collaborator who works under the premise of professional and personal respect. I have a team of 16 at present, 10 guys and 6 girls, all of whom contribute to success at an individual and collective level.
Every one of them, like all of us, has life issues, some have inbuilt mechanisms to deal with them, and the ones that don't? They know that I'm available to them, to listen, not judge, and if possible help or direct them to someone who can."
Rich muses about the young chefs he sees in the world now, and empathises.
"I see a lot of young chefs, who have no real focused plan of what they want to do, how they're going to achieve it and in what time frame. I think this is a significant contributing factor to the high dropout rate of young chefs from the industry in the first few years of their careers. Then there are the 'journeyman' chefs, existing pay check to pay check, again with little or no direction in life. And then there are guys like myself who have done their time and need to transition to another job.
I've been quietly encouraged with some of the posts on the Australian Chef Network Facebook page, and it has provided a platform for some much-needed conversation with regards to emotional and mental well-being in the kitchen.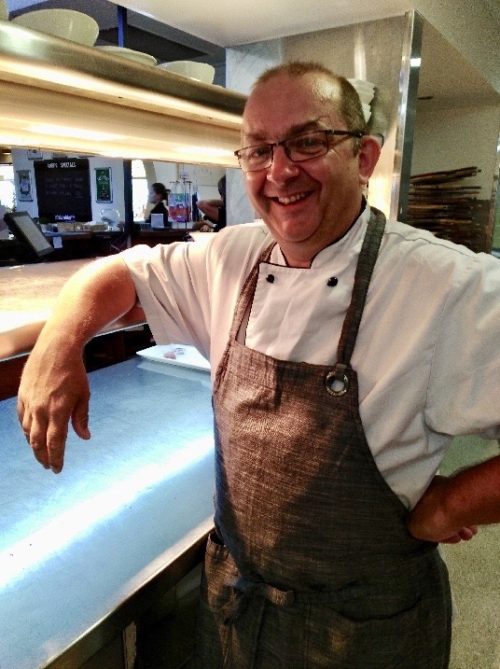 As an industry, one of the main things we need to pay attention to is the overly aggressive, macho 'cook at all costs' mentality, which pays scant regard to a chefs, physical/mental or emotional wellbeing. Anyone who thinks that they are performing at their optimum best after 50, 60, 70 hours, should look at any physiological study of fatigue and production/creativity levels. Kitchens are a very judgemental environment to work in, we're judged by our colleagues, managers and ultimately customers on a daily basis, this can lead to insecurity and because many of us don't have the emotional tools to deal with our insecurities, this manifests itself as anger, rage and conversely depression.
I suppose you could call me 'old school', whatever that means, but I feel that to view institutional bullying, excessive working hours and conditions, as some kind of badge of honour, that should be passed on to the next generation, seems to me incongruous with the implementation of improved work practices, and the ability to develop young people into the next generations of leaders, chefs and managers.
I feel sometimes as chefs, we take ourselves way too seriously, we're not saving lives or fighting wars for goodness' sake! We feed people, and as intimate and nurturing an experience as that can be, it's a non-essential part of living. Don't get me wrong, there are many incredibly talented, driven, chefs, who believe passionately about what they do, without compromise. They are the innovators, and industry leaders, who are a vital component of our trade, and while we may aspire to that ideal of culinary artistic perfection, for many of us, the reality is a little less glamorous. I find it disappointing when I see comments on hospitality social media that begin as good natured banter, then quickly descends to hubris and eventually vitriolic condemnation of a fellow professional's opinion, practices or product.
So where did my story begin?
I started cooking at 17 at 4/5 star hotels in London. My first head chef's position in West London under the tutelage of a wonderful patriarchal Italian General Manager, who would often come into the kitchen, tuck his tie into his shirt and help me make spiced Italian sausages. I got married and my wife and I moved to Ireland's west coast where we stayed for a total of 15 years – I'm almost Irish by default!
But in about 2004 I guess I was coming up to my midlife crisis and decided to study counselling. I was fascinated, and studied part time for 3 years and graduated as a person-centred Rogerian therapist. I was very fortunate to came across ex-chef John Flynn in Ireland who had developed his own Life Coaching practice, I studied and worked with John for a little while where we focussed on stress management techniques, which included delivering day training to high school teachers.
I never left the kitchen though, and ran my own business for 3 years in Ireland during the depths of the GFC there. It was hell. Double jobbing to make ends meet I ran a pub until 2 or 3 in the morning and then was cooking in a commercial kitchen from 9 – 5pm I ended up in intensive care! I thought I was having a heart attack, fortunately it wasn't, however my condition was diagnosed as totally stress related.
That forced me to make a conscious decision to look at my life/work balance. My wife said, 'Why don't we move to Australia?' We first moved to Darwin and I worked as a line chef, within 3 months I was promoted to sous chef and then 3 months later took over as head chef at Parap Tavern owned by the Dowling family, who have a big historical hospitality connection to the Northern Territory. For several generations they'd run this incredible property. In 2015 they purchased The Full Moon Hotel, Brisbane and asked me to run the kitchen, which I was only too happy to do. They have a fantastic, customer focused business ethic and over the 7 years I have worked for them, they have been incredibly supportive to me both professionally and personally to my family, 2 of my 3 sons having worked for the company, at one time or another.
We have a team of 16 chefs and Kitchen hands including 6 female chefs – so we have to manage situations such as maternity leave, new mums returning to the workforce, structuring rosters around educational commitments for single mums, the female members of the team are fantastic. I feel they bring a calmness and clarity, to what can often be an emotionally charged environment. We had a kitchen design consultant do a time and motion study, one Sunday lunch, during our busiest service to look at ways to streamline our operation, and during the feedback session he said 'Why are girls so much better than the boys?' I roared laughing. We do about 3,000 meals a week and during this check-up one of my female line chefs called a number of orders away – "5 minutes on the pass", he secretly timed her – 4 minutes 50 seconds!
We run a scratch kitchen, so everything is made on the premises, and we also post specials, so the all chefs can have an input into the menu. I work on a collaborative basis with everyone.
My knees are starting to go now, and the body's tired, but I still feel so fortunate. Luckily I'm still married after 25 years to a very supportive and understanding wife. We have 3 boys – the eldest is studying medicine at Adelaide University. My middle son works in a bar in the hotel, but is going to study film and media. The youngest? Not sure what he's going to do yet, If he were to follow in my footsteps, I wouldn't dissuade him, I'm enormously proud of my career and trade. Not too sure where I'm headed now really, possibly back to school to re-gain my counselling skills, I'm in no rush. But I'd love to do something that allows me to give back – to make other chefs' lives better in some way. Then I'd be a really happy man."
For chef Rich Sellers it's been a big life with many twists and turns, and like many chefs he's got a lot more to him than just cooking. Whatever he turns to next, we can be sure that he'll not only succeed, he'll excel. And it'll benefit many more than just his small circle. Of that I feel sure. Thank you Rich.
Chrissie ☺