There's a lot of myths that surround olives, the magical elixir that comes from them, and its myriad of uses and benefits. But here's a few pointers and tips based on recent solid research, and straight from a devoted olive grower. Fiona Makowski. Who went from medicine to olives in a curly way. As you do. Freshfield Grove olive oil was born. 
To start with, Fiona informs us that robust and peppery is the best for your health – it's high in polyphenols, those powerful antioxidants that neutralise free radicals, reduce inflammation and slow the growth of tumours. It's the polyphenols that add astringency and bite to foods, so it just makes sense that a really peppery oil is going to be brimming with the good stuff to keep you healthy.
What's a good dose I ask? Two tablespoons a day is what Dr. Fiona advises, and Extra Virgin Olive Oil of course is the best for health (anything that doesn't say "Extra Virgin" is likely to be refined, which strips out all the healthy bits). And as we all know now – all oils ain't good oils. In fact, some can be quite toxic. So if you really are interested in keeping the big C at bay, and getting your medicine from your fresh organic food rather than out of a plastic tub as a pill, then squeezing more good quality olive oil into your diet is a no brainer. Think of it as medicine that tastes great and makes your dishes into the stuff of food dreams.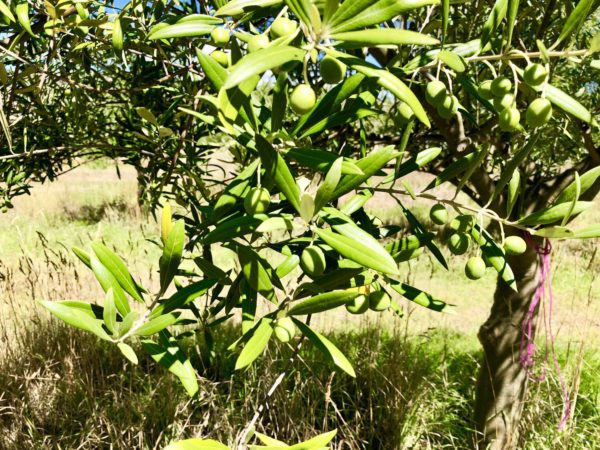 We're here at Freshfield Grove, the love child of Fiona and husband Glenn, who met in the UK, but suddenly realised they both wanted to live in Glenn's homeland, and Tassie yielded an olive grove that they bought in 2014. It had an airstrip on it to satisfy the previous owner's love of flying, and both Glenn and Fi set about turning the farm into a sustainable, organic, piece of olive paradise.
They're damn close to achieving that dream, as we wander the rows of obviously happy olives, and Fiona tells us that to sauté vegetables in the oil, for instance tomatoes and broccoli, actually gives you even more polyphenols than steaming or boiling the vegies and then pouring the oil over. Apparently, this is because many of these antioxidants are water soluble, so they dissolve in the cooking water, and are then lost. In addition, sautéing means the antioxidants from the EVOO get into the vegetables too, and the fat present means our bodies can absorb even more of them. Apparently the heat activates the molecules in the oil and vegies and science does its thing and creates a synergy that boosts the goodness quotient. Powerful stuff, isn't it?
The magical pull that growing olives had for Fiona, who loves being a doctor, is still a bit of a mystery for her, but as we enjoy the peace and serenity that rows of olive trees provide, she muses on the journey that brought her here.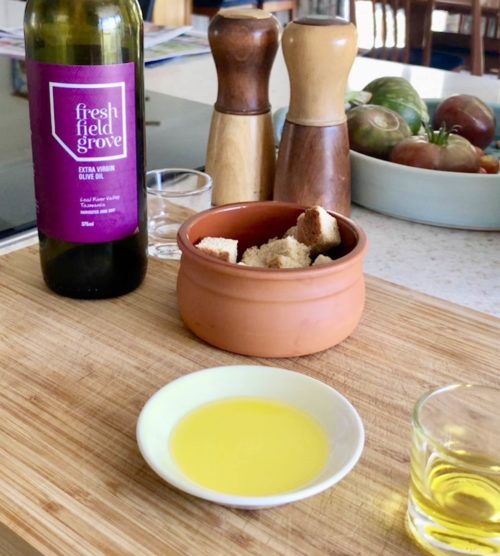 "It's very hands on, this business, and I love that, but I discovered that olive trees can live to over 2,000 years and still produce great fruit. How amazing is that? So I guess this is a way to give back to the earth and create a legacy that's good for everyone. My hope is that these trees will be here for many years after we're gone!"
Fiona and Glenn did a lot of research into the olive oil industry, and found that gut feeling they had was right: Australians are interested in local domestic product, they trust it more than imported oils, and Tasmania has a long growing and ripening season because of the temperate climate which results in high quality oil with low acidity and high in anti-oxidants (those polyphenols again).
And because of that, generally Tasmanian oils have a robust flavour which makes them marvellous table oils. And as we taste this golden liquid that bursts with pepper and sunshine on the palate, I have to say that this is one oil that would take any dish to the next level. So for me, getting those 2 tablespoons a day? No problem!
Fiona and Glenn can see that there's definitely a happy existing and growing market in fine quality oils from the little state. And while it would be easier to have super high density planting like a vineyard where they can use harvesters, and the trees will yield early – in the first 3 to 5 years – the Makowskis don't have that ability and like to keep the farm as boutique as they can with maximum control.
And they're still learning. They went to Italy to visit an Australian couple over there who are deep into oil production in the motherland (Lynne's ice-cream recipe is at the end of this just FYI), and they took the newbies under their wings.
Pruning workshops ensued, and an introduction to community presses called "frantoios" (which is also an olive variety), and Fiona and Glenn soaked it all up, tapping into the extensive knowledge of olive associations and councils.
Fiona instinctively doesn't like the use of herbicides and pesticides, so she researched natural methods to control the weeds and pests and currently are using sheep who happily graze around the trees and fertilise as well. Win/win!
The grand plan for Freshfield Grove? Well, it's all a journey and Fiona happily admits that everything is continually in development and she's always looking for feedback, which is already pointing to their supplying table olives for a growing market, and the brining of those is being tested and refined. The two varieties they grow, Picual and Manzanillo lend themselves to table eating, and should come up trumps.
She finds it incredibly empowering to make your own food and to know exactly what you're eating, and hopes that she can pass on that excitement to her customers and the expanding market. And what is good EVOO except the easiest way to make your diet healthier?
Fiona recommends adding it to warm dark melted chocolate, blending, then pouring over vanilla ice-cream. Mouth party heaven!
Try tomato bruschetta with a good sour dough bread – rub garlic on the toasted bread, and top with chopped fresh tomatoes drizzled with EVOO, basil and salt.
And add it as a drizzle on top of tomato soup, gazpacho, or lamb stew just at serving. Top your risotto with it, pasta dish, salmon or grilled fish. The possibilities are endless and Fiona keeps a bottle on the table to do just that. And it does make a difference.
Fiona also does an Olive Leaf Tea that is amazing as well, so give that a try if you like a premium product that does you good while you enjoy it.
And here is her friend Lynne Chatterton's recipe for Olive Oil Ice Cream – all the way from their adopted homeland in Italy: and don't knock it till you've tried it!
Olive Oil Ice Cream
Ingredients:
200 ml honey
200 ml EVOO
400 ml cream
100 ml yoghurt
100 ml milk
1 dstspn liquid glucose
pinch salt
4 eggs
Add eggs to the olive oil, whisking like crazy until you've got a mixture similar to mayonnaise.
Add the salt, honey, glucose, cream, yoghurt and milk.
Put in an ice-cream maker and churn or pour into containers, freeze until the edges are frozen, take out of freezer and beat until thick, then return to the freezer and freeze once more.
We've earmarked the crushing season for another visit, and will bring to you first hand just how they make that sunny, peppery liquid gold that Freshfield Grove produces. And in the meantime, if you want to try their award winning olive oil, just go to the website and see for yourself:
And if you are interested and want to know more about the humble but sublime olive, Lynne's husband has written the book to answer all your questions:
 Chrissie 🙂