3 things I miss about Japan. And Suminato. 
Two years as an expat in Japan was a wonderful, big life experience that I've never regretted. We got around the country and fell in love with some awesome traits that could easily be adopted here. What are they?
Well the first one is kind of bitter sweet. It's the Japanese attention to detail. We could certainly take that leaf out of their book and benefit, particularly in the restaurant industry. It's always that attention to detail that I look for when I'm reviewing because it shows care, passion, and intelligence. It really is the little things that count. Though to the extent that the Japanese are obsessed with perfection is for me, a bridge too far. I do say on occasion, that when we're living on the moon, the Japanese will still be polishing the wheel.
In the same vein as the detail, I miss the bathrooms. Japanese restaurant bathrooms are little wonders. Regarded as important as the main dining areas, they are decorated with care and the added touches make such a difference to any restaurant visit. Have you been to a really good restaurant only to discover the bathrooms leave way too much to be desired? Yes me too. And it sours the experience, big time.
Great service. Whatever happened to that? Or did we never really have great service in Australia? Even in the big department stores, the Japanese will bow and greet you as you walk in, and make sure that you can find what you want, when you want it. And in their restaurants, that service is a reminder just how much they know about customer care.
And that brings me to the issue I had with Suminato, a newish outpost of Japan in Sandy Bay. While the service was sweet and enthusiastic, it was a bloody schemozzle. We had pretty much everyone who was on the floor attend our table at times, and while they weren't Japanese (yes, there's a shortage of Japanese floor staff in Tasmania – who knew?) they hadn't been trained in the food either, so their lack of knowledge was annoying. Not. Their. Fault.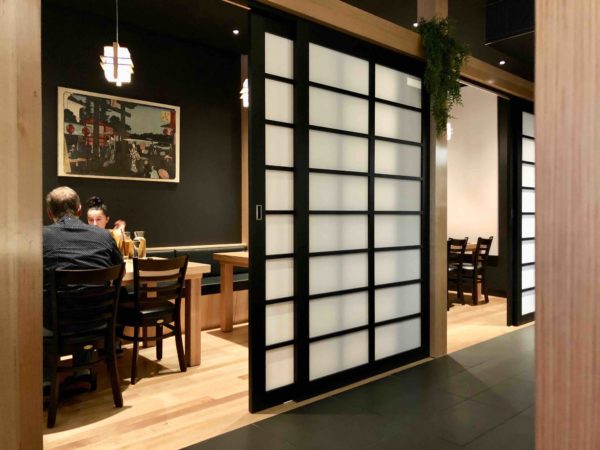 The room is great. A good variety of seating types from booths to bar stools to tables, to tatami rooms, all with the clean sharp lines and pale wood we've come to expect in a Japanese restaurant. We're seated and watered efficiently and then the waiter rotation starts.
It's not hard to fix that either. Any smart operator can divide the restaurant into 'stations' and assign waiters to those areas. In fact, it's the norm in the USA where service is a big thing, and allows for the development of those all too important relationships between floor staff and customer that ensure repeat trade. And the waiter also knows what's due at the table, when, and what they're about. It's not rocket science to use a cliché but so many managers – please take note.
And I'd like to take those blasted table number stands that pubs (and disorganised restaurants) hand out and burn the lot of them. Sick to death of seeing poor bewildered floor staff wander aimlessly around seeking the number while the food gets cold. However, apart from that and the menu, everything was on the money. Big time. The menu is big – too big, and could do well pared back to a more manageable size. For instance – there's two banquet courses – one at $58 for 10 dishes and one at $78 for 12. Not bad value for money, but way more than we could eat.
Then there's six choices of Sushi and Sashimi, 6 of Sushi Rolls, 15 Tapas (Small Dishes) (sic), 3 Salads, 4 Tempura, Sukiyaki, 4 Rice Dishes, and 17 various iterations of grilled dishes! Yikes! We dithered of course, what to choose? First we went for the 'Charcoal grilled squid served with soy-sake sauce, lemon' and it came out – a big fish with skin on, flattened out and sliced into thin strips, with grated horseradish on the side. $20.
What a dish! Smoky from the grill, perfectly cooked, tender and tasty, we got excited, and were not disappointed. The food is exceptional. Next, we tried the 'Nasu Dengaku' or 'Deep-fried eggplant topped with sweet miso sauce'. $14. This was a perfect example of great expertise in the kitchen. Soft silky eggplant that was smokey as well, with a miso sauce that took it to next level.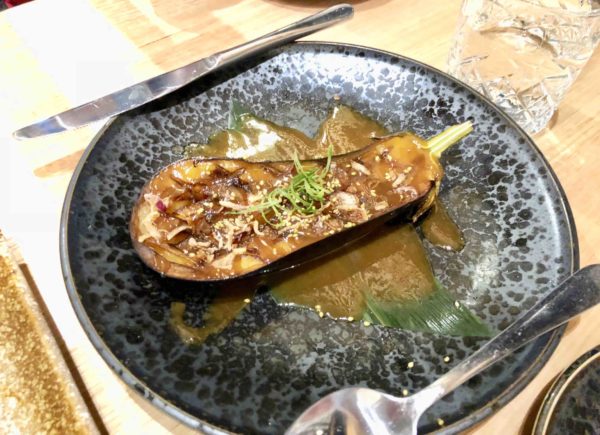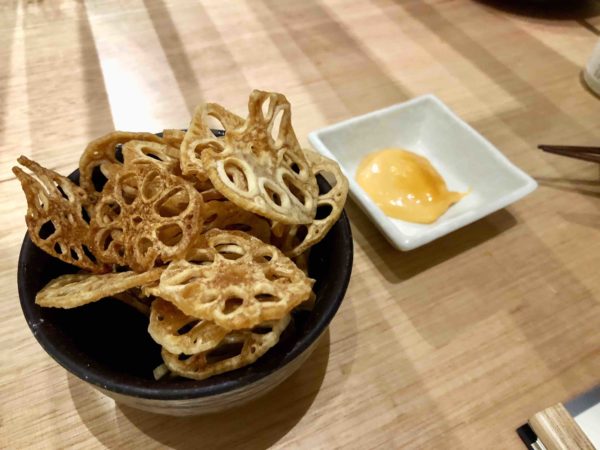 We munched on Renkon crisps $7 – a bowl brimming with 'crunchy lotus root crisps served with homemade sauce', which was like a really stiff hollandaise with extra yolks, a dash of white miso and possibly some yuzu. In Japan we just called it Japanese Egg Yolk sauce, but it went fine with the crisp lotus root. Kingfish carpaccio came next, $19, fresh as the sea with ponzu sauce, daikon and herbs.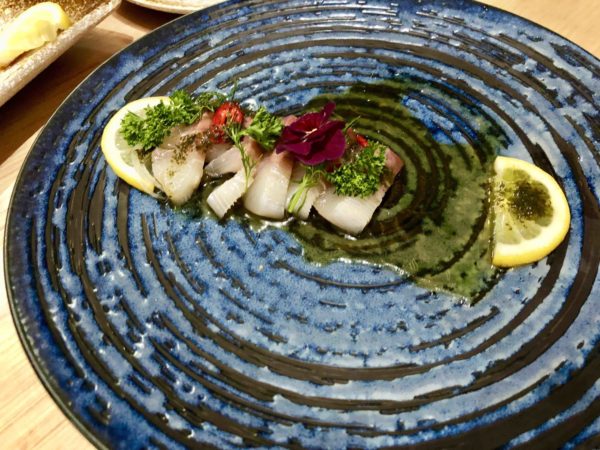 We had to try the Chicken Karaage, $16, which was the only disappointment in the food. It had their 'special karaage sauce' which was just a sweet soy and miso reduction by the taste of it, and poured over the deep fried chicken pieces before they came to table was a mistake – it made the chicken thick and soggy. Such a shame, and karaage is renowned for its crisp shell and soft tender inside to contrast.
The Grilled Sake Salad, $18 was next, and looked like a pile of tinned salmon on top of some lettuce leaves, but fear not, dear diner! This dish was fantastic. The salmon, with 'puff salmon skin, mixed vegetable and charred lemon with seafood sauce' was light, crisp, soft, tasty, fresh, all at once and was one of the best salads we've all had in a long time. The mixed vegetable actually had a lovely blend of lettuce, spinach, radicchio and tiny tasty tomatoes with some glass noodles on top. Delicious.
For drinks we tried the "Ozeki Yuzu Sparkling Sake" $18 for 300 ml., with a peach flavour, but little more than a light alco-pop, I guess that's Japan's nod to that fad. Not a big fan. Better for us was the Nakano Shuzo "Obachan Yuzushu" or Yuzu Sake, and from my memory, Obachan means grandmother, so at $16 for $180 ml I had to have that. $56 for the 720 ml bottle will have to wait another time – my days of heavy sake drinking with my workmates in Japan are long gone. And my liver thanks me.
We had the Pork and vegetable Gyoza (dumplings) 6 pieces for $12 which were delicious, and then? We had to try the 'Black Sesame panacotta pudding, green tea powder, seasonal fruits', $9. A fabulous version of an Italian staple with a decidedly Japanese twist, the matcha was burnt black, adding to the dark, smoky sesame flavour of a perfectly textured pannacotta, with tiny perfect fresh fruit to give crunch.
The dithering of the waiters aside – and again – that's a management issue, the food here at Suminato sings to its own tune, and rarely hits a bad note. I'd go back in a heartbeat, but it would also be good to see a smaller, more seasonally driven menu that is easier to navigate, both from the front of house and back of house. That's a win/win. Saying that, they have just updated their menu – so interested to see if they've culled.
Suminato Japanese Restaurant / 48 King Street, Sandy Bay TAS 7005 / Ph: 0420 228 520 / Open 7 days – 12:00 – 3pm and 5pm – 9.30pm. / $$ /
Chrissie 🙂