Chef and television personality, Massimo Mele has found his compass point, and it's due south.
No surprise then that he has returned to his hometown, Hobart, and we're glad he did. It's going to be fun watching what he does, and he's got some great projects coming up. Massimo is a top chef with a big heart. And that might have something to do with his heritage – a warm sunny country far away…
"I was a Hobart boy originally – both my parents were born in Italy but dad grew up in Tassie, working as a professional waiter in Hobart in the top iconic restaurants when men wore suits to take their wives to 'the restaurant' in the town. But he always yearned to see Italy, so we moved there when I was just 9 months old. The most ironic thing of all was that dad couldn't work the floor over there – his Italian wasn't good enough, so he jumped into kitchens and learnt to cook.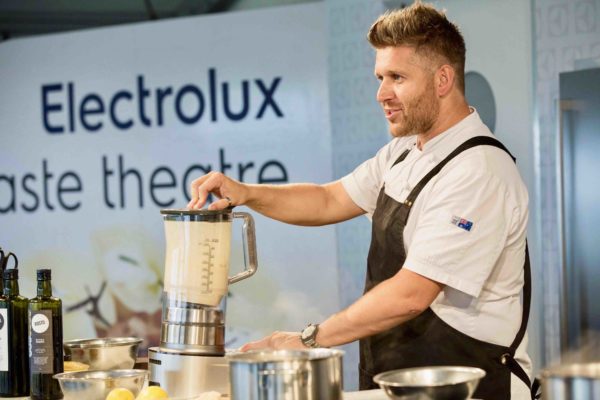 We came back after 6 years, and mum and dad opened up a restaurant in Glenorchy – La Bella Napoli – and it was a beautiful family run business. Both mum and dad worked in the kitchen and I grew up working on the floor at 10 years old after school. Dad had a car accident when I was 12 so my time in the restaurant was ramped up, working the kitchen to help mum out – it was eye opening to me! I had to cook, learning quickly stepping into my dad's shoes.
My childhood dream was to be a member of the water police, but that time in our restaurant kitchen – the smells, the chemistry, and seeing the business run changed my life. We sold the restaurant and I started working in other places around town and decided I wanted to be a chef. Mum and dad weren't all that happy about that either – I think they wanted me to go on through school and become a professional – lawyer, doctor, they knew just how hard the restaurant business was.
"I realise now that systemic bullying is what we need to change more than anything if the industry is to survive."
So what did my dad do? I was working at Zum in Salamanca, and dad rang up the chef at Zum – Adam Aitken – and asked him to do everything to turn me off cheffing! So Adam gave me all the shit jobs. I was a bit of a rebel, but I didn't mind doing the shitty jobs. Kitchens were where I felt at home.
I remember I didn't want to go to church on a Sunday, and an opportunity came up to work on Sundays so I took it. I enjoyed the camaraderie where the guys treated me as an equal. I loved working in the kitchen and like a true Italian, I loved eating even more than cooking.
I finished year 12 and got some great experience from VET (Vocational Education & Training) courses working at a big variety of restaurants, and working hard, so when an apprenticeship at the newly opened T42 on the waterfront came up, I think that's where my career really began.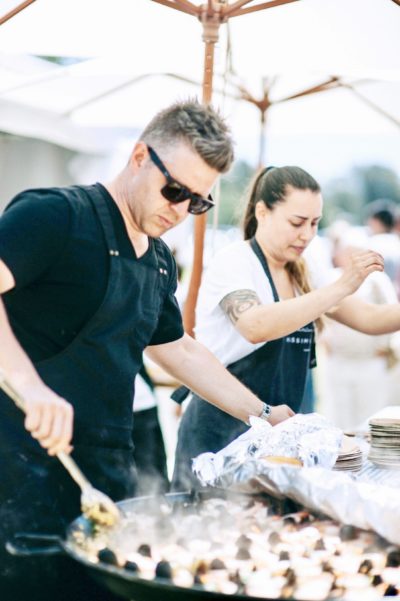 I found I was good at it. I loved food and appreciated the enormous amount of creativity that comes with inventing new dishes, developing new recipes. And like so many of us, life had a weird way of making things happen for me. I entered Nestlé's golden chefs hat competition, and missed out, but someone broke a leg and all of a sudden I was off to the nationals in Darwin!
I met all the apprentices from top hatted restaurants around Australia and in spite of my being overawed at being there, I won a couple of medals. Stoked! And I discovered that my training in Hobart hadn't been as thorough as some of the other kids I met at the competition. There was no real foodie culture here then – it was laid back and the only dessert I could cook was vanilla rice pudding! Darwin opened my eyes to another world, and with Adam Aitken's help, who mentored and pushed me, I went to Melbourne and put on a disgusting green suit and got a job at Donovan's in St. Kilda.
I walked into that kitchen where every single person was better than me and my life changed. I woke up. The Donovans were the most beautiful people to work for – they treated their staff well and regarded the chef as being a big part of the restaurant. The head chef was Italian and warm and encouraging, but it was still run old school.
On my second day in I copped a huge pot of hot minestrone soup on the back of my neck. Did I go to hospital? Ha no way! That kitchen was at times tough and abusive and that takes its toll – it starts to mess with your head. So with no choice left to me, I just sucked it up and climbed up the kitchen ladder.
I knew I had a natural ability with food but dealing with the personal issues was really tough. I saw grown men cry in the kitchen and that was something I'd never seen before.
After 4 years my previous employer, Scott McMurray, got in touch and wanted me to open a new restaurant in Launceston. Well, that was too tempting, and even though I loved Donovans, we put together a team to open Mud Bar Restaurant and did beautiful simple food. Looking back, I realise just how those early years formed my ideas of how to run a kitchen. I thought that to be tough and abusive was the only way to operate – pushing through pain and fatigue was a badge of honour, that's what chefs do. I realise now that systemic bullying is what we need to change more than anything if the industry is to survive.
From Mud Bar I entered the Electrolux Young Chef of the Year again and went to Sydney and won people's choice. I fell in love with Sydney working in a café in Bondi, and hitting the beach every minute I had off for 6 months. Then the travel bug bit hard, and while I was offered jobs in Sydney, I went round the world for 2 years, learning my craft.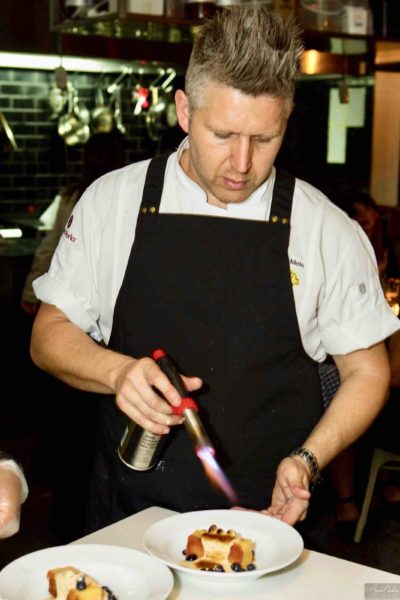 But when I returned and no one knew me, I started catering working 7 – 3 Monday to Friday. What's this? Is that a real job as a chef? 7-3? So I leapt at the chance to be sous chef at Hugo's in Manly for Pete Evans. After 6 months Pete offered me the executive chef role and suddenly there I was with the head chef's job with 30 staff turning over $300k – $400k a week. That was the steepest learning curve of all. I almost lost the job because I didn't know how to manage – I had no skills and thought that being tough to myself and everyone else was the way to run.
My friends in the business saved me from self-annihilation and with new insight I made a conscious effort to change.
"It's not often you get to relive the life behind you, and I found that you discover who you are by the mistakes you make."
And that paid off. I gained better control and became executive chef overseeing 4 venues – it was the most exciting job I ever had. When Pete left and I became executive chef of the group it was like being given the keys to the Ferrari and I realised I needed to build a brand. So I began doing Ready Steady Cook, television shows, appearing at food and wine festivals, anything that popped up and was in line with what I was doing at the time. Was it for fame? No way, it was more about creating different opportunities. It was all about developing my career and doing extras was part of my business plan.
At Hugo's for 6.5 years, I worked really hard but the back end of all my interests and opportunities was that my own brand was starting to become a bit too big for the business. I started catering and events, put together a team and took over the little Jewish kitchen in Bondi. Finally, I started this business on my own with great people around me. I had found my niche, it was creative and it grew. Then I relaunched La Scala on Jersey after Darren (Simpson) left, I took over and it did really well.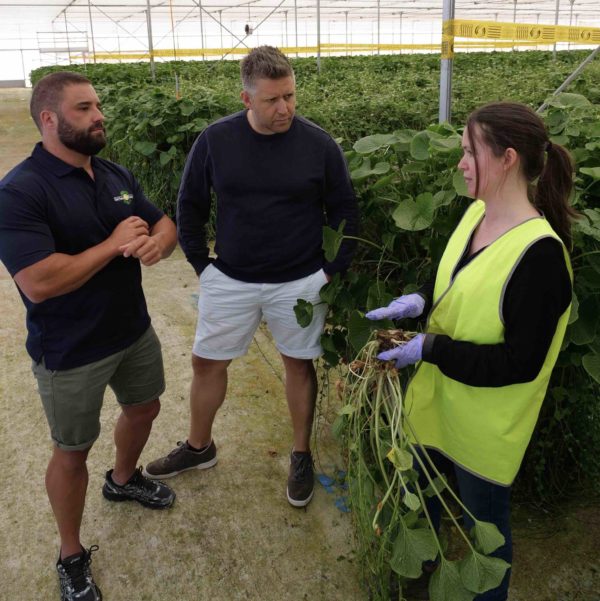 It's not often you get to relive the life behind you, and I found that you discover who you are by the mistakes you make. It's such a great industry but if you ask me would I like my son to go into it? I'd have to say – it's such a hard slog – you've got to really want to do it for the sacrifices to be worth it.You need to be passionate, driven and make the sacrifices necessary to really get something out of it.
For the last 3 or 4 years I've been doing a lot of work with brands and cooking at food and wine festivals around the country. I met Kristy 14 years ago at Mud – she was the boss's daughter – and then later I ran into her at the Taste of Tassie when I was doing a cooking demonstration. Well, she stayed connected even though I was travelling. then we had Max and when she moved to Sydney we didn't realise how hard it would be. With family still precious to us in Tassie, we spent 14 months floating between both cities, and while I didn't want to leave opportunities and my career, I spent more time in Tassie.
"Make damn sure it's what you want to do and remember my biggest lesson – you don't need to work in a dysfunctional environment to become a great chef"
We both decided that life is so good living here, I can still keep my connections in Sydney but we needed to put both feet down here and that's been the best decision I ever made. What's more important? I realised I can always make more money but I will never get this time back with my family and my son as he's growing up.
So what now? I'm excited! I'm working on the Silo project in Launceston where they've redeveloped the Silos with 108 hotel rooms, Grain Restaurant and I'm consulting to my father in law, Errol Stewart, overseeing the whole thing: recruiting; marketing and branding. We've got some plans for our property we've just bought in Taroona, and we'll announce that when we're ready. But I'm planning a more direct foodie experience – a communal feel, and I'm enjoying being an ambassador for Electrolux – they're a top firm. I am also working with Huon Salmon and the Audi Centre, Hobart, executing some really great events and I enjoy diversification that these different brands bring.
Now I'm also working with a Sydney company called Sydney Direct Produce, a business owned by a good friend of mine, Luke Kohler. So we're filming a program called, Meet the Producer – I can provide content and a platform for producers – we are engaging the industries – bringing chefs down into the state to learn about the food, and the passion that drives the growers.
I've still got a lot more to achieve yet, and driving me is the chance to provide the best life I can for my son, Max. What would I say to young chefs starting out?
Make damn sure it's what you want to do and remember my biggest lesson – you don't need to work in a dysfunctional environment to become a great chef. Read as much as you can – find a mentor – you need to do it for yourself. Just keep moving forward, learning all the time – passion and common sense are your greatest friends.
When I was working on the last event in the north-west I realised that here I had beautiful produce – amazing seafood – and so I needed to give it the respect and love it deserves. And coming up through the ranks, seeing so many different kitchens and how they run, I feel so strongly that we need better leaders than before – to role model a culture based on kindness and respect. And if you are treated badly, call it out.
And you know what I would say back to my 21 year-old self? Eat well, work hard, play hard but find balance – take that time to recharge – and always surround yourself with positive, passionate people. Life is way too short to surround yourself with arseholes."
My goodness, isn't that the truth? So much wisdom there, Massimo. Thank you for sharing your story, and I am really looking forward to the next few steps on your big food journey. And I know that your mum and dad, watching you grow, have always been proud.
Chrissie ☺