It's been a fiery life, and dealing with Parkinson's disease isn't easy but chef Bret Hanson is coming back from chef burnout, and still giving what he can. He's been profiled, awarded, and taken many businesses from crash to success. And his memories are as fresh as today's catch. It's a very interesting story, and one I wanted to tell. And ask him about fish finger soup!
Bret Hanson's earliest memories include telling his dad he wanted to be a chef – at 3! As he says, "I have no idea where it came from or even if I really knew what a chef was, but I just remember saying it with a conviction that shocked my dad!" It was in the blood, obviously, and so began Bret's huge winding path that was so tough at times he wanted to give up. He didn't. 
His story begins, then, in those early days in Tasmania: 
"My father was a truck driver and farmer, our grandparents were on farms, we grew up on currants, and our uncles were hop farmers and raspberry farmers in New Norfolk.
Chef wasn't even a word we used in the family – my grandfather's brother was a chef in America in the merchant navy – but no one knew that at the time. My grandmother had a massive cottage garden, and storeroom filled with preserves, she made everything from that garden and their small farm. Even our butter came from our cow – the only thing she bought was flour and even though she had an electric stove, all her cooking was done on the wood stove that she knew and understood.
There's a lot of German and Danish heritage in the family. Mum's side was Scottish and English. They all loved pastries and sweets but I didn't follow that. I remember my grandfather's death even though I was tiny, and we had a close connection so for me, his death had a real impact. He was a hard man as well – sometimes Nan wouldn't see him for a couple of weeks until he caught a fish to come home with.
Through the depression, they learnt to get the maximum out of everything – e.g. two rabbits with one shot, and we were brought up on rabbit and kangaroo, the game that we had wild around the farm, and nothing was wasted. Even when we had bumper crops, we pickled and marinated vegetables for use later on.
My parents bought the Old Colony Inn in New Norfolk – it had a museum and tea rooms and they cooked light lunches. Drysdale House came under UTAS when I started, and an apprenticeship was 18 weeks of schooling in first year so employers were hesitant to put on apprentices because of that. It meant a huge time that kids were out of the business – even second year was 12 weeks – but we learnt so much and I think we should really go back to that. Now none of the skills are passed on and so many chefs don't know how to sharpen their own knives.
I was lucky, and became an apprentice cook at our family business, then in my 2nd year I went to the Granada Tavern in Berriedale (still there opposite MONA now!).  There was a crazy head chef, Fred Eckhardt, who was Czech, who'd been at the Casino and then 159 Davey which was a top restaurant in Hobart then, and he demanded passion and taught me to cook – not out of a can.
The sous chef there at Granada loved cans, and they were both crackers. I had many hidings including an awful accident when my left arm got burnt badly – lifting a huge pot of carrots Vichy and the lid caught and covered my arm and face, and Fred said, "Go into the freezer for a bit – you're not going to the doctor, get over it." Brutal? Yes, but at the same time as he worked you hard, he taught you well. It was 1977 and I was 16. He taught me discipline and so much skill. As hard as he was, he was a huge mentor, and I loved him for that. I played basketball but not football, and everyone else who played football was allowed time out for sport but not me. That taught me a lot about how not to treat staff.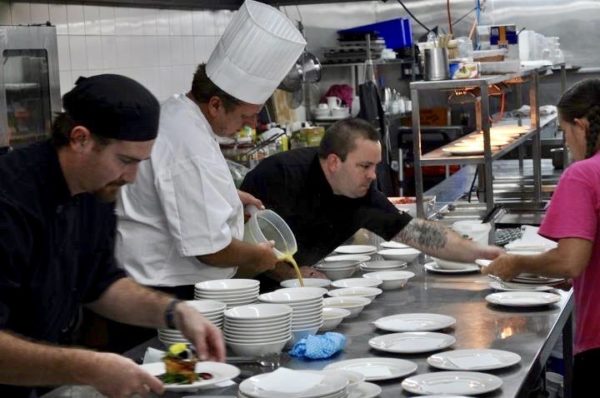 The Casino offered me a job to do my final 2 years – Peter Hudson was the owner of the Granada and didn't want to lose me, but Fred stepped in to release me out of my apprenticeship there at the tavern, and into the Casino, playing with the big boys.
When I was a head chef in the early days I was an arsehole, kitchens were run by fear. That was the role model I had, so I copied it. Well, I guess then I didn't know any better!
The executive sous chef at Wrest Point was Albert Nyssen, who took me under his wing. He was meticulous in everything – we did Room 1605 – a function room – catering to 30 – 40 people with 3 or 4 or even 7 courses, and they would even pay $100 a head which was astronomical in those days. He taught me the finer points of cooking and taught me so much.
He was kind to me, though short with others. I was definitely a favourite – maybe he recognised the commitment and passion I had – I was always first in the kitchen, hours ahead of my shifts, working with the butcher, the pastry chef, even the saucier, if he was doing something I wanted to learn. It was the old days where the kitchens had all these different sections – and they were true scratch kitchens, with brigades and there were separate kitchens for each outlet – 78 chefs and 18 apprentices. It was huge.
I transferred to the Casino in Darwin where I worked for 8 months then they moved me to Lassiter's in Alice Springs – all through Federal who owned all the casinos in Australia at the time. Lassiter's opened in 1981, and in 1996 when I went back to have a look, the kitchens still had the same equipment – it hadn't changed or been upgraded a bit! 15 years and they had nothing new.
I returned to Tassie because my mum got sick, but when she recovered I headed to Queensland on my bike in 1981. I went to Falls Restaurant for a job as a chef at Mt. Tambourine, and when I turned up on the first day, I was told I had to do everything. It turned out I was the only chef there, and the owners had no experience, hah! Surprise surprise. My day started at 4.30am on my bike collecting produce for that day's menu, and I did that 3 or 4 times a week depending on how busy the days were.
I put Ben Ean Moselle for $35 on the wine list, which was outrageous then, and the Courier Mail did an article on me about the crazy price point. I responded that I wanted to promote Australian wines so kept the prices of those low, and jacked up the cheap imports. The public knew Ben Ean and wouldn't look at our local Australian ones, and I really wanted to help promote the local industry.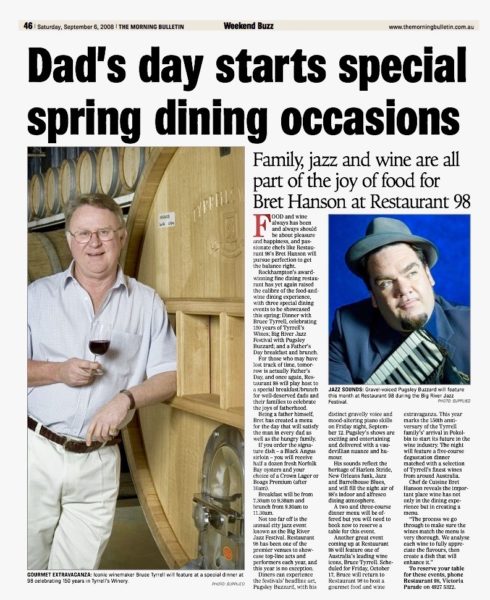 The owner of the restaurant eventually went off the deep end – one night the restaurant was booked out for two men to have a meeting: they turned out to be Abe Saffron and John Williams (Carl Williams' brother) – huge underworld characters at the time. They had security guards everywhere, even in the kitchen watching me cook their dinner and their meeting lasted 2.5 hours – it all seemed weird to me – surreal. I had no idea who they were but knew they were either rich, important, or both.
I went to Cairns after that, head first into Barnacle Bill's insanely busy kitchen. It was the busiest restaurant in Cairns and I learnt a lot about seafood cooking in my time there. I floated over to Hinchinbrook Island which was my first island job and at the time Ry Cooder was staying as a guest at the end of his Australian tour. He was incredible – he'd play acoustic guitar every dawn and dusk at Point Richard. Then came Tim Finn who had jam sessions with staff sometimes, but drugs were big there. And that made some very untidy people.
For me, Tassie called, and so I left and went back to Tasmania to Eliza's that got best steak restaurant in Australia, won Top of the Table Award for Gourmet Magazine, and others. The owner sold it to a guy from Papua New Guinea who tried to run it from PNG, which of course was never going to work and I was over the hours and stress and left, heading to Fremantle for the America's cup.
What a time that was! I opened a hotel, "Esplanade Plaza" – Fremantle's biggest hotel and we did all the pre-cup functions. We served Mark Knopfler, Hugo Boss, Alan Bond, Laurie Connell, who would compete to see who could get the biggest bill out of the two tables – so one night they even drank us out of Dom Perignon! It was mad. We never knew who was going to walk in. On new year's eve we had semi-trailers coming straight from the brewery to the hotel – turn over hit $1,000,000.00 on that one day. We just couldn't keep up.
I had breakfast with the Aga Khan, courtesy of his personal assistant, and had no idea who he was. The next day I saw his picture in the paper, and I was offered a role with his syndicate in Sardinia, but I was already contracted to open a restaurant in Scarborough in North Perth. It was a huge 150 seat restaurant and I was going into partnership with 2 other guys. One of the owners did a runner on us, and feeling broke, busted, disgusted, partners can't be trusted, I headed back to Tasmania – home again.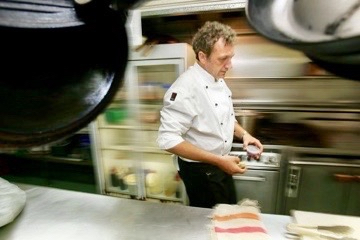 So back in the family, I opened Melba's in the Bush, at the Bush Inn at New Norfolk which my family had for a lot of years, and it was the only restaurant in Tasmania listed in The Age Good Food Guide. Through that, I went to St. Kilda Road Park Royal as guest chef. My success opened up opportunities and I opened the Launceston International Hotel (Park Royal chain now Grand Chancellor) as Executive Chef, and won awards for fine dining 1989 – 1991. A lot of my apprentices became apprentice of the year – Jamison Godfrey who's now executive chef at The Drunken Admiral was my apprentice. I introduced the use of baby vegetables, mesclun, baby endive, spinach, etc. and the focus on great produce – particularly white asparagus and morels, pushing producers to bring us these beautiful foods. In supply, I used to do a lot with Richard Forrest, bringing in new produce including micro herbs – years ago we were already doing those.
Gourmet Traveller did a story on me, and what I was doing and I made sure I supported all passionate local producers, including John Bailey who had a game farm.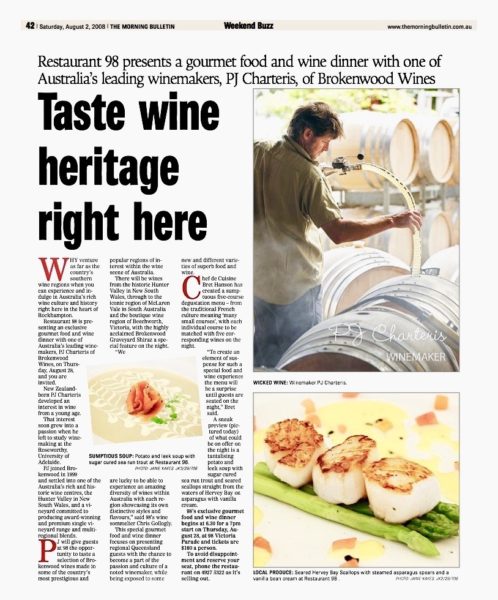 The Grand Chancellor transferred me to Brisbane Park Royal where it was hard slog, and when we did a huge function for Philips Industries, but it turned out the managers were stealing – that became really hairy, and coupled with huge hours I did the only thing I could do – I came back to Tasmania. For me, the time was ready for me to leave cooking and become a teacher at Drysdale House.
But in the end, I got itchy feet and found myself taking over the Dunalley Hotel, rated at #53 in Tasmania and in 6 months I took it to #11, but the owners were doing dodgy things for insurance claims. So I needed to get out of there.
I'd had a phone call from Peter Mackay in Government to fix up The Spirit of Tasmania and quite frankly, that's the worst thing I've ever done in my life by far – everything was out of a tin. They were serving terrible stuff, like "fish finger soup" which was hot water with Birds' Eye Fish Fingers cut up in it. I couldn't believe the crap they were serving, and was embarrassed, but it was also a huge struggle to change the culture and the standards, so when my mum died I felt released and left Tassie going back to Ayres' rock which was full on.
The first week there we didn't have a day under 40 degrees so while it was a great experience, it was stinking hot. By this time, I had 4 children, and we couldn't get proper accommodation, it was a nightmare, so we hit the road and spent 6 months travelling up to Cape Tribulation. We settled in Palm Cove for about 3 months, then bought a caravan and ended up in Airlie Beach where I did the redevelopment of the Airlie Beach Hotel.
Quite by accident, I became the face of the Whitsundays, for some unknown reason, and I only found out about that later. From that I was invited to Daydream Island and orchestrated the reopening of the island for Keith Williams and Vaughan Bullivant. Rupert Murdoch and Sir Peter Abels had a business meeting on one day, and we had to shift all the guests to another island. They paid a huge amount of money, renting out the whole resort for a day just so they could have a meeting.
My son won a scholarship to Kooralbyn for his tennis, so I took a couple of years off, supporting him, and decided then that all I wanted to do was just a bar and grill in Hervey Bay. I opened the Bay Central Tavern just serving counter meals, not what I had signed up for. Management wouldn't release me from my contract, it was really difficult for me, and after a year, I went to the Motel Restaurant 98, and took over the Fitzroy Motel and Rockhampton Convention Centre. I had 5 years there, winning a heap of awards from "Best Restaurant in Queensland" to People's choice, to the AHA Best Restaurant.
I'm really proud of my achievements there. I increased turnover tenfold, and did wine dinners with Bruce Tyrrell and a heap of degustation dinners for six years from 2003 – 2009. Next was Capricorn Resort, Rydges, where I managed their gala dinner for the Showcase for Australian Beef, all the functions for Royal shows where the logistics were incredible. Everything had to travel 60 kilometres into the show site. The resort had 17 different function rooms, always busy, and Beef Week for the Royal Show, we catered for 1200 covers at a sit down dinner. We had to find places around Rockhampton that could cook our main courses for us, and organise a police escort to get food through the traffic lights, then we had 28 minutes to serve all the 1200 main courses (I wanted to do it under 20) – the logistics really were crazy.
No kitchen could handle above 50 or 60 people and our cool room was 3 metres x 3 metres. With 1000 pax for lunch, then 300 for dinner daily for the ten days to the final gala dinner on Saturday night, I didn't feel I slept. We took over $1million in food that week and we borrowed 3 trucks from our suppliers to get everything through.
With that success, I was transferred to Rydges' Southbank in Townsville in the Convention Centre to sort out proper menus. I won more awards-  which was amazing for the little amount of time – hosting functions for the V8 Super Cars and all sorts of events. One guy had 19 tiers in his wedding cake with 2 security guards protecting the cake until it was ready to go then he produced a Samurai sword to cut it. Haaa I still remember he spent $12K on the cake and next to nothing on everything else. It was bizarre.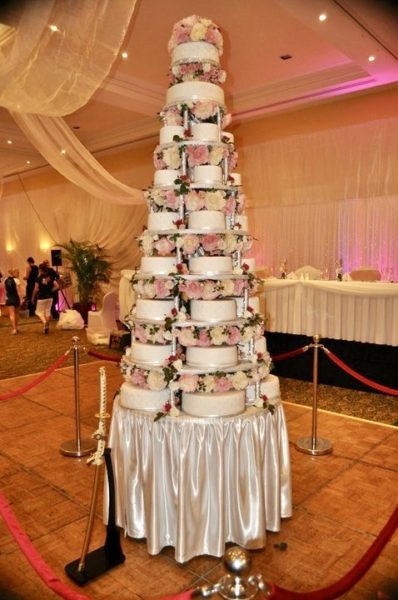 I got a call to go back to Daydream Island where they had major problems – food costs were over 40percent, rooms were shut, the kitchen was rotten. It broke my heart seeing it the way it was, but I guess it was inevitable with the drug and disconnected island culture that dragged staff down. It took a lot of work and we did huge functions, brought food costs down to 28% which they'd never had on the island, but the sous chef wasn't happy and made life difficult for everyone.
No surprise then that I left along with 18 other chefs and went to Vanuatu.
What an experience that was. Working with a Nivan kitchen – which was the kitchen way of indigenous Vanuatu people was a huge adjustment. We needed three times the staffing but at lower costs and the challenge was they had a different way of working at Le Lagon, where they had a convention centre which held all major events.
After about 18 months, I got a call from the Raffles group in Fiji to sort out their resorts, but that didn't work out, and suddenly I started having tremors down my left side, and 18 months ago it turned out I had Parkinson's. With it, came depression which makes it doubly hard to handle, but I have a lot of support through the Living Well Program at Anglicare, Partners in Recovery, which helps people with mental disorders.
I changed from being a Gordon Ramsay type chef to caring, mentoring, encouraging my staff and bringing fun into the kitchen. If you have a happy kitchen you have happy food going out – with an aggressive kitchen you send out aggressive food.
I learnt that if you run a kitchen with passion and love you'll see that come out very clearly: the plates are cleaner and floor staff are not scared to walk into kitchen, and I brought front of house and back of house together. I knew from experience that front of house staff, if given the communication and respect, they can fix stuff quickly – chefs who think they're above that have a big lesson to learn.
I went to dinner with Tony and Gaye Bilson at Berowra Waters Inn, and Tony said "The only secret to creating a great restaurant is to feel what you're cooking and taste your food," Only the select few of great chefs can do that. Those others cooking by utensils and from rote, they'll never reach that greatness no matter how much they want it.
In kitchens now, it's a different world to when I started. Sanitisation rules don't take into account natural bacteria of the hands and the old-fashioned wooden cutting boards that are sanitised with cut lemon and salt. At Capricorn Resort we had 6 food safety supervisors which is crazy.
They just need to teach people how to wash their hands properly and how to clean wooden cutting boards properly. I've had 40 years in kitchens, and few chefs last past 35 years – and they can't change or do anything else. That's a big issue – it's so hard to transition to something else, and not everyone can teach – that takes another skill set.
Drysdale House started off as a restaurant but it went broke and only then it was converted into a hospitality school.  All senior chefs and management at the Casino in my day were Swiss and they came over to Drysdale from the Casino to teach. It was a fantastic training ground. These guys, including Kit Muller, the head, and the team were amazing – the best at what they did. Drysdale used to win best college in Australia every year in the 70s with people coming from all over the world to try to get in. Both my nieces went there.
What I'd like to see for new apprentices is training schools like Drysdale – all over Australia. The standards, the Swiss chef teachers, the mentoring, the facilities were the best of the best, and we can only have that again, if the government realises just how important chefs and the hospitality industry are to our country and our future. That's all. That's what we need. How hard can that be?" 
Thank you for sharing Bret, and I'm sure all the chefs and people you've served wish you good health. Bret's seen chef burnout too many times. Let his hard earned wisdom resonate.
Chrissie ☺