Bolognese: that ubiquitous Italian sauce has more versions than a Beatles song, and can cause furious debate. Here is my current recipe and the extended presentation – I don't use it for pasta!
In my school days, I used to love calling in to our big department store when I had some spare cash, and I'd head down the escalators to the Italian café, The Milano, in the basement. The Milano was a wonderland of Milanese food and the best gelato you could imagine.
The Tartufo – a chocolate bomb with a cherry in liqueur centre – was the best gelato I've ever had outside of Italy, and I yearn for some of the specials the mammas cooked in the tiny kitchen. One of these was called a "Mozzarella", and it was a typical Milanese way of using up leftover bolognese sauce. It's bolognese, but on top of lettuce, toast, ham, and mozzarella cheese. Like a big Italian open sandwich. Heaven.
I fell in love with this dish, and now sometimes cook a whole batch of bolognese just so I can make Mozzarella. My old Italian cook at Possums taught me how to make this sauce, and the order of method was non-negotiable for her. I hope you enjoy it too.
Serves 4 – 6
Ingredients:
For the bolognese:
500 grams best quality beef mince
EVOO (Extra virgin olive oil)
2 rashers bacon, chopped into dice
4-6 slices of Italian salami – cacciatore is best, sliced into dice
1 chopped brown onion
3 large cloves chopped garlic
3-4 chicken livers (optional)
1 tablespoon Italian tomato paste
2 cups rich tomato sauce, passata
1 cup red wine, 1/2 cup water
pinch rosemary, oregano
2 bay leaves
Salt and freshly ground black pepper
To serve the Mozzarella:
1 slice of good Italian bread, toasted, per person
2-3 iceberg lettuce leaves per person
1 slice of Italian ham per person
Several slices Mozzarella cheese per person
Fresh Grated parmesan for the top
Method:
Fry the diced bacon in a large heavy casserole on medium heat, with no added oil, this is to pull the bacon fat out and give it a real porky flavour. Then add the salami/sausage, fry that and then the livers, chopped up, if you wish. This gives the dish a richness that you won't believe.
Add a drizzle of oil to the pan, then add the onion, fry for a few minutes, then the garlic and fry. Next, add the mince and straight away add the wine and water. You can add a bit of extra water later too if you like it not quite so rich, and boil the wine away, stirring the mince so it separates into fine crumb.
Add the tomato paste and fry that with the mince and add a little more oil if you need, and brown the mince. Then add the tomato passata, the herbs, and season with salt and pepper.
As with everything, taste taste taste, and adjust the seasoning and herbs to suit you. Turn the heat down to low and let simmer for an hour or two, adding water if necessary.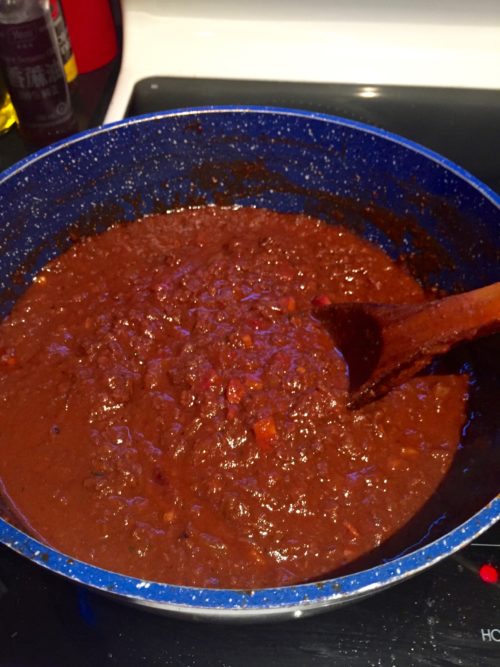 To serve: Place the toast on a few fresh lettuce leaves, then a slice of ham on top of the toast, then slices of mozzarella, then a good dollop of the bolognaise finishing with fresh Parmesan, and a tiny drizzle of oil if you wish.
You can freeze the sauce in portions, and then if you want a quick, tasty and nutritious meal, assemble and serve. And feel free to play with the recipe – I sometimes add my own brined olives, fresh chopped parsley, whatever I have on hand.
Boiling the mince in the wine before you fry it, forces it to separate into a beautiful fine texture, and the bolognese will look and taste as it does in restaurants. Lumpy meat will be a thing of the past. Try it.
Chrissie 🙂