Head first into the last episode of Cuba with my friend Gabriela who is as Austrian as Lederhosen and though she's lived in Australia for many years, her 'r's' rrrroll off her tongue like a Masarati revving for a race. Gaby loves to travel, and keeps a diary which is as unique as she is.
Her take on Cuba was entertaining, and I decided to share it with you as one shares a new cocktail. It's fizzy, a little exciting and her opinion on the food? "It's awful Chrrrristina! The food is drrreadful everywhere, but it's still a verrrry interesting place. Differrent."
The piece is long, so I've split it into three to give you an entrée, main course and dessert, as befits a food blog. And while the food in Cuba might be awful, the stories are prime beef. She's just come back from Antarctica and has promised me her diary and photos. Can't wait. 
Gaby and Brian dig deeper into Cuba to find just what makes this incredible island tick. They encounter a big music celebration, dodgy taxi shenanigans and more awful food. But that just seems a given…
In Gaby's words:
Today we took the bus to CIENFUEGO. (about 2 hours) Lots of grand French- influenced Architecture (1812).Our Casa is at PUNTA GORDA. Fran & Claudia, Avenida 10,  3708 Punta Gorda . Tel. 0143518458. which is about 1km from downtown on a stretch of land going out to sea. Some grand old homes in French, Moorish style.
Casa accommodation is just so-so. Unfortunately as we do not speak Spanish and the Internet is just about non-existent we have to rely on locals to arrange a Casa for us in the next town. (And the one we wanted to stay at which was recommended by the Dutch was "apparently" booked out when our last host phoned a couple of days ago. Ha I'll believe that when the sun don't shine!)
Of course this was bullshit, we saw it had a 'Vacancy' sign. But they wanted us to stay here as they are obviously "mates". Never mind – it's OK. Fairly clean room with 2 beds, a big bathroom and sort of Sunroom with fridge, table and chairs.
We laze around until afternoon, go for a bit of a walk along the waterfront. There are bits of beach here but not very inviting.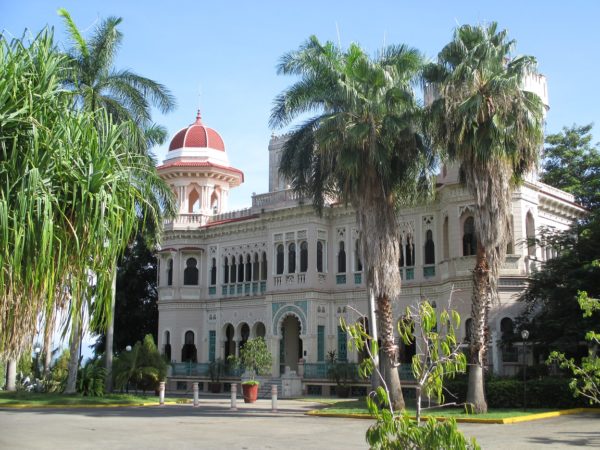 But tonight was amazing. We went for dinner at this "unreal " Palazzo! It showed just how grand Cuba was in former days, and contrasted hugely with some of the shabby buildings that dot the landscape everywhere now. We had Paella and some Chilean Wine and ice cream. So-so. $21.00 total. In the evening the waterfront promenade is full of hundreds of young people, guys and girls hanging around, mostly with pushbikes. all well behaved and just happy to hang around. We love the fact that unlike Australia where there a big crowds no, there was no apparent drunkenness or aggression.
Next day after a late big Breakfast at Casa we took a bike Taxi into downtown. We notice it is very French-influenced and there are many grand buildings with colonnades. We stroll the longest Avenue (3km) in Cuba, and wonder how the locals feel about the days of grandeur being so close and so far away. Tonight we are going for dinner here at Punta Gorda again at another Palacio de Valle (1907) built by some crazy Spaniard. This has to be seen to be believed – gilt and decoration everywhere, it just like out of the Arabian nights fairy tale!
Next day, very lazy start again. The heat is getting to us. Every day it's over 30 and walking outside is mostly in the sun. Everybody here has siesta over the midday hours and nobody seems to be up early either! But they are up late. No music starts until 9:30 or 10pm and people are still entering the restaurant after 9pm. Dinner at Palacio again, was memorable. For all the wrong reasons.  I had fish which was ok just a bit oily. Brian insisting having Beef steak! It was like a 10 year old cow pat! He left everything after 2 unsuccessful bites and all the staff were upset. Can't take him anywhere. There was an opportunity to throw it out the balcony which of course he missed.
But for $13.00 each for soup, main, and dessert (ice cream) and a drink (beer or soft drink), who cares?  Just to see this place inside was worth it. We went to laze the day away at this big Hotel swimming pool just a couple of blocks away. Just about no guests (couple of Germans and English) there so it was quite relaxing. The hotel looks like a housing commission block. But the pool is nice and it's right on the bay. Nice ocean breeze. We really enjoyed watching a few big tankers just outside at anchor.
Well, another day of things almost impossible to believe to be true.
We take a BikeTaxi downtown. Walking to main plaza and trying to find a restaurant, we suddenly notice It is absolutely DEAD. Nobody around. (during the day it was milling with people)
But there is a crowd of people around the THEATRO TOMAS TERRY built in 1887 and which seats 950. We buy tickets to a performance to start in 30 min which sounds like a big band orchestra. It is in fact the well known (at least in Cuba) orquesta aragon de cuba.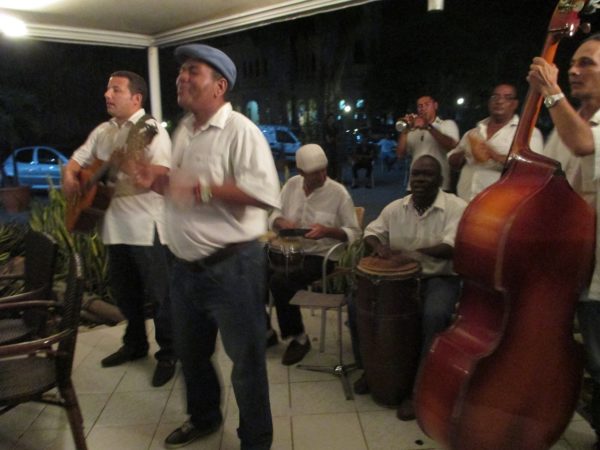 But as we are hungry we try and find something quick to eat before. The only place we can see anywhere around is a sort of café-cum-beer hall. We get talked into a Toasted Sandwich with Tuna and cheese. House speciality Too awful to describe! But it was like Brian's cow pat steak – except tuna – dipped in grease and could have come from an archaeological dig it was so old.
Back to the Theatro – it's packed full. Terribly hot but with an incredible art deco interior. We grab some seats and notice that everybody seems to know everybody else. The curtain goes up and a lady starts talking, introducing the Musical director. There's so much talking, talking, flowers presented, framed pictures and sculptures, more flowers, another speaker. This goes on for at least 1/2 hour. Everybody fanning themselves. (big mistake not having a fan!).
Finally, the music starts! We gathered it was a 75 year anniversary of the Orchestra. Sort of Rumba. The audience was ecstatic and clapped and sang away to it. Unfortunately the sound mixing was atrocious and on top of it the sound mixers just behind our seating were people chattering away non stop.
We left after another 20 min. or so, exhausted, hungry and hot.
We tried afterwards to find anything or any place to get an ice cream; or anything! It was dead as Noosa at 10pm. cannot even get a Taxi! During the day there seems to be several nagging you at any time.
Car stops (not a Taxi) telling us "TAXI !" Ok, any port in a storm!
We climb into a Russian LADA at least 50 years old. Doors with no handles, no winders, roof lining falling in, springs sticking through the seats, terrible fumes of petrol and screeching and squealing noises non-stop. Takes about 100m to stop at 30km speed.
Overall, it was a lovely evening ! Next day again just lazing and going downtown to bank and strolling around. Brian is having a salsa piano lesson which he is looking forward to very much. Dinner again at this incredible folly, Palacio de Valle. Prawns with rice this time. Ok, so-so. Well, the next day is almost too incredible to describe! We intend to catch a bus ro Havana at 12:15 (250km). We know out of experience to be at the bus terminal about 1 hour before.
There are 3 types of buses in Cuba for longer distances. The VIA ZUL that is generally for tourists. Very nice, clean, toilet on board, aircon. The next one is more for Locals, much cheaper and not so nice. And then you have the cattle trucks! (They really do look like cattle trucks). Packed full, on wooden benches and people standing, so full that nobody could possibly fall over.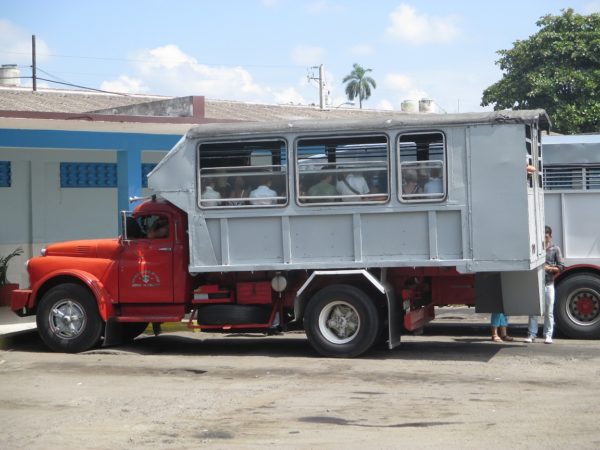 In Australia, our cattle is transported more humanely.
Anyway, we arrive at the terminal and find the ticket office. (Nothing is written anywhere in English and nobody speaks more than a few words)
Again we get put on this "waiting list"! This is all done by hand in a ledger and we have to show our passports. We're told to come back 15 minutes before the scheduled departure of bus. Waiting in a boiling hot waiting room where half the seats are broken isn't great. We duly report back at the Ticket Office now manned by an official looking man in uniform.
We pay for tickets, $40.00 and get a ticket which is a piece of paper which he files, stamps it and signs his signature.  Our luggage goes to another room where we have to show our passports again and they get labelled. Now we just need a bus!
Several other buses have departed since. The Cattle truck seems to be going almost every 20 min. Packed full. Well, a couple of tourist busses also left but to other destinations.There's a bit of commotion now and we find out that our bus has broken down somewhere and the next one is not until 5pm. Doh! We seem to be the only one waiting for this bus. Now we are the only ones left in the waiting room…
The official who sold me the tickets comes and tries to explain to me that we will get a Taxi to drive us to Havana instead. He calls one of the Taxi drivers that hover around at every Bus terminal and hands him some money. (I can not see exactly how much).
The taxi driver collects our bags and guides us outside.
He speaks broken English. He then tells us that we have to wait for 2 other people to share the Taxi and that the original car is not here and the only one available for the $30 is NOT AIRCONDITIONED! It is about 33 degrees!
We realize now that he got only $30.00 from the bus official and questioning this our taxi driver says this is normal that we loose $10 if the bus is cancelled. We are still waiting when I think that there is something fishy going on.
I storm back to the official's office demanding the outstanding $10. The taxi driver also comes in. There's some heated discussion between them and I get handed from the official the missing $10.
Now we can afford a taxi with Aircon and just one other person with us.
The whole thing is a plot between the bus official and the taxies to take advantage of naive tourists. I am very pleased with myself having won in the end! We arrive at our casa about 1 hour later than the bus.
After settling in we venture out for dinner and hopefully some music. We ended up at a place that was recommended by some other travelers and Brian is very brave and orders a Lamb dish! Its more Mutton but he eats most of it. I play it safe and have grilled Fish.
Nice "SEPTETO ZONA LIBRE" playing. Five girls with big bums and 2 guys. It was a pretty good evening.
The next day is our last day in Havana and Cuba. In the evening we go with our host Esther to a Jazz Club. It's a bit outside from Downtown but she has a car! She's the first person we encounter with one. Mind, it is at least 20 years old and in quite a sorry state. We catch a very good band but the actual main act is still to come (this being what we pay $10 to get in for) is supposed to be on at 11:30pm. By midnight, we're still waiting. Apparently they are late because the Government told the Club to wait until the Japanese arrived. About 15 minutes later they start to arrive with the band, and begin to set up. As we know that this will still take another ½ hour we decide to leave. In Cuba, what a Government does for a few people is more important than about 100 people waiting and paying for a Concert!
Next day, it's off to the Airport. Plane is bang on time. And surprise, we actually arrive in Cancun 20 min early! Taxi Shuttle for $36.00 to our casa which is only a 15 min. drive. Michelle, our glamour-puss, is waiting for us and we get a really nice room with a giant king-size bed and a quiet air conditioner this time.
Next day it's taxi again to the Airport to catch our flight to LA. It's a 5 hour flight – no  free food or drinks, you have to pay for earphones and pay to watch a movie. But this is normal in the US and why the flights are cheap compared to Australia. We arrive sort of on time. We have 3½ hours to catch our plane to Brisbane. Sound like lots of time! Not if you have to collect your luggage, fill in some forms, clear immigration, get to a different terminal and check in again. Finding the Qantas counters we see a queue with a few hundred people. 5 counters are in operation for processing passengers for 4 flights departing at almost the same time. We spend 1½ hours in the queue! I think next time we should order a wheel chair! Then on to the next line to go through security. Brian gets his fingers done with some powder and I get touched up (by a female) this on top of shoes, belt, money belt and watch off.
We just make it to our gate only to wait because our flight is 1 hour late. After feeling like we'd been travelling for days, with a 13½ hour flight the only positive was that we had the first decent food in 3 weeks and some nice Australian wine. Nothing wrong with Qantas food! We arrive at Brisbane, and  even though we go through Immigration, Customs, pick up luggage, it's just ½ hour all up. With friendly staff who even smile or have a joke on hand.
Back home we feel that we're in need of a good Holiday!
But we have to laugh. What an Experience! Viva la Revolucion! That's a phrase we shall remember forever. 
The moral of all this is that we do not realize how good we have got it here!!!!!! And so Brian and I settle back into Noosa life with good food, and transport that pretty much runs on time.
Cuba still has a long way to go before it really comes to terms with the world as it is now, and tourism which will stretch that small island to its limits.
Thank you Gaby. Your diary gave me some chuckles and a bit of insight into what it must be like to be Cuban now in a country trying to make its way in a modern world with very little help from the outside. If you've been and would like to tell your story, get in touch. Buenas diaz.